Advertisement - Click to support our sponsors.

---

---
Saturday, September 9, 2000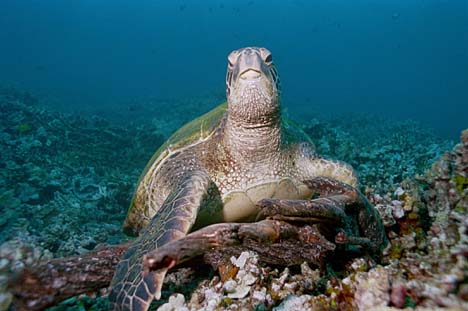 Courtesy of Ursula Keuper-Bennett
A green sea turtle, or honu, surveys its surroundings from its perch
on a submerged log. In the years since hunting was banned, sea turtles
have become more accepting of humans, allowing personal encounters
like this. Still, they are endangered creatures and should
not be touched or disturbed.
---
Sea Dreams


Conservation efforts are helping,
but extinction still looms

---

By Lori Tighe
Star-Bulletin

THEY hover in the ocean like flying saucers and when the sun glints off their domed shells, they've been compared to angels.

One personal encounter with a sea turtle is often all it takes to convert people to lifelong fans.

"They have gotten the vote by every scuba diver and won the hearts of everyone who sees them," said George Balazs, Hawaii's foremost sea turtle expert. "They are their own best ambassador for their survival."

Sea turtles were in the news this summer as a federal judge sharply restricted Hawaii-based longline fishing. Environmentalists alleged in a lawsuit that the fishing method kills an unacceptable number of the endangered and threatened sea turtles: the leatherback, the green, the loggerhead and the Olive Ridley.

The legal battle will revive in April 2001, when the National Marine Fisheries Service is to have more scientific data about the effects of longlining on the four types of sea turtle living in Pacific waters around Hawaii.

Meanwhile, sea turtles are carving their own niche in the tourism market. With each encounter, they seem to attract another defender -- such as Lisa Shall.

"She was gigantic," said Shall, of her first meeting with a 300-pound green sea turtle in mid-August.

Scuba divers, including Shall, hauled the sea turtle, wrapped in fishing line, up onto a dive boat in Waimea Bay. They held her flippers and head still, as her large brown eyes searched for the ocean. They cut the tightly wound line out of her flipper.

They heaved her back into the bay, and she dove down through the waves to freedom.

The eight divers on board erupted into applause.

"It was very exciting," said Shall, a 27-year-old pharmaceutical chemist from Palo Alto, Calif. "The experience was amazing. It made me more aware of sea turtles and what's being done to save them."

"There's no question about it," said Balazs, zoologist and leader of marine turtle research for the National Marine Fisheries Service in Honolulu.

"Turtles have a following of their own."

Among the four species of sea turtle found here, the green sea turtle, or honu, is the most common, the "local" turtle. The others, experts say, migrate here to feed on the "ono grinds" in Hawaiian waters.

Sea turtles in general are dying out. Of the seven species of sea turtles found in U.S. waters, six are on the endangered species list, according to the Center for Marine Conservation.

In addition to deaths by commercial fishing, their troubles include egg poaching, tumors, marine debris and losing their nesting grounds.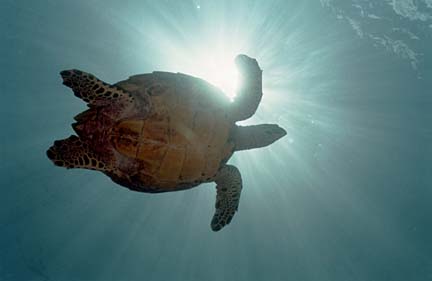 Courtesy of Ursula Keuper-Bennett
A hawksbill turtle is silhouetted by the sunlight filtering through
the ocean. Some divers have compared seeing turtles in this setting
to seeing angels. "They are their own best ambassador for their
survival," says George Balazs, Hawaii's foremost sea turtle expert.
---
Some species are more in trouble than others, such as the leatherback, the largest of sea turtles. Scientists estimate they are within five years of extinction.

The Fisheries Service estimates that between 1994 and 1998, Hawaii longline fishermen hooked about 710 sea turtles, killing 136.

Environmentalists say the death toll may be greater and warn that the turtles, particularly the endangered leatherback, can't afford a single mortality.

Fishermen say interactions are lower, and they are not killing enough turtles to make or break a species.

"Why save the turtles? It's a good question. A lot of people have a hard time understanding why they need special protection," said James Spotila, Ph.D., an environmental researcher at Drexel University in Philadelphia, who has studied leatherbacks since 1988.

The leatherbacks "represent the last of the dinosaurs. They are a big, long-lived creature, and the big ones are the first to go extinct. We look at it as an early warning sign of other species in trouble," Spotila said.

Plus, the leatherback turtles are simply fascinating creatures, Spotila added.

They are called the gypsies of the sea because they travel thousands of miles for food. Leatherbacks dive as deep as a whale, about 3,000 feet, to get food. They have a constantly regulated temperature, unlike most reptiles. They can live 50 years and become as large as a Volkswagen Bug.

And if scientific wonder doesn't impress, what if the leatherback "carries a special gene or oil for curing cancer? If we cause them to go extinct, the world will be a poorer place," Spotila said.

"If we're catching leatherback turtles, we need to change our fishing practices."

Balazs, who has studied sea turtles in Hawaii for 30 years, sees signs of hope for the comeback of some species -- "if you leave them alone and don't kill them," he said.

The turtle he has researched most, the Hawaiian green sea turtle, has become a success story because it's been left alone.

"Hawaii is well known for placing the green turtles back on the road to recovery for the past 28 years," he said.

Balazs fell in love with the first green sea turtle he ever saw in 1963 while on vacation in Bora Bora.

"They stir the imagination," he said. "I like those eyes. It's a vegetarian, the only sea turtle that is. It grazes on the pastures of the sea."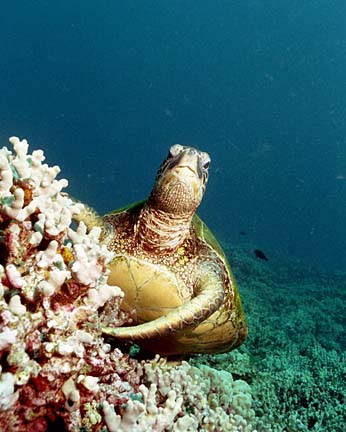 Courtesy of Ursula Keuper-Bennett
This young turtle was seen on a dive this summer. She was resting,
with her flipper up, on Cladophora algae, which is often seen at dive
sites. From her expression it's clear she found the divers of interest,
and scuba divers are rapidly becoming avid fans of sea turtles.
---
Hawaiians revere the sea turtle they call honu for nourishing them as food and for guarding families with its aumakua spirit.

In Hawaiian lore, one green sea turtle changed its shape into a child and protected the children of Punaluu on the Big Island. Her name was Kauila.

The commercial fishing of turtles, and not the native Hawaiian takes, drove the species to the edge of extinction in the late '60s.

Balazs' research convinced the state to ban commercial killing of green sea turtles in 1974.

Tens of millions of green sea turtles once swam the world, according to Turtle Trax, a respected web site of sea turtle information (www.turtles.org). Now fewer that 200,000 mature females are believed left.

In Hawaii, the green turtle is a threatened species. Only 100 to 350 females nest each year, mainly at the French Frigate Shoals.

Today green sea turtles swim up to divers for the first time in decades, Balazs said.

"If a turtle saw a scuba diver in the early '70s, it turned around and hauled butt," he said. "Now, they'll swim to you. They have no fear of people. They are actually inquisitive about people."

In recent years, they have been hauling their 300- to 400-pound bodies onto remote Big Island beaches to sunbathe -- unheard of and unseen for decades, Balazs said.

As turtle encounters with humans increase, more fans are born. The turtles are redefining the limits of how humans can interact around them, Balazs said. They could even give Hawaii's beloved humpback whale competition for its popularity.

"On Maui at the Kahului Airport you see fliers advertising snorkel and dive trips selling sea turtles, turtle town, turtle alley, turtle dives," Balazs said.

"They are a close second to the whales, and it's real hard to compete with a whale."
E-mail to City Desk
---
---
© 2000 Honolulu Star-Bulletin
http://archives.starbulletin.com