Advertisement - Click to support our sponsors.

---

---
Saturday, September 9, 2000






The drop of 10 to 20 cents a gallon
on the heels of a hike was because
wholesale prices dropped,
the company says

---

By Rob Perez
Star-Bulletin

The company that operates 18 Arco gas stations on Oahu says it dropped its pump prices by at least 10 cents a gallon yesterday, only days after raising prices by similar amounts.

The price drop was as much as 20 cents at a few outlying Arcos, including those in Maile and Nanakuli. That likely represents a record for a one-day decline at an Oahu gas station.

Sam Eljaouhari, vice president of Hawaii operations for B.C. Oil Ventures, which operates the 18 stations and oversees eight other dealer-run Arcos, said yesterday's action resulted because of a dramatic drop in Los Angeles wholesale gas prices on the spot market.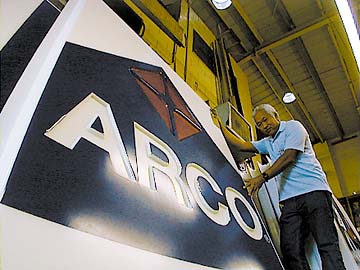 Star-Bulletin
B.C. Oil Ventures runs Oahu's 18 Arco gas stations
and oversees the island's eight dealer-run Arcos.
---
B.C. Oil's gasoline-supply contracts with Chevron Corp. and Aloha Petroleum Ltd. are tied to the L.A. spot price, Eljaouhari said.

He said yesterday's action was not related to a Star-Bulletin article about rising gas prices that ran on that day's front page. The article noted that some Arco stations had upped their prices 10 cents or more.

Yesterday's changes meant the company-run Arcos were selling regular unleaded for as low as $1.759 along the Leeward Coast and in the $1.80s elsewhere.

Dealer-run stations are free to set their own pump prices. but B.C. Oil also lowered the dealers' wholesale price yesterday because of the spot-price drop, according to Eljaouhari.

He said the L.A. spot price plunged 33 cents on Thursday and yesterday after having risen dramatically in recent weeks.

Wednesday's spot price of $1.625 a gallon was a 52-week high. By yesterday, the price had fallen to $1.29.

Even though B.C. Oil has yet to purchase gasoline pegged to the lower prices -- it still has fuel at its Barbers Point terminal -- the company decided to lower prices yesterday so consumers could benefit over the weekend, Eljaouhari said.

B.C. Oil recently filed for Chapter 11 bankruptcy protection.
E-mail to City Desk
---
---
© 2000 Honolulu Star-Bulletin
http://archives.starbulletin.com