Advertisement - Click to support our sponsors.

---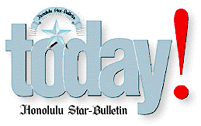 ---
Thursday, August 31, 2000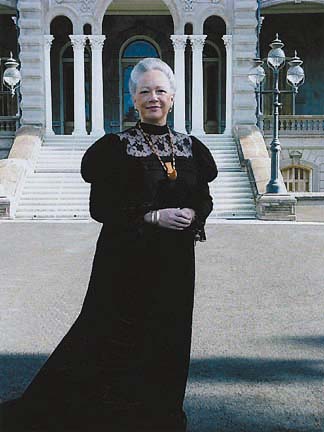 UH Outreach College
Nalani Olds performs in a tribute to Queen Lili'uokalani.
---
Tributes to
a queen


Two programs celebrate
Lili'uokalani's birthday

---

By John Berger
Special to the Star-Bulletin

QUEEN Lili'uokalani might seem to outsiders to have been a royal failure. She reigned for less than two years and was defamed by her enemies as part of their successful campaign to discredit and eventually destroy Hawaii's monarchy in 1893. How things have changed since those times!

Lili'uokalani has become a symbol of Hawaiian culture and Hawaiian pride. She's revered for her unquestioned talent as a composer and lyricist, for her love for Hawaii's people, and for her dogged resistance to the enemies of Hawaiian sovereignty.




ON STAGE

What: "He Po'ai Aloha: The Queen's Story Retold in Song," featuring Nalani Olds
When: 3:30 p.m. today and tomorrow
Where: University of Hawai'i at Manoa Krauss Hall 012
Cost: Free
Call: 956-3836

What: "E Lili'u E," presented by Kahauanu Lake and the Hawaiian Music Hall of Fame
When: 5 p.m. Sunday
Where: Kawaiaha'o Church
Cost: $15
Call: 235-4742




Contemporary songwriters and recording artists from John Kalani Lincoln ("My Hawaiian Queen") to Fiji ("Queen's Cry") have honored her in song. Her personal motto, "Onipa'a" (generally translated to mean "steadfast" or "stand fast"), inspires a new generation of local nationalists of all races.

She was born Lydia Lili'u Loloku Walania Kamaka'eha on Sept. 2, 1838, and two special programs are commemorating the 162nd anniversary of her birth this weekend. Nalani Olds brings her acclaimed one-woman show, "He Po'ai Aloha: The Queen's Story Retold in Song," to Krauss Hall on the University of Hawai'i at Manoa campus for performances today and tomorrow. Kahauanu Lake presents "E Lili'u E," a concert honoring the Queen with mele and hula, at Kawaiaha'o Church on Sunday.

Both see the queen as a timeless inspiration for Hawaiians and non-Hawaiians as well.

"She is a representative of Hawaii and the Hawaiian people and the (Hawaiian) race and maybe the finest role model one can look at and say, 'If Hawaiians are like that, boy, you've got something,' " Lake says.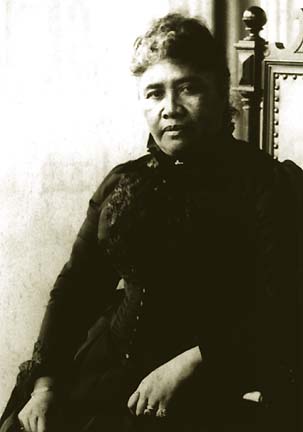 File photo
Queen Lydia Lili'uokalani.
---
Mahi Beamer, Pi'ilani Smith, Momi Kepilino, Vangie Kealoha Wong, Sissy Lake, and Joe Recca, will be among the performers joining Lake in the church that Lili 'uokalani -- her name changed when she became heir apparent in 1877 -- once attended as a parishioner, and where she played the organ and led choral groups.

Lake adds, "Hawaiians should be honoring Lili'u more than they have been. Everybody is beginning to find out what America didn't want to teach them (about the overthrow). That's the respect she's getting now from today's people. I feel the same way about her music."

Olds grew up singing the queen's compositions and was raised on stories of Na Lani 'Eha (The Royal Four -- Lili'u, King David Kalakaua, Princess Miriam Likelike and Prince William Pitt Leleiohoku) that had been passed down from her great-grandmother, a confidante of the queen and lady-in-waiting to Likelike. Olds shares some of those stories as she performs selections from "The Queen's Songbook," a superbly annotated collection of songs -- many never previously published -- written or composed by Lili'u.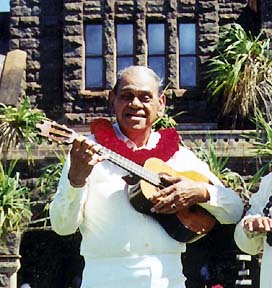 File photos
Kahauanu Lake honors Queen Lili'uokalani.
---
Olds learned the songs and the art of storytelling from her grandmother.

"I'm basically a classical Hawaiian singer and I probably knew most of them when I was 4 or 5 years old. I would sit at the piano with my grandmother and she'd sing songs and tell stories about areas and places and people.

"That's where I picked up that habit (of telling the stories about the songs) and I've always done that."

So Olds may tell of how her great-grandmother and Lili'u composed a song for Likelike regarding a particular event and about those who interpreted the song in other ways because they didn't know all the circumstances of the song's creation. She'll also share some of the historical and cultural notes included in the recently published book.

"If we choose to live in Hawaii, then we need to know about the history and the culture of the place that we live in. We need to be educated and to teach this to our children. Every home in Hawaii should have this book."

Her show, "He Po'ai Aloha" ("Encircled With Love"), focuses on the queen's legacy as a composer and lyricist, but Olds says that her life and writing is relevant in other contexts, not only for Hawaiians. She uses Lili'u as an example when working as a facilitator and counselor aiding substance abusers in the community outreach programs and in the prison system.

"There are wonderful lessons in her life and every time I read something or reread something I'm just floored with the insight and the wisdom and the kinds of things that come out of that. Way before Martin Luther King and all of them, she was an advocate for peace and justice. I think she's an example for all of us.

"Some people will say that she should have fought (in 1893) but she knew that her people were dying out and she didn't want another drop of Hawaiian blood shed. She had a great trust in people and faith and she truly believed that the United States government would see the error of its ways and correct a great injustice.

"Isn't it is a shame that that didn't come to pass?"

Lake agrees that Lili'u took the high road in 1893.

"She couldn't do anything else and not endanger her people so what she did do was say, 'I yield to a higher authority only because of the threat of guns.'

"She never really turned the kingdom over to anybody. It's still intact today; it's just that we're occupied by the United States (and) some of us like the occupation. (Other groups) say, 'We fought for you (Hawaiians).' Well, we fought for (the U.S.) too. First World War, Second World War, Hawaiians went."






Click for online
calendars and events.
E-mail to Features Editor
---
---
© 2000 Honolulu Star-Bulletin
http://archives.starbulletin.com