Advertisement - Click to support our sponsors.

---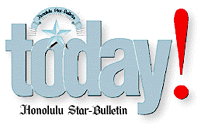 ---
Wednesday, August 16, 2000
HAWAII'S BIG-TIME BAKERIES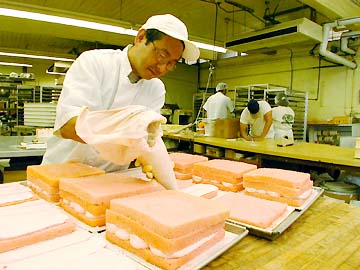 By Craig T. Kojima, Star-Bulletin
A rainbow chiffon cake, before and after decorating.
---
Delectable,
delovely delights


Tropically-flavored chiffon
cakes are Dee Lite's
masterpieces

Third in a series

---

By Betty Shimabukuro
Star-Bulletin

It's hard to get Herbert Matsuba to talk much about the origin of his now-famous chiffon cakes, but his few words are Zen-like:

Coconut was first.
It came out nice
I called it Delite.

Three more syllables in the middle and it would be a haiku.

Matsuba began with the idea of incorporating Hawaiian flavors into a baked item, something that would set his new bakery apart. He started with a basic chiffon cake, but wanted something more substantial, with the flavor baked into the cake as well as part of the filling.

"It's not heavy, it's not light, it's a happy medium," he says. "To put it in the middle is not an easy thing."




ABOUT THIS SERIES

Each Wednesday in August we will pay tribute to Hawaii's most successful bakeries -- focusing on the item that is each bakery's claim to fame.

Next week: Leonard's malassadas
Last week: Napoleon's Napple
Aug. 2: Liliha Bakery's Coco Puff




His wife Sue, who ran the shop, says the cake baking started small, amid the daily production of French bread and sweetbread. "They would finish one cake, put it in the showcase. When it sold, they would make another one. That's how it started, one by one."

For a reason he and his wife can't quite recall, the name of the cake (Delite) was spelled differently than the bakery (Dee Lite).

Matsuba retired in 1990, selling Dee Lite to Saint-Germain America, which kept the name and all the cakes and is carrying them in 11 stores.

They sell 150 chiffon cakes a day, with the most popular being rainbow, a mix of guava, passion fruit and lime layers.

About eight years ago, the bakery experimented with a change in flours, says William Yamada, production manager for the bakery division. "We noticed sales started dropping off, so we said, 'No sense fix something that's not broken.' "

So it was back to the classic.

The cake layers are baked in shallow sheet pans. Each pan is cut into six squares to make three regular-sized cakes. (The cakes also come in half-sized oblongs and the larger sheet and half-sheet sizes). Rainbow cakes consist of three multicolored layers, so they end up taller than the two-layerd single flavors.

The cake decorators make quick work of frosting the cakes, squeezing filling out of pastry bags. Prices are $10.60 for the single-flavor square cakes; $15.90 for rainbow.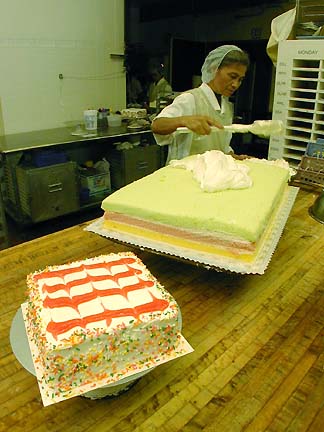 By Craig T. Kojima, Star-Bulletin
William Yamada squeezes filling onto layers of guava chiffon cake.
---
Yamada makes it a point to compare Dee Lite cakes with chiffons of other bakeries and says Dee Lite's remains distinctive. "For me it's the flavor. It doesn't have a real strong taste that overpowers."

The Matsubas opened their first bakery on Mokauea Street in 1959. They called it Dee Lite because that was the name of the place when they took it over.

Matsuba had trained first in his father's Japanese bakery on Kauai -- "That's how I got the feel of the flour" -- then in baking school in Minnesota.

"Gradually he started his coconut cake," Sue Matsuba recalls. "Next was Dobash. Then slowly he added the guava, which was nice, then passion, all these Hawaiian flavors."

Popularity of the cakes spread by word of mouth, to the point where in 1964 the Matsubas were able to expand to a new building on Dillingham Boulevard, which remains the central bakery for Dee Lite and Saint-Germain.

That's when sales really took off, Sue Matsuba says. They added bakeries in Waipahu and Pearlridge. "By 1974, '75, oh yeah, we were really working hard."

Coconut and guava flavors were most popular at the time; rainbow didn't come along until late in the game, about 1985. Coconut remains the Matsubas' personal favorite, but when they want a cake they buy one.

They sold their recipes to Saint-Germain and say they haven't taught anyone -- friend or family - how to bake the famous cake.

Herbert Matsuba has taken up ukulele among his other retirement pursuits and no longer bakes much, although his wife says they did have to depressurize a bit after first giving up the bakery.

"We were baking a lot of cookies and pies for awhile -- when we first retired, kinda felt lost, yeah? -- we didn't sell them, but we made quite a bit and gave them away," she says. "But not anymore."






Click for online
calendars and events.
E-mail to Features Editor
---
---
© 2000 Honolulu Star-Bulletin
http://archives.starbulletin.com