Advertisement - Click to support our sponsors.

---

---
Wednesday, August 9, 2000







Price says she'll
don new bodysuit
at swim trials


Speedo claims the suit can
improve times by nearly
three percent

---

By Pat Bigold
Star-Bulletin

Hawaii swimming sprinter Keiko Price said she will wear one of the controversial new bodysuits approved by FINA for the U.S. Olympic Swimming Trials at the Indiana University Natatorium, which begins today and runs through next Wednesday.

Price, who will compete for a spot on the 100-meter freestyle team Sunday morning and the 50-meter freestyle team Tuesday morning, said she has tried one of the sleek, buoyant suits and likes the feel.

"It feels different," she said by phone from her Indianapolis hotel. "You definitely feel lighter in the water. I'm either going to use the full-length one or the one that goes to your knees."

The powerful former Mililani High School and UCLA swimmer said she didn't know the design details of the suits, described by some swimmers as a second skin.

"Speedo's giving them out to everybody competing in the meet," Price said.

She said the materials used for the suits are more water resistant.

Adidas and Speedo make the suits, which have been tested and debated over for the past two years.

Among the issues that have been debated are their availability to all athletes and their legality under current FINA standards.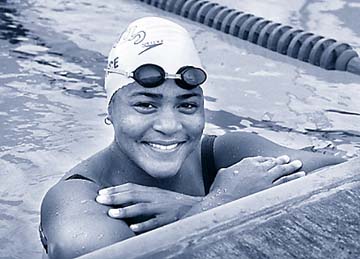 Keiko Price
HAWAII SWIMMER
"It feels different. You definitely feel lighter
in the water. I'm either going to use the full-
length one or the one that goes
to your knees."
---
The FINA rule reads: "No swimmers shall be permitted to use or wear any device that may aid his speed, buoyancy or endurance during a competition (such as webbed gloves, flippers, fins, etc). Goggles may be worn."

Adidas said its product compresses the swimmer's muscles and delays fatigue.

Speedo has made the claim that its suit could improve times by nearly 3 percent. An article on nbcolympics.com said the Speedo suit "...mimics shark skin and is individually created to coordinate with the swimmer's muscles, with the seams providing tendon-like tension."

Top international competitors Jenny Thompson, Dana Torres and Tom Malchow of the United States and Ian Thorpe, Grant Hackett and Kieren Perkins of Australia have endorsed bodysuits.

Price is one of about 1,300 competitors in Indianapolis.

She has said her best chance lies in the 100 where six swimmers will qualify for the team. Olympics commentator Rowdy Gaines has predicted that the U.S. women will capture gold in the 100-meter freestyle relay.

Altogether, the U.S. will take 26 men and 26 women to Sydney.

If Price or male sprinter Sabir Muhammad, a former Stanford All-American who has been living and training in Hawaii since late last year, make the cut, they will become the first African-Americans to earn spots on the U.S. Olympic swim team.

With five days to go before she competes, Price said she was doing everything she could to stay relaxed.

"I'm trying not to think too much," she said. "You definitely can get really stressed out at this meet but I'm trying to keep my thoughts very cool."
E-mail to Sports Editor
---
---
© 2000 Honolulu Star-Bulletin
http://archives.starbulletin.com