Advertisement - Click to support our sponsors.

---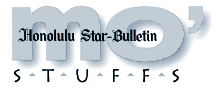 ---
Wednesday, August 9, 2000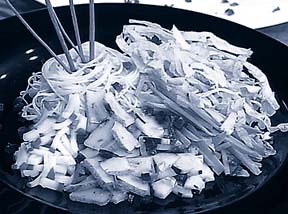 HECO
Cooling somen salad, a great hot weather dish, is being
demonstrated on "The Electric Kitchen" this month.
---
HECO program
salutes millennium
Current episodes of "The Electric Kitchen" feature recipes from Maui Electric Co.'s "Recipes for a New Millennium."

The show airs at 9:30 a.m. Sundays, 8:30 p.m. Mondays, 5 p.m. Tuesdays and 6 p.m. Thursdays on Oceanic Cable Channel 16 through Aug. 16.

It also airs on Maui at 8:30 p.m. Thursdays on Calabash Channel 44 (52 in Lahaina).

Here is one recipe from the show. More recipes can be found at the Hawaiian Electric Co. Web site, http://www.heco.com.
SOMEN SALAD
1 9-ounce package somen noodles
1 head iceberg lettuce, slivered
1 cucumber, thinly sliced
1 carrot, slivered
1/2 block (7-ounce size) kamaboko (Japanese steamed fish cake), diced
1/2 package (6-ounce size) tempura kamaboko (Japanese fried fish cake), diced
1/2 pound char siu, minced
1/2 cup minced green onion

Dressing:
1/4 cup salad oil
3 tablespoons rice vinegar
2 tablespoons sugar
2 tablespoons soy sauce
2 tablespoons sesame seed
1/2 teaspoon salt
Cook noodles according to package directions. Rinse under cold water and drain well. Place small bundles of noodles in a 13-by-9-inch serving dish. Top with vegetables, kamaboko, char siu and onion.
Combine dressing ingredients and pour over salad. Serves 10-12.
Nutritional information unavailable.
---
Celebrity chefs pair up
for Kea Lani Masters
TV chefs David Rosengarten and Ming Tsai are the all-stars pegged for the Kea Lani Food & Wine Masters event on Maui this fall. They will be paired with two Hawaii chefs who are no slouches in the celebrity department themselves.

Rosengarten, host of the Food Network's "Taste," will cook and teach alongside George Mavrothalassitis of Chef Mavro Sept. 1 and 2. Rosengarten solos for dinner Sept. 2, an all-Greek affair, from appetizer to dessert and through all the wines.

Tsai, host of Food TV's "East Meets West," is paired with Alan Wong Oct. 6 and 7 in a Euro-Asian fusion display.

The Kea Lani program includes cooking classes followed by a three-course lunch, for $45; and signature dinners, each one a five-course affair preceded by a one-hour wine-tasting session, for $98.

Rooms at the Kea Lani run from $295-$590. Call (800) 798-4552 or visit the Web site, http://www.kealani.com.
---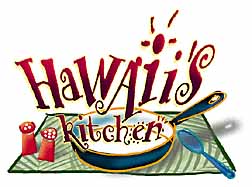 Hawaii's Kitchen
This week's episode of "Hawaii's Kitchen," which aired at 5:30 p.m. Sunday on KHON Fox 2, is a rebroadcast. The program, which featured Harry's Cafe owner Christy Cho and Chef Alex Monje, originally aired April 25, 1999. The recipes were published in the April 28, 1999 Star-Bulletin and may also be found online at http://archives.starbulletin.com/1999/04/28/features/story2.html
---

"Back to School the Wong Way": Children ages 7 to 12 are invited to cook with Chef Alan Wong at noon Saturday in the fourth-floor kitchen at Liberty House Ala Moana. Wong will demonstrate the preparation of Pizzadillas, a pizza-quesadilla combo; and Pinwheels, simple wraps. Tickets are $10 and seating is limited to 32. Others may stand and observe at no cost. Call 945-8888.

3660 cooking class: Learn to cook each item on the menu as you consume it at 3660 on the Rise, 6 p.m. Tuesday. Dishes are Nori-Wrapped Scallop, Spinach Salad with Fried Oyster, Medallions of Beef au Poivre and Chocolate Souffle Cake. Cost is $45 and includes wine. Call 737-1177.

"Hoku's Receives Top Honors": Hoku's at the Kahala Mandarin Oriental received one of the top awards for best restaurants in the U.S. hotel category of "Condé Nast Traveler's 2000 Business Travel Supplement." Hoku's serves lunch, dinner and Sunday brunch prepared in an open kitchen, complete with an oyster and sushi bar, fiery hot woks, a kiawe wood grill, tandoori oven and a wood-burning pizza oven. For reservations, call 739-8780.

"Cascada's Taste of Morocco": Cascada restaurant, on the ground floor of the Royal Garden hotel in Waikiki, offers diners a taste of the Mediterranean through Aug. 12. The four course, prix fixe menu costs $45 and includes a choice of Morocco Osso Bucco or Marrakesh Mahi Mahi. Call 945-0270.

"Hawaiian Clambake": A taste of summer is on the menu at Kahala Mandarin Oriental's Plumeria Beach Café Aug. 15, 22 and 29. The Hawaiian Clambake takes place 5:30 to 9:30 p.m. and costs $38.75 for adults, $19.50 for children. Call 739-8760.

"Mai Tai Mixer": The Hawaii Theatre presents a mixer for young professionals on Aug. 17 from 5:30-8:30 p.m. The program is designed to acquaint the younger market with the programs of the nonprofit Hawaii Theatre. Dixie Bar-b-que & Crab Shack will be serving its "Screaming Mai Tais" and food will be provided by Compadres Bar & Grill, Don Ho's Island Grill, Auntie Pasto's Kapahulu, Baci at Restaurant Row, Ocean Club, Kahala Mandarin Oriental, Brew Moon, Cafe Che Pasta, L'Uraku, Havana Cabana and the Aloha Tofu Factory. Tickets: $5.

The Greek Festival: Ala Moana Park's McCoy Pavilion will be transformed into a Greek marketplace from noon-9 p.m. on Aug. 26 and 27. Attendees can experience the Grecian culture through song, dance and food. Admission is $3 at the gate. Children under 11 who are accompanied by an adult are free. Call Saints Constantine & Helen Greek Orthodox Cathedral at 521-7220 or Athena Adams at 783-3143 for more information.

"Bake It Better With Oats" recipe contest: Quaker is seeking cooks to share their "family-favorite oatmeal recipe." Entries may be made in the following categories: easy, everyday favorites; lower-fat favorites; and kid favorites. The recipe that is selected as "best of the contest" will win the $10,000 grand prize.
To receive the complete contest rules, access http://www.quakeroatmeal.com; email OatContest@aol.com; or send a self addressed stamped envelope to: Quaker Contest Rules, P.O. Box 3305, Chicago, Ill. 60654. Contest deadline is Nov. 30.
Classes at Castle
Castle Medical Center continues its series of community classes as follows:

Today - "Nutrition, Diabetes & Weight Control" seminar. Find out the latest nutrition information related to diabetes and weight control, 6:30 to 8:30 p.m. at the Castle Center for Health Promotion. Free.

Tomorrow - Veggie Life Cooking Class: "Homestyle Vegetarian Cooking." Down to Earth's Yana Lehua, a 25-year vegetarian for 25 years, will give a demonstration on creating "homestyle" vegetarian dishes, offering recipes and sampling, 7 to 8:30 p.m. at the Castle Center for Health Promotion. Cost: $10.

Aug. 17 - Healing Foods Forum: "Improving Digestive Health." Dr. Hoener, a naturopathic physician with Kahala Natural Health Center, will talk about the importance of digestive health, 7 to 8 p.m. in the Castle Medical Center Auditorium. Free.
To register for any of the nutrition classes, call 263-5400.
'Stay Fit' keiki contest
Meadow Gold is holding a "Get Fit, Stay Fit with VIVA" contest for keiki in grades 6 through 12. Students should write a two-page essay detailing "The Importance of Leading a Healthy Lifestyle," compile a list of their athletic and health-related activities and submit a full-length color photo.

Prizes include complimentary passes from Sea Life Park and Waimea Valley Adventure Park; Lenscrafters' sunglasses; a lunch and tour from Meadow Gold Dairies; and gifts from Sephora, High Performance Kites, Fromex One-Hour Photo, and more.

Submit essays by Sept. 8 to: Meadow Gold Dairies, "Get Fit, Stay Fit with VIVA" Contest, P.O. Box 1800, Honolulu, HI 96805. Call 944-5921 for details.

Winners will be honored at 2 p.m. Sept. 30 at Ala Moana Center's Centerstage.






Click for online
calendars and events.
---
Send WatDat? questions, stories
or any other story ideas or comments to:
Features, Honolulu Star-Bulletin, P.O. Box 3080,
Honolulu, HI 96802 or send a fax to 523-8509
or E-mail to features@starbulletin.com.
Please include your phone number.
E-mail to Features Editor
---
---
© 2000 Honolulu Star-Bulletin
http://archives.starbulletin.com