Advertisement - Click to support our sponsors.

---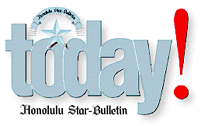 ---
Wednesday, August 9, 2000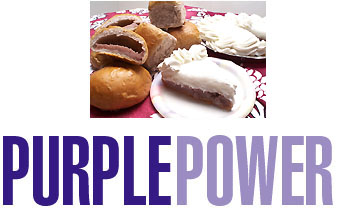 Taro is not just for poi anymore --
it's for pancakes and cheesecakes,
dinner rolls and dog biscuits
---
By Betty Shimabukuro
Star-Bulletin
SEEMS like every time you turn around, someone's putting more taro on the table.

It's not just that poi is easier to get, now you can have taro bagels for breakfast, taro biscotti with your coffee, taro rolls with dinner, taro-haupia pie for dessert -- with taro ice cream, if you so desire. You can even give taro biscuits to the dog.

Taro has come to the commercial bakery big time in the last 18 months.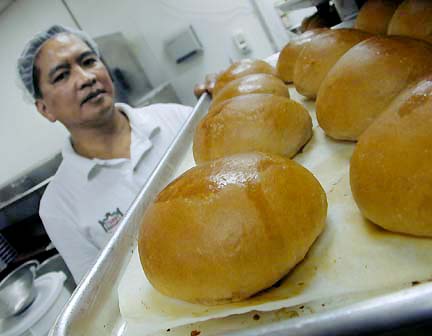 By Ken Ige, Star-Bulletin
Maximo Tagaban, head baker at HPC Foods, inspects a tray
of taro an pan.The product was introduced in March and quickly
became the company's top-selling baked specialty. It can be
found in supermarkets, at Longs Drug stores, Sam's Club and
Costco, and is even available as a fund-raising item.
---
"We see a good potential in these products because of the demand," says Brian Tottori, a vice-president at HPC Foods, which has put taro rolls and taro-filled an pan on the market in the last few months. He'll talk about the further possibilities at Friday's Pacific Islands Taro Conference.

It's that intriguing purple color. It's the innate healthiness. It's that Hawaiian-Renaissance aura.

It's the gum.

Alvin Huang, who teaches food chemistry at the University of Hawaii's College of Tropical Agriculture, is among researchers studying the appeal of the humble tuber.

Taro works well in combination with baked goods because it is high in a substance called soluble gum, Huang says . "Added to bread it gives a unique 'mouthfeel,' thick and rich, even though there's no fat in it."

This means something soft and flavorful can be baked with taro using less butter, oil and dairy products than with traditional flours. This property of taro is unique among starches, he says. Potatoes don't have it. Oatmeal is close, but because of its high fiber content produces a grainier baked good.

"We think taro could make a lot of pretty unique products."

Tottori's company put out one of the first non-poi taro byproducts, a pancake mix, more than five years ago. That was about it for a long time. A few companies tried taro chips, and taro rolls were baked on a small scale, mainly for restaurants. This paralleled a period when taro was in such short supply that poi became a precious commodity every June graduation season.

In capsule form, this is how we got from there to here:

Poi manufacturers seeking to stabilize their taro supply began offering higher prices and guaranteeing farmers a market for their crops to encourage them to plant more. They also had to woo growers away from Chinese taro, which fetched higher prices, but made lousy poi (it could be served whole or used to make chips).




A TASTE OF TARO

The Taro Resource Center at Windward Community College host a two-day taro extravaganza:

CONFERENCE

Featuring: Discussions on agriculture, aquaculture, health, biotechnology, marketing, eco-tourism
When: 8 a.m.-4 p.m. Friday
Fee: $20
Register: 235-7380

FESTIVAL

Featuring: Cultural and cooking demos, food, arts, crafts, entertainment
When: 9 a.m.-3 p.m. Saturday
Admission: Free




At the same time, Kauai's rich Hanalei Valley, source of most of the state's taro, completed its recovery from Hurricane Iniki. And farmers learned techniques that reduced the incidence of taro's scourge, pocket rot disease.

Things started going so well that HPC Foods began anticipating a surplus and got to work on products that would use the excess taro, Tottori says. "We didn't want to leave the farmers high and dry."

Department of Agriculture statistics show taro production reached 6.8 million pounds last year, the highest level since 1995. Taro farm revenues were up to a record $3.6 million, up 13 percent over the previous year. Statewide, 420 acres are planted in poi taro, the most since 1979.

Bottom line: No poi shortage this June.

At the forefront of the taro incursion are HPC and The Poi Co., two businesses with very different personalities.

The Tottori family founded a small poi-milling operation called Honolulu Poi Co. back in 1946. Although the business has expanded to include vegetable processing (thus the name change), and despite the current flurry of interest in baked goods, the family expects that poi will always be HPC's main product. The company's sales focus remains local.

The Poi Co. was purchased in 1997 by Craig Walsh, who says he always believed the company's future lay in products beyond poi and in sales beyond Hawaii. The company markets heavily on the mainland. Poi is a great product, Walsh says, but its growth potential is limited.

HPC's taro products tend toward the traditional -- pancake and bread mix, taro-haupia pie, rolls and an pan, Japanese-style buns that are a top-seller at 3,000 per day. The Poi Co. has a more avant garde approach -- cheesecake, ice cream, biscotti and bagels. "I think we're trying to find things that are fun," Walsh says.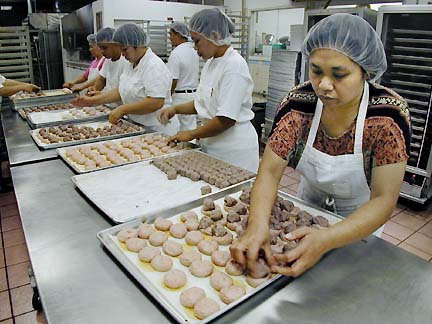 By Ken Ige, Star-Bulletin
Yolanda Ubana assembles taro an pan, placing the taro filling
into the dough, at the HPC Foods bakery in Kalihi.
---
He even tried red and green poi last Christmas and believes there's a market for single-serve containers of flavored poi such as kiwi, papaya, chai tea and cinnamon. Most of the flavors have taste-tested well, he says. Most, but not all. "Someone suggested chocolate poi. Chocolate poi is terrible."

The Poi Co. also makes dog biscuits, using taro peels removed before making poi. A canine nutritionist from Pennsylvania helped develop the recipe, which contains molasses and brewers yeast, "things that dogs apparently find irresistible," Walsh says.

He wanted to include macadamia nut butter, another Poi Co. product, "only to find that macadamia nuts can cause temporary paralysis in dogs."

The Poi Co.'s other products are made mostly with sour poi returned by the supermarkets. Once a recipe is developed, the company subcontracts the production. Hawaii Star Bakery makes its English muffins, for example; Tropilicious makes the ice cream.

At HPC, the baking is done in-house, overseen by Operations Manager Craig Tottori and chief baker Maximo Bagadan. "When we started we only had me and Maxi, a toaster and a mixer," Tottori says.

The bakery's up to a full-time staff of nine now and a fully equipped bakeshop.

What's next? Craig Tottori is working on a taro bread and a taro pastry with apples and raisins. Tastes good, he says of the second item, but he hasn't gotten it to show that distinctive purple color yet. "Gotta have that purple color or it doesn't do as well," he says. "People say, 'Not purple, no more taro.' "

The Poi Co. should have a salad dressing out in a few weeks, a creamy vinaigrette with sesame. "Poi is a wonderful emulsifier and makes a great dressing," Walsh says.

When Huang examines taro's potential from his UH post, he can see for miles. He says he's been working with the Department of Defense to develop taro products that could be incorporated into military rations. "Taro can provide sustainable energy that can be useful in military situations," Huang says.

He estimates the 420 acres now devoted to taro could be expanded to 10,000 acres, should the military connection come to pass.

It's an optimism Walsh shares.

"I think it's a fun food and there's tons of potential in Hawaii -- and we've barely touched the mainland."

---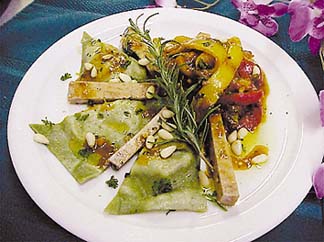 Photo courtesy Becky Speere
Taro leaf makes a fragrant pasta. This dish will be
served at the Taro Festival.
---
Pasta dish flavored
with taro

---

Star-Bulletin

Imagine a green spinach pasta, but more fragrant and deeply flavored. That's what you get when you turn taro leaves into noodles.

Chris and Becky Speere of Maui's Pauwela Cafe will demonstrate a taro pasta dish at Saturday's Pacific Islands Taro Festival at Windward Community College.

Admission is free to the four cooking demos, but tasting is $3. Call 235-7380.

TARO LEAF PASTA
WITH TARO BATONS
AND PEPPERONATA

Taro Batons

2-3 pounds Chinese taro
4 tablespoons balsamic vinegar
1/2 cup water
1 teaspoon salt
6 tablespoons olive oil

Dressing:

3 tablespoons balsamic vinegar
6 tablespoons olive oil
2 tablespoons green onion
1/2 teaspoon salt
Pepper to taste

Taro Leaf Pasta

3 cups bread flour
1/2 teaspoon salt
2 beaten eggs
1/4 cup pureed taro leaf (see note)
1/4 cup water
1 teaspoon olive oil

Pepperonata

1 cup diced Maui onions
2 tablespoon minced garlic
3 tablespoon olive oil
2 EACH green, red and yellow bell peppers, sliced into 1/2-inch by- 3-inch pieces.
1 cup marinara sauce
3 anchovy filets, chopped fine
1 teaspoon Italian herb seasoning
1 teaspoon oregano
1 teaspoon Maui raw sugar
1/2 teaspoon salt
Pepper to taste

To make Taro Batons: Sprinkle whole taro with vinegar, water, oil, salt and oil. Place in a metal or glass pan and tightly cover in foil. Bake 3 hours at 300 degrees. Refrigerate overnight.

Peel taro, then cut into batons 1/2-by-3 inches. Combine dressing ingredients and pour over taro pieces.

To make pasta: Combine ingredients, mix well and let rest 20 minutes.

Roll out dough into sheets. Cut into desired shape and boil until al dente.

Note: To make taro leaf puree, remove stems from 1-2 taro leaves. Cook leaves in boiling water 10 minutes. Drain well. Finely puree in food processor. Cool.

To make Pepperonata: Saute onions and garlic in oil over medium heat till golden brown, about 4 minutes. Add peppers and saute 2 minutes. Add remaining ingredients. Toss lightly.

To assemble: Toss pasta with Taro Batons and Pepperonata. Top with Parmesan cheese if desired. Serves 8.

Approximate nutritional information, per serving: 650 calories, 30 g total fat, 5 g saturated fat, 55 mg cholesterol, greater than 850 mg sodium.*




Click for online
calendars and events.
E-mail to Features Editor
---
---
© 2000 Honolulu Star-Bulletin
http://archives.starbulletin.com