Advertisement - Click to support our sponsors.

---

---
Wednesday, July 26, 2000



H A W A I I _P R E P _ S P O R T S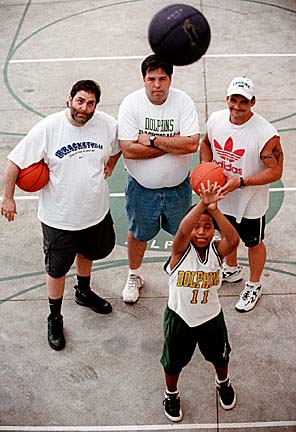 By George F. Lee, Star-Bulletin
Henry Henry of the Kona Dolphins practices his free
throws under the watchful eyes of, from left, Dr. Scott
Gladstone, Lason Perkins and Peter Quesada.
---
Psychiatrist's
mind on youth
basketball


Kona man is the co-founder
of an annual tournament
for 12- and 13-year-olds

By Steve Murray
Star-Bulletin

He says he is no one special, just a dad and a doctor.

He is also the co-founder of a worldwide youth basketball tournament that this year will host teams from seven countries.

Scott Gladstone, a 40-year-old psychiatrist from Kona, started the tournament because he felt Hawaii athletes did not have the same opportunities as those on the mainland.

"I saw a need for Hawaii high school athletes to have an equal opportunity to get a university scholarship," he said.

Gladstone and co-founder Peter Quesada enlisted the help of some big-named friends to help them kick off the World Youth Basketball Tournament last year. NBA Hall of Famer Bill Walton, NBA star Larry Hughes and Ann Meyers Drysdale, the only woman ever signed by an NBA team, coached the kids in various development drills.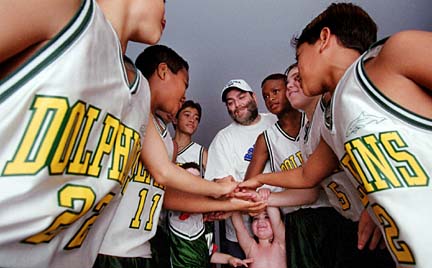 By George F. Lee, Star-Bulletin
The Dolphins gather for a team cheer.
---
This year, an invitation has been extended to part-time Kona resident David Robinson of the San Antonio Spurs. Gladstone has yet to receive word if Robinson will attend.

Only one international team participated in last year's tournament. This year's lineup includes teams from the United States, Canada, Australia and New Zealand.

Gladstone is the coach of the Kona Dolphins, a team of 12- and 13-year-olds. He said he had to bring in an "expert." Coaching the kids this year will be Lason Perkins, an assistant coach for the United States Basketball League Raleigh Cougars and the author of three books on coaching basketball.

To help in Gladstone's goal to get local kids noticed by big-name schools, two influential college scouts, Bob Gibbons and Mike White, will assess all players in the tourney. All participants also will have information about them included on "Prep Star," a national scouting service's Web page.

Managing the tournament has not been easy, or cheap, for Gladstone. "Last year I lost a bundle," he said. "I lost about $30,000." He's expecting to break even this year.

Going beyond the basics of skill development, impressing scouts and competing, the tournament also will tackle more serious concerns.

Tournament personnel will talk to players about how grades and behavior effect the chances of getting a scholarship. For the coaches, a discussion will be held to talk about the problems and possible solutions facing youth sports in their area.

The games will be held at Kealakehe and Konawaena high schools.

Gladstone calls Kealakehe Principal Will Murakami the unsung hero of the tournament.

"We couldn't do it without him. He got the community behind us," he said.

Like last year, this year's tournament will be featured on ESPN's "Scholastic Sports America."
E-mail to Sports Editor
---
---
© 2000 Honolulu Star-Bulletin
http://archives.starbulletin.com