Advertisement - Click to support our sponsors.

---

---
Wednesday, July 26, 2000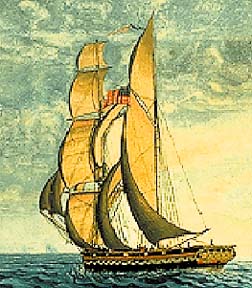 An artist's rendition of the vessel
---
Hanalei Bay
yields royal
treasures


Divers find a section of King
Kamehameha II's sunken yacht
-- and not a moment too soon

By Anthony Sommer
Kauai correspondent

HANALEI, Kauai -- "It isn't like this every day," Paul Johnston said over and over, mixing exultation with apology. "It really isn't."

Johnston stood on the stern of the Pilialoha (Circle of Friends), which was anchored a few hundred yards offshore in Hanalei Bay near the mouth of the Waioli River.

Less than 20 feet below him, divers were carefully examining a one-meter-square area of the wreck of the Ha'aheo o Hawaii (Pride of Hawaii), King Kamehameha II's royal yacht.

The ship -- known to maritime archaeologists by its original name, Cleopatra's Barge -- went aground on the reef on April 6, 1824.

Every few minutes a diver surfaced and handed an object to Johnston: copper spikes, a gunpowder flask, a broken piece of china, a red checkers piece made of wood and covered with porcelain. The phrase "mother lode" was being uttered a lot.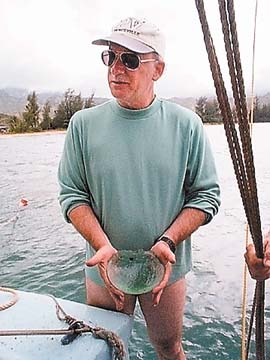 By Anthony Sommer, Star-Bulletin
Researcher Paul Johnston holds a dome-shaped piece of
glass recovered from the wreck. It is thought to be a
deck light, used to allow sunlight below the main deck.
---
But the real find was the wreckage they were excavating down on the sea floor. After methodically searching the ship's wreckage, square meter by square meter, since 1995, Johnston and crews have recovered a wide variety of artifacts, but no wood planking. Johnston had long given up hope of finding any portions of the hull intact.

"All we had were a few dissociated timbers. We believed the hull had been eaten away by teredo worms and pulverized by almost two centuries of winter storms and hurricanes and tsunamis," said Johnston, who is curator of maritime history at the Smithsonian Museum of American History.

"I thought all we would find were little bits that were ground up and forced under the reef. I really had given up all hope of finding any of the hull."

Last week, completely unexpected, they found it: a major section of the hull totally intact. Also located were the sternpost and the attachments for the rudder.

"We have most of the underwater (below the ship's waterline) portion of the port side, the left side," Johnston said. "It could be 20 percent to 30 percent of the entire hull. I'll have a clearer idea in four to five days."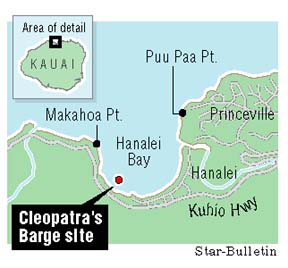 It's a fairytale ending to a dream-of-a-lifetime story.

Johnston, just out of graduate school, first heard of Cleopatra's Barge on the first day of his first job as curator of a maritime museum in Salem, Mass., where the 100-foot-long ship was built. He waited decades to be able to search for it and then excavate it.

This is the last year of the excavation. It's not likely that funding will be available any time in the foreseeable future to revisit the wreck. If the hull was to be found, it had to be this year. "This is a major find," Johnston said. "Some naval vessels from the War of 1812 have been excavated in the Great Lakes but nothing is known about private ships of this period. This is real virgin territory here."

Cleopatra's Barge holds a special place both in American maritime history and in Hawaiian history. It was the first oceangoing pleasure yacht ever built in the United States, commissioned in 1816 by George Crowninshield Jr., the heir to a fortune made by his father as a privateer in the War of 1812. The ship cost $100,000 to build and furnish, about 10 times as much as the average merchant vessel of its day.

Crowninshield made one six-month cruise of the Mediterranean in 1817; a few months after returning, he died. Cleopatra's Barge was auctioned off for only $15,400 in 1818 and resold to King Kamehameha II in 1820 for 8,000 piculs of sandalwood, worth about $80,000.

Renamed Ha'aheo o Hawaii, it became the king's royal yacht. In 1824, Kamehameha II visited England, where he died of the measles without ever learning his yacht had gone aground off Kauai. The sinking is attributed to a drunken crew. No one was injured and the survivors were able to wade ashore.

Johnston calls Cleopatra's Barge an icon in New England maritime history. Three books have been written about her. She was so luxurious and unusual that up to 2,600 people a day visited her during construction and she had as many as 8,000 visitors a day at Mediterranean ports of call.

But much about her design and construction remains a mystery because no architectural drawings have survived, nor was there a model built of her prior to construction. The arrangement of her interior cabins was known to be unique but all that remains are anecdotal accounts.

As Ha'aheo o Hawaii, the yacht is almost the greatest treasure trove of artifacts from the reign of Kamehameha II.

"Surprisingly little from his reign is available in museums," Johnston noted. "Although his reign was short he was arguably as important a figure as his father in the history of Hawaii. It was Kamehameha II who ended the kapus and changed the whole social structure of the Hawaiian people, and it was Kamehameha II who allowed the Christian missionaries to come to Hawaii."

The artifacts on the wreck have been saved from looting by the nature of Hanalei Bay itself. Although easily reached from shore, it is perpetually buried in sand.

The Smithsonian crew uses the propeller of the research ship Pilialoha to clear away the sand. A specially designed L-shaped tube directs the pressure from the prop straight down to the wreck site. Once the excavation is done, the sand fills back into the hole.

---




On the net: www.si.edu/i+d/redux.html
E-mail to City Desk
---
---
© 2000 Honolulu Star-Bulletin
http://archives.starbulletin.com