Advertisement - Click to support our sponsors.

---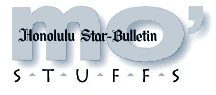 ---
Wednesday, July 26, 2000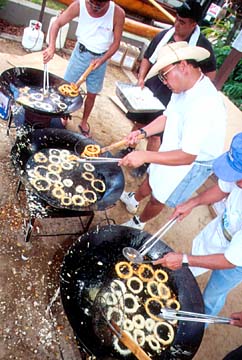 Maui Onion Festival
Crisp onion rings will be served up.
---
Many layers
to onion festival
You know you're an important vegetable when you get an entire festival to yourself.

So it is with the sweet onion, which will be celebrated and devoured at the annual Maui Onion Festival, taking place Aug. 5 at Whalers Village in Kaanapali for the benefit of the Maui Humane Society.

Curtis Aikens, host of the Food Network's "Pick of the Day," is the celebrity chef guest, appearing at 2 p.m. Also part of the day: A recipe contest, onion-eating contest and the sale of onion products and other Maui produce.

Cooking demonstrations will be given throughout the day by Honolulu chefs Russell Siu, George Mavrothalassitis, Chai Chaowasaree, Glenn Chu and Jean Marie Josselin. These same chefs -- minus Josselin, but with Peter Merriman added -- will prepare onion-themed dishes (up to and including dessert) at a gala dinner with champagne, wine and port beginning at 6 p.m. Cost is $100, to benefit the Nature Conservancy of Hawaii.

Call (808)662-4567, Ext. 4 for information or reservations.

Morsels

Six years and counting: A Pacific Cafe in Kihei celebrates its sixth anniversary Saturday with a dinner featuring chefs from throughout Jean Marie Josselin's restaurants. They'll present such specialties as galangal-crusted opah, tea-smoked duck breast, lobster-crab summer roll, Parker Ranch striploin and more at cooking stations throughout the restaurant. Cost is $50, to benefit the Maui County Cancer Society. Call (808) 879-0069.

Ahi festival: Hoku's at the Kahala Mandarin Oriental hotel is holding a week-long Ahi Festival, featuring dishes of Chef Wayne Hirabayashi such as Ahi Wrapped in Summer Truffle with Kahaluu Bacon and Kiawe-Grilled Ahi. The festival runs tomorrow through Aug. 5. Call 739-8780.

Dinner and opera: Diamond Head Grill hosts another Hawaii Opera Theatre "Sneak Peek Opera Night," featuring selections from "Opera of Figaro" and "Carmen," productions scheduled for the stage next year and in 2002.
Performing from 6:30 to 7 p.m. tomorrow will be Mike Galizia, Tara Hunt and Lutisha Manganag
Dinner, pupus or cocktails will be available. Call 922-3734.

"Dishes from Singha Thai Restaurant": Chef Chai Chaowasaree demonstrates the preparation of dishes from his Thai restaurant at the Lyon Arboretum's classroom, 9:30 a.m. Saturday. Cost is $22, $18 for arboretum members, $15 for seniors. Space is limited. Call 988-0456.

"Chef's Challenge": 3660 on the Rise hosts a grand experiment Friday, seeing what happens when chefs take as cooking partners media types who cover the restaurant arena in Hawaii. Each team will prepare a dish, paired with wine. Everybody eats everything, then come the critiques.
Professional participants are Doug Lum of Mariposa in Neiman Marcus, Colin Nishida of Side Street Inn and Fort Street Bar and Grill, Kevin Higa of Superb Sushi and David Takaki of 3660. Their non-pro teammates are Joan Clarke of the Honolulu Advertiser, Betty Shimabukuro of the Star-Bulletin, Jo McGarry of Gustophiles 1420 AM and Guy Hagi of KHNL.
Dinner starts Friday at 6:30 p.m. and costs $65. Call 737-1177.

Medical chats set
The house call is back, in a way. St. Francis Medical Center is hosting a series of Internet chats that allow consumers to have medical questions answered.

Log on to www.americasdoctor.com or www.stfrancishawaii.org. Here is the schedule:
Tomorrow -- Angie Coste, a clinical research coordinator at the St. Francis Liver Center will discuss "Hepatitis Treatment Management" from 9 to 10 a.m. Information: the Liver Center at 547-6541.
Aug. 8 -- Neurosurgeon Dr. Leon Liem will discuss "Intradiscal Electrothermal Treatment: A Minimally Invasive Surgery for Back Pain" from noon to 1 p.m. More information is also available by calling Liem's office at 547-6950.
Aug. 14 -- Dr. Inam Rahman will chat about osteoporosis from 1 to 2 p.m. Rahman may be reached at 676-7454 or 945-3636.
Aug. 28 -- Dr. Tanya Schwartz discusses "Early Signs of Alzheimer's Disease," 8 to 9 a.m. Information: Schwartz's office at 544-3366.
Sept. 4 -- Rahman will talk about erectile dysfunction, 7 to 8 p.m.
If you miss a chat, the transcript copy will be posted on www.americasdoctor.com's library two weeks after the event.

Nominees sought
Straub Foundation is accepting nominations for the 2000 Guy Champion and John C. Milnor Professional Activities Award presented annually to a Hawaii health-care professional who has achieved an outstanding record of voluntary professional activities.

The time period for performance of the service was July 1999 and June 2000. The deadline for applications is Sept. 15.

To request an application form or to nominate someone, call Straub at 524-6755, or write: Milnor Professional Activities Award, Straub Foundation, 1100 Ward Ave. #1045, Honolulu 96814.

Shishu exhibition opens
The distinctive shishu needlework of Big Island women will be exhibited tomorrow through Oct. 21 at the Japanese Cultural Center of Hawaii.

The exhibit of the unique embroidery form developed by Yoshio and Ima Shinoda in the years before World War II also will include personal recollections of their students, mostly blue-collar women who lived in Hilo or rural areas nearby.

Hilo shishu combined Western and Japanese techniques and design with island motifs. The history and stories of students and teachers were chronicled in "The Shishu Ladies of Hilo," a book written by the Shinodas' daughter, Shiho Nunes, and granddaughter, Sara Nunes-Atabaki.

Gallery hours are 10 a.m. to 4 p.m. Tuesday through Saturday. Admission is $3, $2 for students and $1 for children 6 through 11.

A one-day shishu workshop will take place 9 a.m. to 4 p.m. Aug. 17. The cost is $28 for JCCH members and $32 for nonmembers. Participants should bring scissors and a lunch. The deadline to register is Aug. 14.

For more information or to register for the workshop, call 945-7633.

Pearl Harbor talk set
"Kimmel's Dilemma: The Defense of Pearl Harbor," will be the subject of a talk by Star-Bulletin reporter and military historian Burl Burlingame at the monthly meeting of the Pacific War Roundtable, 7 p.m. tomorrow at the USS Arizona Memorial Visitor Center Theatre.

The Pacific War Roundtable hosts discussions and presentations on subjects related to Pacific military history. Meetings are free, and generally occur on the last Thursday of each month, either at the USS Arizona theater or at the USS Bowfin museum.

Information: 422-2771, ext. 136, or go online at www.pacifichistory.net.





Click for online
calendars and events.
---
Send WatDat? questions, stories
or any other story ideas or comments to:
Features, Honolulu Star-Bulletin, P.O. Box 3080,
Honolulu, HI 96802 or send a fax to 523-8509
or E-mail to features@starbulletin.com.
Please include your phone number.
E-mail to Features Editor
---
---
© 2000 Honolulu Star-Bulletin
http://archives.starbulletin.com