Advertisement - Click to support our sponsors.

---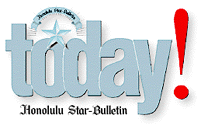 ---
Wednesday, July 26, 2000



Two from news
take turn in 'Kitchen'

Recipes prepared by Trini Kaopuiki, weather announcer, and Malia Mattoch, weekend anchor, of KHON news, on "Hawaii's Kitchen" this week. The show aired at 5:30 p.m. Sunday on KHON Fox 2.

---




Ahi & Maui Onion Appetizer

Ahi fillet
Lemon pepper
Sour cream
Mayonnaise
Maui onions
Capers
Crackers

Slice ahi fillet into bite-size pieces. Lay flat in dish. Sprinkle with lemon pepper. Combine sour cream and mayonnaise to taste. Spread on fish. Add chopped Maui onions. Add capers. Refrigerate and serve on crackers.

Judy Mattoch's Cheesecake

Crust:
1-1/2 cups graham cracker crumbs
1/3 cups sugar
1/4 cup melted butter
First cheesecake layer:
2 8-ounce packages cream cheese
1-1/4 cups sugar
3 eggs
1 teaspoon vanilla extract
Second cheesecake layer:
8 ounces sour cream
1/4 cup sugar
1 teaspoon vanilla extract

Preheat oven to 375 degrees. Mix together crust ingredients. Using a springform cheesecake pan, pat the crust down onto the bottom of pan and up the sides to about a half inch depth. Set aside.

Mix together ingredients for the first cheesecake layer with an electric mixer. Pour onto crust and bake 40 minutes. Mix together ingredients for second layer like the first and set aside. After baking, allow first layer to cool totally. Pour in second layer mixture and bake another 10 minutes. Cool. Garnish with sliced fruit.

Nutritional information unavailable.




Click for online
calendars and events.
E-mail to Features Editor
---
---
© 2000 Honolulu Star-Bulletin
http://archives.starbulletin.com