Advertisement - Click to support our sponsors.

---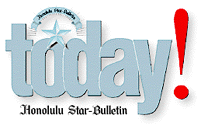 ---
Wednesday, July 26, 2000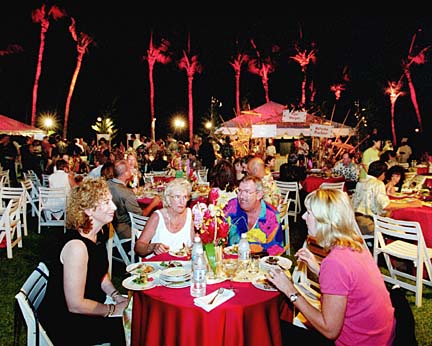 By George F. Lee, Star-Bulletin
Donna Wald of Los Angeles; Starley Norton and
Adrian Norton, both of Sydney Australia; and
Carolyn O'Neil of Atlanta Georgia dine
underneath the stars Saturday, the first
night of the 11th Cuisines of the Sun.
---



Whether it's time, tastes, culture
or regions, chefs at tony food fest
Cuisines of the Sun share tips
on how to mix it up at home

One star chef endures By Betty Shimabukuro
Star-Bulletin

SOME people in this newsroom think coming out to the Kohala Coast to cover Cuisines of the Sun is a cruise job, a scam that evil writers somehow get past their editors disguised as "work."

They think it's easy to taste 137 dishes and a dozen different wines while chatting up some of the most wildly creative and entertaining chefs in the country.

Well wait. That part was easy.

So maybe it's not a good idea to mention the little chicken ball wrapped in bacon and flavored with a most amazing collection of Indian spices, served with a 1998 Whitcraft Pinot Noir so rare that only 65 cases exist in the world -- a pairing so perfect it gave you the feeling that you could die now and it would be OK.

Yeah, probably shouldn't mention that.

Probably should stick to the educational point of this foodie extravaganza -- its theme, "Global Fusion" -- and prove that it is possible to eat sublimely well for four nights and three days and afterward still form comprehensible thoughts.

Cuisines of the Sun, held for 11 years at the Mauna Lani Bay Hotel and Bungalows, showcases the flavors of the world's sunny climates in this, one of the sunniest spots on the planet.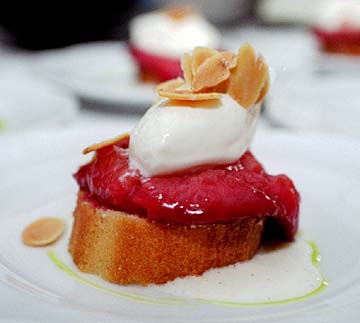 By George F. Lee, Star-Bulletin
Olive oil poundcake with a confit of plums,
salted almonds and a creme fraiche, served
up by chef Stephen Durfee.
---
A sellout crowd of more than 350 people came this year from throughout the world to eat, drink and learn. Learn about fusion, a culinary concept that has fallen a bit out of favor lately -- often dismissed as con-fusion.

But true fusion cooking doesn't mean taking two ethnic styles and throwing them together in a messy mass. It doesn't have to involve ethnicity at all, but could be a fusion of time or of tastes.

"Global fusion is not limiting yourself, but utilizing the whole world as your canvas," says chef Guillermo Tellez, who fuses from a base of the cuisine of his Mexican homeland.

The world is your fuse box. This how the chefs of Cuisines pull it off:

Fusing cultures

The chef: Floyd Cardoz, Tabla, New York, with its 14-by-8-foot room where spices are stored and ground fresh daily.

His fusion: Indian cuisine (especially spices) with Western (especially French) techniques. "I usually work with very lowly ingredients -- oxtail or lamb shank -- and push them up with spices."

For example: The previously mentioned Chicken Crepinettes, a ground mix of chicken, salted cod, mango and almonds, spiced with ginger, mustard seed, chile pepper, curry and rosemary, then wrapped in bacon, seared and baked.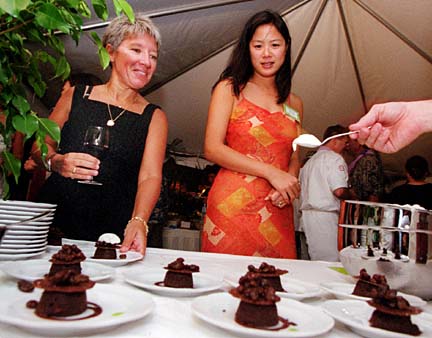 By George F. Lee, Star-Bulletin
Margret Kerns and Sylvia Isaacs, both of the Big Isle,
eye Valrhona Chocolate, also by Durfee.
---
Dish that first captured his style: Chicken curry touched with rosemary and Riesling, made while in high school.

Bringing it home: Experiment with traditional Indian combinations such as mustard seed and cumin with vegetables; coriander with fish; black cardamom with lamb; pepper and mustard seed with chicken; black cardamom and turmeric with beef. Mix up a basic beef stew, but pump it up by adding coriander, ginger, garlic and a bit of turmeric.

Tip: Cut a slit in a large chile pepper and toss it in when you stir fry. This releases the pungent oils, but not to the point where the dish will be overly spicy.

Fusing through time

The chef: Guillermo Tellez, formerly of Mayya, Miami, soon to open a new restaurant in Chicago with his mentor and former boss, Charlie Trotter.

His fusion: Age-old Mexican cuisine with upscale modern flavors and techniques. "My challenge was to take a cuisine that has been there through the ages -- but hasn't come up to a level that it should be -- and elevate that to a culinary level."

For example: Halibut with a tomatillo crust, flavored with jalapenos, cilantro and garlic (recipe, below), or chile rellenos made with wild mushrooms and foie gras, touched with truffle oil.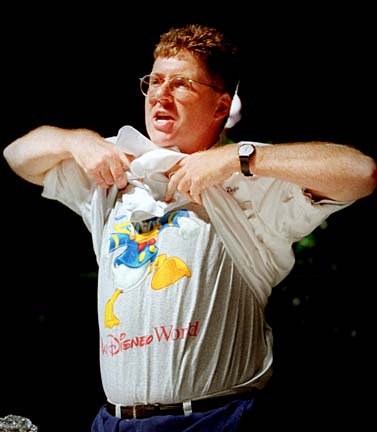 By George F. Lee, Star-Bulletin
Dessert Chef Stephen Durfee shows his sense of
humor and displays a Donald Duck shirt to the
gathered audience during a Saturday morning
cooking seminar.
---
Fusion warning: "The most important thing is to understand the flavors, understand their dynamics and utilize them without covering them, keeping their identity ... otherwise you can end up with something horrible."

Bringing it home: Cut the top quarter off a head of garlic and rub off all but the last layer of papery skin. Simmer in milk, 5 minutes, then cover in olive oil, wrap in foil and bake at 250 degrees for 2 hours. Mash with potatoes (Yukon gold are best, about 4 to a head of garlic), softening with chicken stock, not milk or cream, so it won't be too rich. The Mexican technique here is in the roasting of the garlic.

Fusing savory and sweet

The chef: Stephen Durfee, pastry chef at Thomas Keller's French Laundry in Yountville, Calif., perhaps the toughest dinner reservation in the country. Winner of the James Beard Award for Best Pastry Chef in America, 1998. Soon to open his own restaurant in Napa.

His fusion: The use of vegetables and herbs in sweet desserts. "I try to make something challenging, but not to the point of being ridiculous."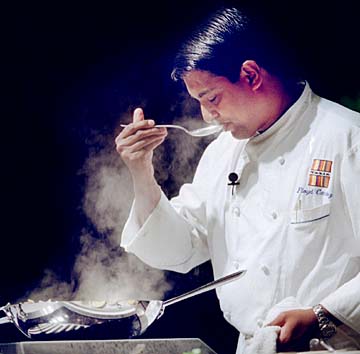 By George F. Lee, Star-Bulletin
Chef Floyd Cardoz tastes a dish he is preparing
for a Sunday cooking seminar at Cuisines of the Sun.
---
For example: Olive oil pound cake with confit of roasted plums and thyme, carrot ice cream, chocolate cake served with beet ice cream or garnished with raisins poached with bay leaf.

First fusion dish: Thanksgiving pie made with butternut squash, molasses, pumpkin seed oil and traditional pumpkin pie spices.

Invention most likely to make him a fortune: Marshmallow with a chocolate truffle in the center. Used to make his signature S'Mores.

Bringing it home: "Present a different point of view. Add chopped fresh herbs to a fruit salad." Try rosemary with apples, thyme with summer stone fruits, bay leaves with poached dried fruits.

Chef's tip: Soften butter by pounding with a rolling pin. Melting it can result in a greasy pastry. "People ask me where I learned my cooking techniques. I learned this technique from Mrs. Hutton, the lady next door who would chase us when we kicked our football into her rosebushes."

Fusing regionally

The chef: Peter Gordon of the Sugar Club, London

His fusion: Tastes of the Pacific Rim, from his home in New Zealand to Australia, where he trained, to Asia, where he's traveled extensively. "I don't believe in national boundaries that you can't cross ... the world is my larder."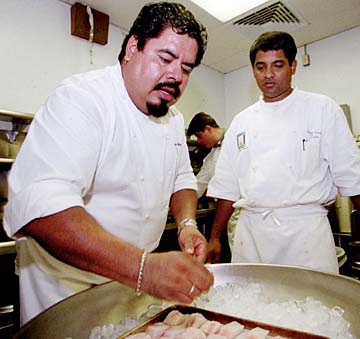 By George F. Lee, Star-Bulletin
Chef Guillermo Tellez (left) prepares
Tomatillo-Crusted Halibut. See recipe, below.
---
For example: Seared tuna with mashed sweet potatoes flavored with miso and rosemary (recipe, below).

Bringing it home: Slash the skin on a fillet of opakapaka and rub with cinnamon and salt. Pan fry, skin side down, until crispy, then turn. Serve with sweet potatoes mashed with vanilla and grated ginger, over arugula leaves.

Fusing tastes

The chef: Rocco Dispirito, Union Pacific, New York. His television show, "Melting Pot," debuts Aug. 29 on the Food Network.

His fusion: French technique with Asian ingredients in dishes that incorporate the taste sensations of sweet, sour, salty and bitter.

For example: Hamachi (sweet) with sauce of miso (salt) and yuzu, or Japanese citrus (sour), over mixed greens (bitter).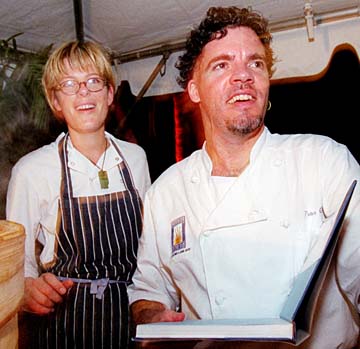 By George F. Lee, Star-Bulletin
Chef Peter Gordon (right) and Anna Hansen
take time to autograph a cook book .
---
Bringing it home: Buy a food that is completely new to you. Taste it raw and cooked; think of flavors that would complement or oppose the basic taste. Focus on the four sensations instead of your cooking technique. "Create excitement."

---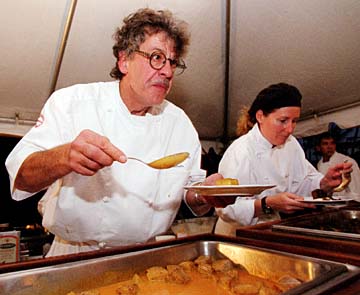 By George F. Lee, Star-Bulletin
Chef Jean-Louis Palladin serves up a plate of
his wok-cooked ahi tuna in a bouillabaisse coulis
on Sunday night during Cuisines of the Sun at the
Mauna Lani Resort.
---
Chef Palladin keeps star
status in a here-today,
gone-tomorrow industry

A big reason so many experienced foodies come to Cuisines of the Sun is to be in the presence of greatness.

That a chef can have star power in these days of Food TV is unquestionable, but to speak of culinary greatness is to consider a long track record of accomplishment.

Jean-Louis Palladin of New York's Palladin and Las Vegas' Napa, came to this gathering of superstars as a chef's chef. He holds a James Beard Award as Chef of the Year and is considered among the best French chefs in New York.

Palladin's career began at age 12, when he dropped out of school to go into the kitchen. At 28, he became the youngest chef in France to earn two Michelin stars as the chef at La Table des Cordiers.

Youthful accomplishments, but not flashy or fast, Palladin says.

"Now is way too quick," he says of the rapid celebrity of today's restaurant world. "People can open a restaurant, right away they have stardom and two years later they close. I don't understand that."

He worked at his first restaurant for 20 years, Palladin says, from age 12 to age 32. He stayed with his second, in Washington, D.C., for 17 years. Palladin and Napa are the restaurants of his 50s, open now for four years.

"Stardom is about life, being in the kitchen 10, 12, 15 years. By then you are respected. That's what stardom means."

Palladin's dishes blow apart preconceptions about rich, creamy French cuisine. At Cuisines, he served rustic, comfort foods, including a soft, deeply favored sparerib daube that was the talk of the night -- a night he shared with five other chefs cooking six dishes each.

On a second night, Palladin was given the showcase spot -- an event called "Secrets from the Cellar" -- which called upon him to create four dishes to match four rare wines.

Each dish was complex in flavor and construction and yet came across as straightforward and completely unfussy. Cold squash soup, lobster ragout with white beans, spiced breast of squab, oxtail crepinette.

Inspiration, Palladin says, comes from each cook's taste experiences. "Everything you can remember, from far back, or yesterday, or the day before, your mind is just putting everything together."

An idea, he says, may come from a dish pulled from memory. To pull it off, though, requires a solid grounding in technique. "It's very easy to put something together, the problem is to be focused."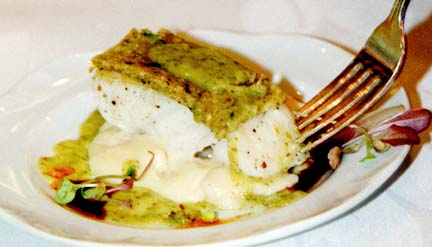 By George F. Lee, Star-Bulletin
Guillermo Tellez' Tomatillo-Crusted Halibut.
---
Tomatillo-Crusted Halibut

Guillermo Tellez

6 4-ounce halibut fillets
Salt and pepper to taste
2 tablespoons canola or grapeseed oil
Crust:
10 tomatillos, husked
1/2 medium onion
1 garlic clove
3 jalapeno peppers, seeded
1 bunch cilantro, with a few stems
1 cup breadcrumbs
8 ounces unsalted butter, softened
Sauce:
10 tomatillos, husked
1/2 medium onion1 clove garlic, minced
1 bunch cilantro, stems removed

To make the crust: Place tomatillos, onion, garlic and peppers in a pot and cover with water. Bring to a boil, then simmer 10 minutes, drain and cool. Combine with cilantro in food processor until chunky. Add breadcrumbs and butter; pulse until butter is evenly distributed.

To make sauce: Follow directions for crust, but process until very smooth.

To make fish: Season fillets with salt and pepper. Heat oil in very hot pan and sear fish on both sides; should be rare. Top each fillet with crust. Place in 400 degree oven and bake to desired doneness.

Heat sauce (may add a splash of cream for consistency) and spoon around dish. Serve on garlic mashed potatoes.

---




Seared Tuna on Sweet Potato Miso Mash

Peter Gordon, Sugar Club, London

4 6-ounce ahi steaks
Olive oil, for brushing
Salt and pepper to taste
Potatoes:1-3/4 pounds sweet potatoes, unpeeled
1/2 cup unsalted butter
1 teaspoon fresh rosemary leaves
1/4 teaspoon cumin seeds
1/2 cup miso
Cilantro and Caper Salsa:
1/3 cup extra-virgin olive oil
1/2 salted anchovy
1/4 cup cilantro leaves, stems removed
1 heaping tablespoon baby capers in vinegar, half of them chopped
Zest and juice of 1 lime
Black pepper to taste

To make potatoes: Roast in 400-degree oven until cooked through. (If using Okinawan sweet potatoes, steam instead.) Cool. Scoop out flesh and mash well. Melt butter with rosemary and cumin and cook until rosemary browns a little. Remove from heat and stir in potatoes. Stir in miso.

To make salsa: Heat 1-1/2 tablespoons of oil and add anchovy. Mash and cook over low heat until it begins to dissolve. Remove from heat, add remaining oil and cool. Mix in remaining ingredients.

To make fish: Brush fillets with oil and season with salt and pepper. Sear on both sides in a skillet or on a grill to desired doneness. Serve on top of potatoes and top with salsa.

Nutritional information unavailable.






Click for online
calendars and events.
E-mail to Features Editor
---
---
© 2000 Honolulu Star-Bulletin
http://archives.starbulletin.com