Advertisement - Click to support our sponsors.

---

---
Monday, July 24, 2000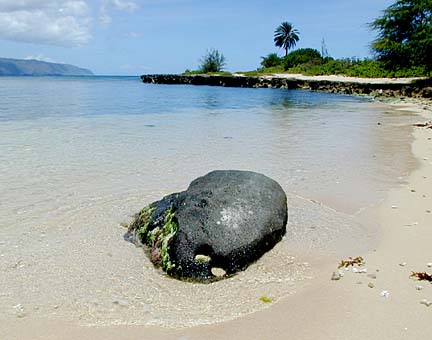 By Ken Ige, Star-Bulletin
The Pua'ena Stone is a significant feature at Pua'ena
Point that can be easily overlooked.
---
Turning point


Will a North Shore tourist
campground open the
development floodgates?

The fate of the country-like
North Shore could hang in the
balance as Council weighs a decision

By Gordon Y.K. Pang
Star-Bulletin

There would be electricity, but no television, radio or telephone. The only luxuries would be a solar water heater, a bathroom and an ice chest.

The vacationing family would stay in a breezy, tent-like structure with 260 square feet of space, very similar to those at Molokai Ranch, says project planner Scott Ezer.

In all, the Pua'ena Point Camp project would have 72 tents on 145 acres of Haleiwa scrub brush that has seen little formal use in decades.

Campers Village LLC, the developer, hails it as a new kind of tourism.

Yet, as the project comes up for a vote before the City Council's Zoning Committee tomorrow, the Pua'ena project is in danger of being derailed.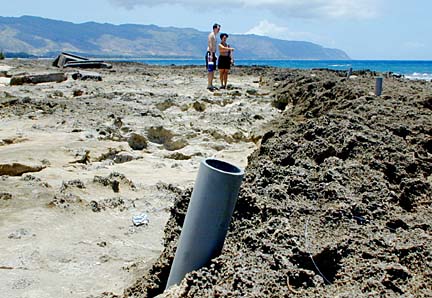 By Ken Ige, Star-Bulletin
The area is frequented by beachgoers and fishermen,
who can use this fishing pole holder, foreground.
---
The problem, opponents say, is that the land is zoned for agricultural use and approval of a special use permit for it could open the floodgates for other landowners to propose similar projects, turning the North Shore into a full-scale resort district.

Larry McElhenny, one of the North Shore Neighborhood Board members who voted thumbs-down on the project, acknowledged the difficulty in fighting it.

"I think in concept, it's not a bad project," said McElhenny. "Who can argue with using recycled materials, solar water heaters and respecting the environment?"

The problem is that allowing the project on agricultural land "just opens up a Pandora's Box," McElhenny said. "You don't circumvent the law."

The project site, owned by Kamehameha Schools, is sandwiched between the Haleiwa Beach Park and a subdivision of 35 homes along Papailoa Street. It's only documented use was as an airfield for the U.S. Army from the late 1920s to late 1950s.

It has been known by locals for years as "Police Beach" because it is leased out to the Honolulu Police Relief Association, which allows access to its members.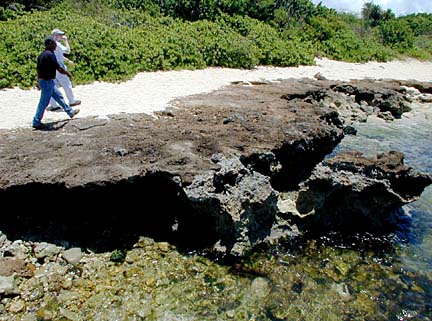 By Ken Ige, Star-Bulletin
Councilman John DeSoto and Scott Ezer, above,
walk along Pua'ena Point. The councilman and his
staff were recently taken on a tour of the
proposed development.
---
More than a year ago, developers scaled plans back from an original 252 units. On the suggestion of area residents, Ezer said, the developer is also putting in a hula pavilion and canoe-building site for the community.

Additionally, Campers Villages is promising not only to maintain, but to improve access to Pua'ena Point and the shoreline used by local residents by providing 40 parking stalls. Overnight camping for area residents would be allowed on the Pua'ena Point side of the project.

There are mixed feelings about all this in Haleiwa town, just a short walk away from Pua'ena. Some merchants are eager to see the project completed. Others are worried about what visitor accommodations will mean to the community.

"If they do it like they say they're going to do it -- as a first-class operation -- that would be a good thing," said John Moore, owner of the Strong Current surf shop at the Haleiwa Marketplace.

But auto mechanic Ken Saner "came to Haleiwa because I liked the size of the town." His opinion is that the lack of overnight accommodations "allows us to retain our sense of community in the evening."

Saner's concerned that the Pua'ena project, if built, would be "the beginning of the end of Haleiwa as a daytime destination." Currently the only overnight accommodations in Haleiwa are home-based bed-and-breakfasts.

Ken Newfield, who has opposed other major North Shore developments when he was chairman of the North Shore Neighborhood Board, was also against the original, 252-unit Pua'ena plan.

But he went with the majority on a 10-4 vote of the board in February endorsing the stripped-down version.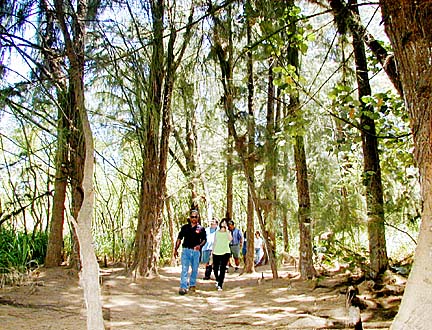 By Ken Ige, Star-Bulletin
DeSoto and some members of his staff walk on
a trail that leads to the end of Papailoa Road.
---
Newfield sees the project as a good compromise, bolstering businesses for Haleiwa merchants while creating only minimal impact to the town's country character.

"If (the developers) were forced to get resort zoning for that parcel, this isn't the project they'd do," Newfield said. "They'd build a resort, something that could potentially make a lot more money and potentially cause much greater impacts on Haleiwa, nearby residents and the entire North Shore."

Attorneys for the city issued an opinion last September that the project was allowable on agricultural land. Planning and Permitting Director Randy Fujiki issued a favorable recommendation in May. Processing of the Pua'ena application had been delayed from August 1999 to May 2000, because the Planning and Permitting Department refused to issue a recommendation on the project until city attorneys issued an opinion.

Attorney William Saunders Jr. said the Friends to Preserve Pua'ena Point will take the issue to court if the project gains approval from the Council. He called the opinion issued by city attorneys "a justification rather than a real legal analysis."

Renee Webb, chairwoman Friends to Preserve Pua'ena Point, believes even with the legal issue aside, the Pua'ena plan belongs 15 miles up the coast in the Turtle Bay resort region.

Webb said that area, zoned for resort development, has better beaches and would be more suited as a testing ground for the camp-type accommodation being proposed.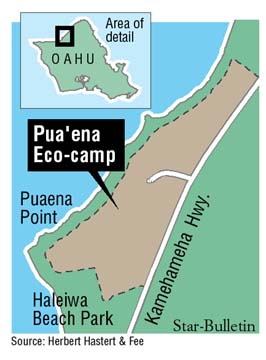 "There are a large number of agricultural properties out here and many of their owners are waiting to see the result of this," Webb said. "My concern is if this is allowed to take place, how can we then not allow other ag owners to do the same with their properties?"

City Councilman Steve Holmes, who represents the Windward area, also worries about setting the precedent, noting that a large Kualoa landowner "is very carefully keeping an eye" on the Pua'ena vote.

Holmes said the low-key nature of the project shouldn't fool the public or Council members.

"This isn't a Boy Scouts camp or Girl Scouts camp. It's for tourists," he said. "If it walks like a duck, quacks like a duck, it's a duck."

While community support for the project has grown in recent months, the Council vote appears to be uncertain, particularly with members Mufi Hannemann and Donna Mercado Kim resigning their seats later this week to seek other elected offices.

The developer would still need to retain a five-member majority among the remaining seven Council members to win approval. And with Holmes already a committed "no" vote, it would take only two other Council member's rejection to kill it.

Zoning Chairman John DeSoto said he had concerns about the project but feels comfortable enough to support it following a tour of the site last week.

DeSoto said the reduction in units, coupled with the developers' willingness to create more public access and the need for economic stimulation in the area, helped win him over.
E-mail to City Desk
---
---
© 2000 Honolulu Star-Bulletin
http://archives.starbulletin.com