Advertisement - Click to support our sponsors.

---

---
Saturday, July 22, 2000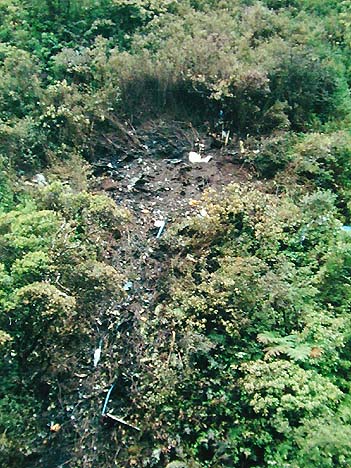 Maui police photograph
Wreckage is scattered against a steep valley on Maui,
inaccessible by foot, where a helicopter operated by Blue
Hawaiian Helicopters crashed yesterday during a tour.
---



Dead are the pilot,
two teen-age girls, a dad and
his three children

By Rod Ohira
Star-Bulletin

WAILUKU -- Maui police and fire department personnel have begun recovering bodies from a steep cliff above Iao Valley where seven people died yesterday in the crash of a Blue Hawaiian tour helicopter.

Maui police had brought out at least two bodies from the crash site by 10:30 a.m. today and were hoping to recover all the bodies by the end of the day.

Richard Sword, a Maui psychologist handling disaster stress control for the families of victims, said the passengers included two teen-age girls from Texas and a father and his three children.

One of the victims was a sophomore at Arlington Heights High School in Fort Worth, Texas, who was on vacation with her family and another friend from Fort Worth.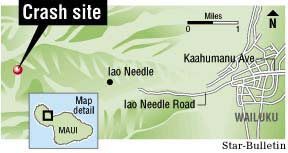 Other family members were traveling to Maui today, school administrators said.

"She was a wonderful child," said school Principal Charles Boyd as word spread in the community.

"Obviously, we're very apprehensive," Boyd said. "If this is true, our hearts go out to the family."

"She's just a beautiful, constantly smiling girl," said family friend Ron Devoe.

"The fact that the family vacationed as much as they do showed they are a very close family."

The girl's mother works in the school library. Boyd said he is not sure if the other teenage girl was also a student.

The families of six of the victims have been notified, said Maui police spokesman Lt. Jon Morioka, but their names will not be released until the bodies are positively identified.

"We're crushed, we're devastated, and our hearts go out to the families," Patti Chevalier, one of the co-owners of Blue Hawaiian Helicopters said yesterday.

The company has a perfect safety record, and the pilot is a Vietnam War veteran with more than 11,000 hours of flying experience who joined Blue Hawaiian Helicopters over a year ago, she added.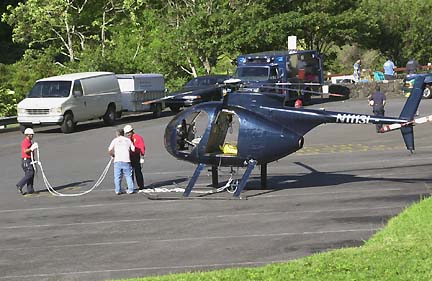 By Ronen Zilberman, Associated Press
Police ready rappel ropes at Iao Valley State Park that will
be used to lower them to the crash site this morning.
---
"I estimate the total wreckage path at 200 feet," NTSB investigator George Petterson said this morning after assessing the scene. "The terrain is at a 70-80 degree angle, very slippery, muddy and hazardous."

The wreckage is fragmented and there was a post-crash fire, he added. "From the point of impact, it fell downhill," he said.

The crash scene is at the 2,700-foot level, about two miles further into the valley from Iao Needle landmark. "It's in a very difficult area to get to," Maui police Chief Tom Phillips said.

Two members of the Maui police special response team, Sgts. Randy Bell and Greg Moniz, along with Sgts. Francis Tom of the Marijuana Eradication Unit, rappelled down from a helicopter to reach the crash site at 8 a.m. today.

"They're trying to secure the scene," Maui police spokesman Lt. Jon Morioka said. "There are parts from the helicopter that could come down, so they have to determine what the hazards are."

"Iao Valley is known as a wet area," Morioka said. "But the clouds have cleared and the visibility is good."

Two Maui firefighters are also at the crash site, Morioka added.

Police Detective Tim Capero said visibility from the helicopter was sometimes only 50 to 70 feet yesterday.

The helicopter carrying six mainland tourists and the pilot left Kahului airport at about 10 a.m. yesterday and crashed at 10:20 a.m., NTSB investigator Petterson said.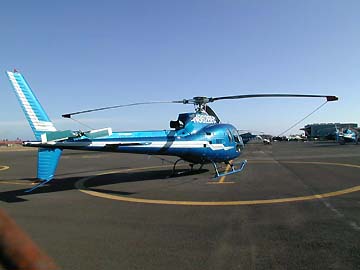 By Craig T. Kojima, Star-Bulletin
A Blue Hawaiian helicopter at Kahului Airport this morning.
---



THE HELICOPTER

Yesterday's crash on Maui involved an American Eurocopter AS355 TwinStar:
Max. flight time: 3 hours on a full tank of fuel
Max. speed: 144 mph
Length: 42 feet
Engine: Twin engines
Max. altitude: 11,152 feet
Seats: One pilot and up to six passengers
Max. takeoff weight: 5,732 pounds
Purchase price: $1 million new

Sources: Rotor Wing Hawaii and aerialcinematography.com




The tour of the rugged West Maui Mountains was supposed to last 35 minutes. The helicopter was reported overdue at 11:20 a.m. The wreckage was located shortly before 4 p.m., but Phillips said no attempt was made to go to the scene. "Due to steep terrain, weather conditions and fading light, we could not do it," he said.

Federal Aviation Administration officials have closed the area to air traffic until tomorrow night.

Iao Valley State Park is also closed to visitors.

Petterson said recovery of the wreckage would begin tomorrow.

The helicopter was equipped with a video camera, but Petterson said that he does not know if it had been recovered yet.

"We look at the man, machine and environment," Petterson said when asked about a probable cause. Petterson added that he has requested radar data on weather and expects to have a preliminary report available in five days.

The probable cause of the crash will be determined in a final report due out in about six months.

The crash is likely to be one of the deadliest involving a helicopter in Hawaii, matching the Sept. 16, 1992, tragedy which killed a pilot and six tourists on the south side of Haleakala on Maui.

Blue Hawaiian Helicopters, which was founded in 1985 by Dave and Patti Chevalier, boasts an outstanding safety record. Frommer's "Hawaii 2000" calls Blue Hawaiian "the Cadillac of helicopter tour companies."

In its advertisement the company notes that it has been honored with the American Academy of Hospitality Science's "five-star diamond award for outstanding quality service and safety" every year since 1995.

"They're tops in the state," said Gilbert Dela Cruz, manager of Rotor Wing Hawaii, a Honolulu-based company that maintains and repairs helicopters. "They go above and beyond regulations (for maintenance).

"I was surprised, considering their reputation," he added.

The American Eurocopter AS355 Twinstar involved in the crash is "popular" for tour companies in Hawaii because of its reliability and comfort, Dela Cruz said.

This morning, other tour helicopter companies said there was no drop-off in business because of the crash.

A number of visitors said they were aware of the crash but still decided to take the tour. "I think you just have to be careful with the weather conditions," said Rose Aguila, whose family of five from Brazil took a tour over Molokini and Haleakala this morning.

---

Star-Bulletin reporters Gary Kubota and
Jaymes K. Song contributed to this story.




Past helicopter disasters

Helicopter crashes that resulted in fatalities or serious injuries:

1998

June 25: Six people were killed when an Aerostar 350 BA owned by Ohana Helicopters crashed near the rim of Kauai's Waialeale Crater.

1997

May 10: Two died when a Hughes 369D of Imua Air Service crashed in Puako on the Big Island.

May 18: The pilot died when a Bell 206B owned by Kenai Helicopters crashed in Hilo on the Big Island.

1995

July 21: A Honolulu Fire Department pilot and two Honolulu Police Department officers died while searching for a hiker at Sacred Falls in Hauula on Oahu. The McDonnell Douglas 369D was a Fire Department rescue helicopter.

1994

July 14: An Aerospatiale AS350D helicopter owned by Papillon Hawaiian Helicopters crashed off the Na Pali Coast on Kauai during a tour. Three of the seven passengers died.

July 14: Seven were injured when an Aerospatiale AS350B crashed while touring the Kalaupapa peninsula.

1993

Aug. 10: A 46-year-old Hawaii Kai pilot and his 40-year-old wife died in the crash of his two-seat helicopter off Diamond Head.

July 8: A 40-year-old Australian student pilot died in the crash of a Robinson R-22 at the Reef Runway of Honolulu Airport.

Jan. 25: A Kainoa Aviation tour helicopter crashed in the ocean near Kamoamoa on the Big Island, killing four passengers, including Wang Yu-ling, a Taiwanese actress.

1992

Sept. 16: The pilot and six tourists died in a crash at the 3,000-foot elevation on the south side of Haleakala on Maui. Other pilots reported heavy clouds and a thunderstorm when the Hawaii Helicopters Aerospatiale AS350B went down.

1991

Aug. 13: A federal Drug Enforcement Administration pilot on a marijuana eradication mission was killed when his helicopter caught fire during a hard landing at the Honokaa plantation airstrip. Three passengers were injured.



E-mail to City Desk
---
---
© 2000 Honolulu Star-Bulletin
http://archives.starbulletin.com