Advertisement - Click to support our sponsors.

---

---
Friday, July 14, 2000

Courtesy of Angela Roach
A night shot of the Hawaii Scientific Drilling Project
rig in Hilo. Scientists were examining core samples
from the volcanic rock below.

Scientists use modern drilling
techniques to learn Earth's history
-- 3 miles underground

By Helen Altonn
Star-Bulletin

Volcanic rocks from a 10,200-foot hole drilled through Mauna Loa into the flank of Mauna Kea pose some puzzling questions for scientists about the Big Island's history.

About 25 to 30 labs around the world are analyzing core samples from the first phase of a six-year Hawaii Scientific Drilling Program.

Plans are to drill a total of three miles -- nearly 16,000 feet -- into the volcanoes to learn how they work and what's going on deep inside the planet.

"It's an ambitious goal," said University of Hawaii geochemist Don Thomas, leading the investigations with Don DePaolo of the University of California-Berkeley and Ed Stolper of California Institute of Technology.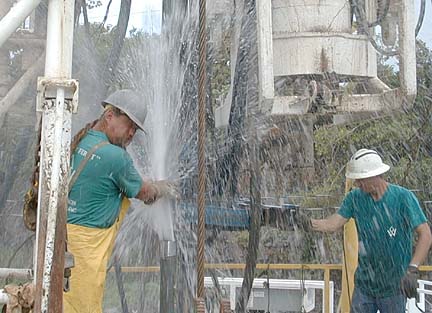 Courtesy of David Whilldin
Roughnecks Craig Dubczak, left, and Jeff Moore
get soaked as the drill hits an underground water source.
---
"Simply the act of getting the rocks out of the ground sets the stage for what we really want to do," Stolper said. "It's like a lunar sample return ... when the scientific work begins."

About 10,000 feet of core has been distributed to research team members.

"It's going to take them a while to sort out what that means," Thomas said.

He said the initial drilling, completed last fall at an abandoned quarry south of Hilo Airport, was about 25 percent deeper than anticipated.

About 95 percent of the section drilled was recovered as core -- "a really spectacular achievement," he said.

A special coring system was designed and fabricated for the program. It was attached to the mast of a standard rotary rig, enabling the system to core and rotary drill alternately from the same platform.

The equipment "worked spectacularly well," Thomas said. "We believe it defines the state of the art for the type of drilling we were doing."

Stolper said drillers encountered some problems because of artesian aquifers. "Water was coming out at a very high rate -- very clean, fresh water. This may be important because it tells you that where you do need to drill for water, there may be some."

More drilling to come

The next phase of drilling tentatively is scheduled for late next year. It will be more difficult, but the three-mile goal could be exceeded with favorable conditions, Thomas said.

"It would be a tremendous achievement if we could make it to 20,000 feet."

Drilling last year began through Mauna Loa's surface lavas and moved into Mauna Kea 850 feet down, Thomas said.

Findings were consistent with those in a 3,500-foot-deep pilot hole in 1993 that showed Mauna Loa is sinking faster than new lava flows are building it up, he said.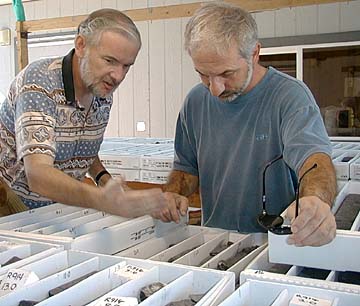 Courtesy of the Hawaii Scientific Drilling Project
The chief core logger, UH-Manoa's Mike Garcia,
left, discusses unit arrangement with the principal
investigator, UC-Berkeley's Donald DePaolo.
---
Mauna Loa lavas were above ground but entering Mauna Kea, they were 825 feet below sea level, he said. "Basically all the lavas we drilled into down to 3,585 feet were erupted above sea level."

The project began 25 feet above sea level, Thomas said, "so we know that point where we were drilling had subsided by 3,560 feet.

"If you envision the island as an inverted bowl, it is very slowly sinking, but it is also being covered by lava flows."

The transition zone, from above-ground to submarine lavas, is similar to the south flank of Kilauea where lavas are going into the ocean, Thomas said.

Fragmented material, resulting from interaction between the lava flows and the sea, was found at 3,585 feet and continued nearly another 3,000 feet.

Then at about 6,500 feet, Thomas said, they began to encounter submarine or "pillow" flows.

Data pose more questions

Stolper said fragmented material built up at the shores like underwater dunes from thermal shattering of lavas that erupted above sea level, then slumped downhill.

Drillers went through a lot of debris flows from Mauna Loa into Mauna Kea, then into pillow lavas, he said.

What was a little surprising, Stolper said, was that they kept going between debris flows and pillow lavas.

"We don't understand it, to be honest, but that doesn't bother us. Over the next year an enormous amount of chemical information will come out to help us understand the relationships."

Thomas said there had been a long-running debate about how much of the submarine material would be fragmented.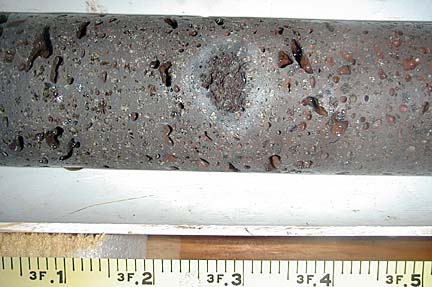 Courtesy of David Whilldin
The 'A'a (solidified lava) core, above, contains an
autolith with a rim, which usually forms when a
bit of lava that has already cooled is integrated
into a flow, but does not re-melt fully.
---
The process isn't fully understood but scientists believe the difference between fragmented material and pillow lavas is where the lavas erupted, he said.

As they went deeper, he said one of the surprising things they found was dike or intrusive material, which presents "a bit of a problem."

It's believed the most common location for this intrusive material is within the volcano's rift zones, he said.

"We selected this site to be as far away from the rift zone as we could possibly be, so it tells us one of two things possibly."

Either the theory is wrong and injection of magma into the volcano's interior is much more extensive and isn't confined to rift zones, he said, or a rift zone's location isn't fixed over time and can evolve as the volcano grows.

Scientists had toyed with that idea, he said, but never had an opportunity to get deep enough into a volcano to see the change.

Hawaii unique among sites

The National Science Foundation and International Continental Drilling Program provided $11.8 million for the Hawaii project.

The objective is to gain a better understanding of Hawaiian volcanoes and processes producing the lavas deep inside the Earth at the hot spot, the mantle plume.

Hawaiian volcanoes are the most comprehensively studied on Earth, the scientists said, describing initial results of the six months of drilling.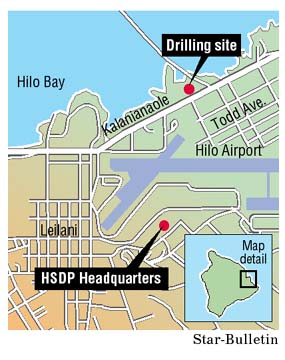 But, they added, "Although the Hawaiian-Emperor chain has been active for at least 70 million years, all we can generally examine for any individual volcano is a small fraction (5 to 10 percent) of its history that is now exposed subaerially."

Thomas said the drilling program will provide a context in which all other geochemistry data can be interpreted from Hawaiian volcanoes and other hot spot or plume volcanoes.

"We're doing something we never did before -- to document the entire history of a single mantle plume volcano."

The scientists estimate the age down to the 10,000-foot depth at about 600,000 years. The transition to the submarine level was at about 400,000 years, Thomas said.

Some initial results from the 10,000 feet of core will be presented in December at an American Geophysical Union meeting.

Project leaders then will discuss implications of the findings and evaluate the best way of continuing the work, Thomas said.

He said one scientist already has told them: "You've done a wonderful job. Could you do less well and go deeper?"
E-mail to City Desk
---
---
© 2000 Honolulu Star-Bulletin
http://archives.starbulletin.com