Advertisement - Click to support our sponsors.

---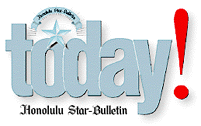 ---
Tuesday, July 11, 2000
Photos By Dennis Oda, Star-Bulletin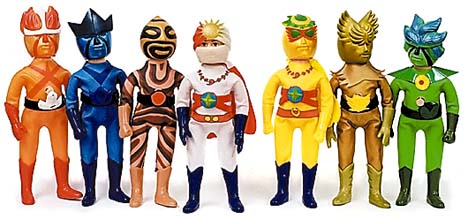 The Rainbow Man Family, from left Fireman,
Waterman, Earthman, Rainbow Man, Moonman,
Goldman and Leafman.
---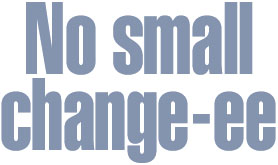 Kikaida Krazy after
all these years
By Burl Burlingame
Star-Bulletin
JASON Park has a fading publication called "Kikaida in Hawaii," filled with photos of the great Japanese superhero's legendary visit to the islands in the mid-'70s. "Look at this," he says, pointing to an indistinct blur, a tiny face in a sea of tiny faces staring raptly at Kikaida posing in a jammed shopping mall. "That's me! I was right there!"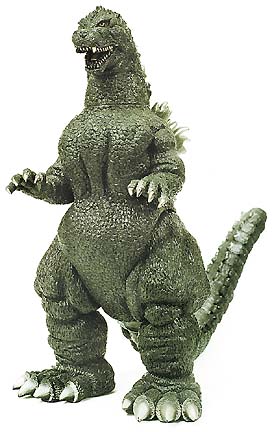 They don't call Godzilla "king of the monsters"
for nothing - his appearance in the early '50s led to
dozens of movies and spin-off creatures.
---
There are big deals, and there are Big Deals. One that's hard to measure by any comparable standard is the effect Kikaida had on local kids of a certain era. The Japanese television show was a phenomenon that combined the heroic storytelling-with-a-moral of Western culture, the color and martial arts of Eastern ways, and the noise and flash and some consumer-savvy marketing.

Bottom line -- Kikaida was a superhero tailor-made for Hawaii.

For those scratching their heads, Kikaida -- sometimes spelled "Kikaider" -- was a half-machine, half-man creation that spent most of it's time as Jiro, a wandering teen-age dude with a red guitar. One strum, and "Switchee ON! One, two, three ... Jiro, change-ee, to Ki-kaiii-idaaa!"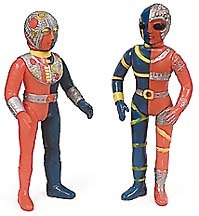 Kikaida-01 is the brother, sequel and more
valuable follow-up to Kikaida, right and below.
Kikaida-01 figures can sell for about $400
to Kikaida's $100.
---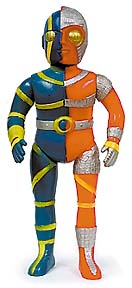 The main dude, Kikaida, in a rare
15-inch figure worth about $700.
Kikaida means "transformable
machine man."
---
Just as the song goes, blue-and-red Kikaida appeared, just in time to jump-kick any number of rubber-suited monsters.

There was also a master villain, one Professor Gill, whose eerie flute playing interfered somehow with Kikaida's changing ability.

Every half-hour show was pretty much the same, plot-wise. But it was huge, huge. The tiny fans were legion. The slim premise spawned dozens of imitators, all with equally slim premises, but with wildly divergent heroes and monsters, a triumph of packaging over content, a situation begging for keepsake product.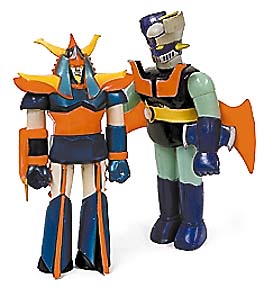 Giant robots Raideen and Mazinger
came from anime cartoons instead
of live-action shows.
---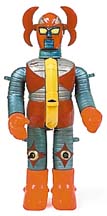 Denjin Zaboga, who turned into a motorcycle,
was the ancestor of the transformers. The average
value of Denjin and other figures pictured
is about $100.
---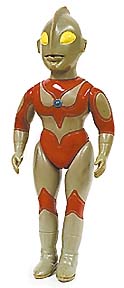 Return of Ultraman continued
the adventures of the Ultra family.
---
Toy manufacturers obliged, and a flood of Japanese superhero toys poured into the islands. Soon every kid on the block could create dream grudge matches between Kikaida and Rainbow Man, or Ultra-Seven and Kamen Rider, or Raideen and Mirrorman, or Pink Go-Ranger against Robocon -- or, or ... the possibilities were endless. The toys became a treasured part of a '70s childhood.

Which brings us back to Park. An Internet entrepreneur, the shelves of his modest Waikiki office are lined not with software, but with Japanese superhero toys. An ad he placed in the Star-Bulletin offering big bucks for rare Japanese toys got such a good response he's got boxes he hasn't opened yet. Got a Megalon in mint condition? How about Kingbokle? We're talking $1,000. Mekagodzilla or Kingwonder? $1,500. No kidding.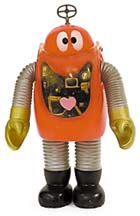 Robocon, with his pink heart,
was designed to appeal to girls.
---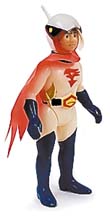 GatchaMan is a late-'70s duplicate of Kikaida.
---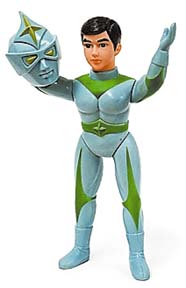 Mirrorman, a giant superhero, was
actually spun off from the Gozilla movies.
---
Those are rare toys. But even your basic off-the-shelf Kikaida or Godzilla could be worth hundreds. As in all collectibles, the key words are condition and rarity.

"Most of the toys were made of vinyl by the Bullmark company, which went out of business when metal diecast toys came along, like the ones made by Bandai, transformers and such," said Park, who named his Japanese-hero Web site bullmark.com.

"Everyone jumped on the bandwagon -- even Long's was selling Kikaida-kine toys -- and they were only about $3 or $4 each, so everyone had them. These were the days before "Star Wars," remember, and even before GI Joe became collectible."

Apparently, few got rid of them. Most of the old toys come from Japanese-American enclaves like Pearl City and Kaimuki, but there are Japanese hero toys all over the islands.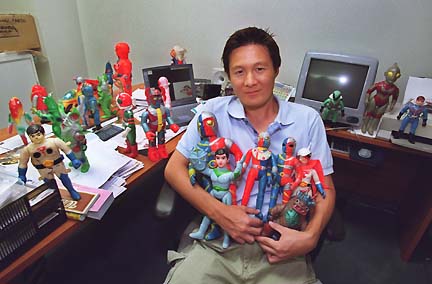 Jason S.Y. Park is surrounded
by his collection of Japanese toys.
---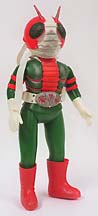 Kamen ("masked") Rider inspired a whole
generation of motorcycle buffs.
---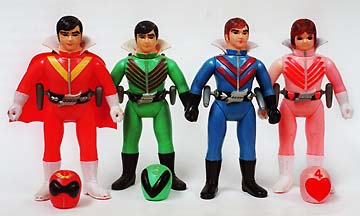 Go Rangers toys, each with removable helmets,
are the ancestors of the Power Rangers.
---
"Unfortunately, many are under the house, being chewed on by cockroaches. The big thing is condition. The rarest are those still in the original bag or package."

Many of the superheroes were manufactured, but few of the villains were. Even rarer are the second-string villains, the "kaiju" or monsters, the guys with the foam-rubber heads and Keds sneakers who were trounced weekly by Kikaida.



Ultra-Seven.
---
Interestingly, the toys exported to Hawaii are different from those distributed in Japan, with brighter, more metallic colors airbrushed on the vinyl. These differences make the Hawaii toys more valuable to Japanese collectors.

Park can be reached at 753-5544. Other shops that deal in Japanese superheroes and anime -- not necessarily older or collectible toys -- include Toys n' Joys at 735-4546, Ultra Plus at 941-5426, Collector Maniacs at 739-3912 and Big Frankie's at 589-8988.






Click for online
calendars and events.
E-mail to Features Editor
---
---
© 2000 Honolulu Star-Bulletin
http://archives.starbulletin.com