Advertisement - Click to support our sponsors.

---

---
Saturday, July 8, 2000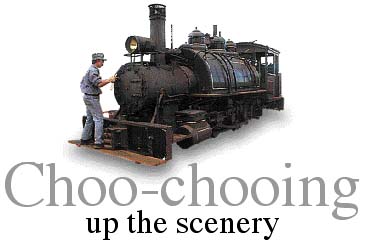 By Anthony Sommer, Star-Bulletin
Above, Engineer Scott Johnson prepares the
train for loading onto a truck for transport.
Nostalgia takes a ride on an
old Kauai sugar train in
an upcoming movie
By Anthony Sommer
Star-Bulletin
KOLOA, Kauai -- The Hollywood sound guys fell absolutely in love whenever "Wainiha" rumbled toward them with a voice so deep it shook the ground.

"Wainiha" is one of only a handful of narrow-gauge steam locomotives once used on Kauai's sugar plantations that still run. It has the distinction of being the last engine ever to haul a trainload of cane anywhere in Hawaii.

In the movie "To End All Wars," which finished shooting on Kauai last month, "Wainiha" plays a Japanese locomotive. In real life, it was built in Philadelphia in 1915 specifically to haul sugar cane and was owned by three different Kauai plantations until it was retired in 1957.

From the shrill sound of its whistle to the deep thudding of its cylinders, no machinery anywhere sounds as powerful or as wonderful as a steam locomotive.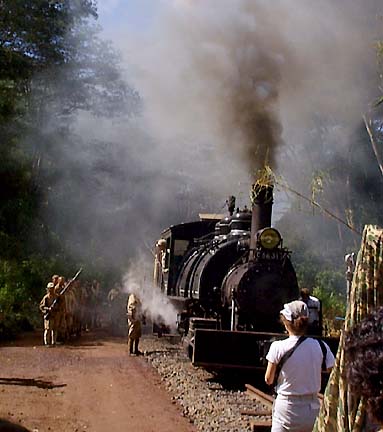 By Anthony Sommer, Star-Bulletin
In a scene from "To End All Wars" filmed on Kauai, Japanese
troops prepare to put captured British soldiers on a train. The
steam engine was played by "Wainiha," a 28-ton locomotive
built in 1915 for McBryde Sugar Co.
---
"You can feel it," one of the sound technicians said with a grin as they tried to capture it all.

"Nobody walk. Nobody walk," the sound director barks before the sound tape rolls and every gravel-crunching foot on the set freezes in place. The cameramen concentrate on the visual but the sound crew is paying attention only to what they're hearing through their headsets.

All their microphones point down the track to pick up every subtlety as the magnificent old steam engine puffs toward the cameras and squeals to a stop alongside a squad of prisoners and guards. It shuts down with a great whoosh as an immense white vapor cloud bursts from its right side.

Between takes, everyone on the set rushes up to take a closer look. No human star on the picture receives anywhere near as much attention.

A historical treasure

True, it was only a bit part at the tail end of the shooting schedule, but for that brief, shining moment one of Kauai's true historical treasures was a genuine movie star. And for both the Hollywood film crew and the many Kauai extras on the set it was a real treat -- these trains rarely are seen by the public.

"They're a great treasure and because we don't advertise them people get a real feeling of discovery when they first see them," said Scott Johnson, who drives and maintains the engines for a local museum. Johnson was the stunt train driver and locomotive wrangler for the movie.

The movie producers didn't know there were any working steam engines on Kauai when they chose the Garden Isle as the location for their film about British prisoners of war building the Japanese railway across Burma and Siam in World War II. They assumed they would have to ship in steam engines from the mainland, and discovered only later that there is a whole stable of restored old trains on the island.

They're not easy to find. The four steam engines -- three working, one awaiting restoration -- are not on public display. They're kept in a shop in an industrial park in Puhi. Grove Farm Homestead Museum, which owns them, has not had the money to properly display them and doesn't promote them as a tourist attraction. On the other hand, if you ask, they're proud to show them off.

They are fired up on the second Thursday of every month to keep them lubricated. School children are invited to ride a restored cane car along the tracks behind the shop. The engines are listed on the National Registry of Historic Places.

'Miss Mabel' to the rescue

Thirty years ago the engines almost were sold by Grove Farm to the Disney Co. for $500 apiece and shipped to the mainland. Mabel Wilcox, niece of Grove Farm founder George N. Wilcox, heard the price and said for $500 she would buy them and sponsor their restoration. "Wainiha" was the first to be put back in operating condition.

"Miss Mabel," as she is still known on Kauai, also founded the Grove Farm Homestead Museum in Nawiliwili. It includes the home of George N. Wilcox, who acquired the plantation in 1864, and the original plantation offices, which have since moved to Puhi. Mabel Wilcox died in 1978 and her estate now sponsors both the museum and the locomotive restorations.

Moviegoers will get to see the engines at their spectacular best with smoke billowing from their stacks as they roar through lush jungle. They'll see lots of smoke, actually too much smoke to be authentic.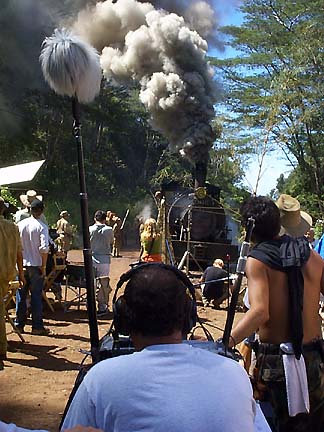 By Anthony Sommer, Star-Bulletin
Hollywood sound technicians record every hiss and squeak
made by the "Wainiha," an old sugar train used
in the filming of "To End All Wars."
---
"Wainiha" is a steam engine, but its firebox is fueled by diesel oil (originally it burned straight crude oil) rather than wood or coal. Diesel doesn't make much smoke, so a bit of enhancing took place by spraying extra fuel into the firebox to make the black cloud shooting out of the locomotive's stack much larger for the cameras.

The little "Paulo," another steam engine used in the movie, burns wood in its firebox. It wasn't putting out enough smoke to suit the movie people either, so they jammed green grass into the box to make it put out a more impressive plume.

"Hollywood wants lots of smoke and steam and stuff so that's what we gave them," chuckled Johnson, who admits to being obsessed by railroad authenticity. "But it's not real life."

And the people in the theaters won't see Johnson driving them. In the "Wainiha" scenes, Johnson, whose heritage is distinctly Northern European, was covered with black makeup to simulate soot in hopes that no one will notice he's not Japanese. On the screen, he'll just be a shadowy figure in a Japanese uniform up in the cab.

In the scenes with the much smaller "Paulo" with its more exposed cab, a Kauai extra playing a Japanese engineer is working the controls. Johnson is sitting just out of camera range on the floor of the cab telling him which levers to pull and which valves to turn.

---

A little history in
each of 4 engines

By Anthony Sommer
Star-Bulletin

LIHUE -- Sugar cane hasn't been hauled by train at Grove Farm on Kauai since 1957 and today only four of the steam engines survive on the island, all owned by Grove Farm Homestead Museum:

"Paulo" is the oldest surviving plantation locomotive in the state. It was built in 1887 in Dusseldorf, Germany, for Koloa Sugar Company and named for Paul Isenberg, the owner of Lihue Plantation. It was retired in 1920 and restored in 1981.

The only engine small enough to be easily loaded on a flat-bed truck, "Paulo" is a regular at island parades and is the most frequently seen of the four.

"Wainiha" was built in Philadelphia in 1915 for McBryde Sugar Co. and is named for a stream and valley on Kauai's north shore. The 28-ton engine could pull a 50-ton load. It was sold to Lihue Plantation in 1932, to Grove Farm in 1947 and was retired in 1957. It was restored in 1975.

"Kaipu" was one of the last locomotives built to haul cane in Hawaii. It was manufactured in Philadelphia in 1925 for Hawaiian Sugar Co. It was purchased in 1941 by Grove Farm and named for one of the plantation's lunas. "Kaipu" was retired in 1953 and restored in 1983.

"Wahiawa," was built in Philadelphia in 1921 for the Kauai Railway Co., sold to McBryde Sugar Co. in 1938 and to Grove Farm in 1947. It is named for a stream in west Kauai. The engine has not been restored.

The collection at Grove Farm is by far the largest group of operational sugar trains left in Hawaii, according to Scott Johnson, who maintains the Grove Farm collection. Johnson grew up on Maui and has worked on almost every steam engine in the state.

"There are operational steam locomotives on Maui, but they are not trains built for Hawaii and they weren't used in the cane fields," he said. "Number 12 from the Oahu Railway is on Maui, but it's not operational. The 'Claus Spreckels' is restored, but it's in storage and not on display."

There are numerous steam engines on Oahu that actually worked in the cane fields but none of them is operational. "Basically, they have a large collection of static displays," Johnson said.
E-mail to City Desk
---
---
© 2000 Honolulu Star-Bulletin
http://archives.starbulletin.com