Advertisement - Click to support our sponsors.

---

---
Monday, July 3, 2000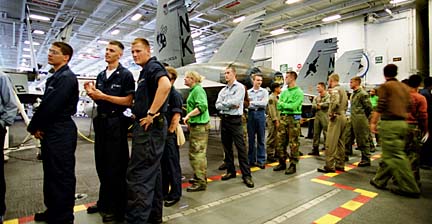 By Ken Sakamoto, Star-Bulletin
The "chow line," above, starts one deck below the
hangar bay and crew members can wait an hour
before sitting down to eat.
---
ABOARD A RIMPAC CARRIER:

The USS
Abraham Lincoln


The exercise involving
22,000 people meant
$14 million to the state

By Gregg K. Kakesako
Star-Bulletin

The last of the 50 warships from this year's Rim of the Pacific naval exercise will steam out of Pearl Harbor Thursday, leaving behind more than $14 million in the state's economy and a promise to return in two years with an equally large contingent.

"I can't see RIMPAC getting any smaller," said Cmdr. Chuck McWhorter, 3rd Fleet spokesman whose boss -- Vice Adm. Dennis McGinn -- commanded the operation which began in late May and involved 22,000 military personnel from seven Pacific Rim countries.

For the past five weeks, military personnel from Canada, Chile, Japan, South Korea and the United Kingdom have participated in what was billed as the largest maritime exercise in the Pacific region.

It made for a very crowded harbor when all the ships were berthed at Pearl Harbor. The United States had 28 warships participating in the exercises. They were joined by 10 Japanese vessels, five ships each from Australia and Canada, three from South Korea, a frigate from Chile and a warplane from England.


By Ken Sakamoto, Star-Bulletin
The USS Abraham Lincoln (CVN-72)
is America's fifth Nimitz-class aircraft carrier.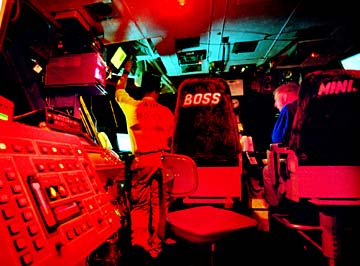 By Ken Sakamoto, Star-Bulletin
Seven stories above the flight deck, in an illuminated
room, the "air boss" and his staff coordinate the
night operation of launch and recovery of aircraft.
---
RIMPAC brought welcome customers for local merchants and hotel operators like David Carey, president and chief operating officer for Outrigger Hotels. Carey said RIMPAC business filled a niche before Hawaii's summer season picked up.

"There is no question how vital RIMPAC is to the United States because it represents all countries in the Pacific that collaborate with us," said Stanley Hong, president of the Chamber of Commerce of Hawaii.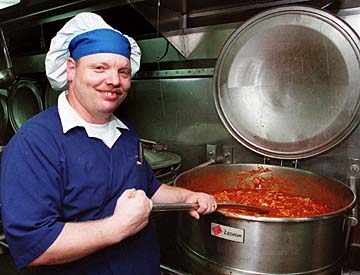 By Ken Sakamoto, Star-Bulletin
On the USS Abraham Lincoln, Petty Officer 2nd Class
Paris Johnson, a cook, stirs ravioli. More than
20,000 meals are served daily.
---
Hong said that RIMPAC and other Pacific exercises point to the importance of keeping Pearl Harbor as a vital naval facility in the Pacific.

"Hawaii continues to be a strategic forward location because that is where our country's military leaders are located," Hong said. "There also is no question that RIMPAC is an economic benefit to the state of Hawaii."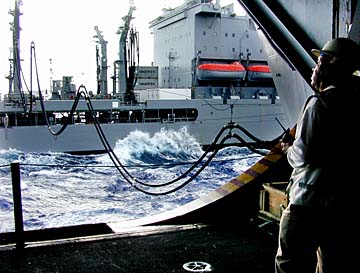 By Ken Sakamoto, Star-Bulletin
The USS Abraham Lincoln, America's fifth
Nimitz-class aircraft carrier, takes on jet fuel
at sea from the USS Guadalupe.
---
During the naval war games, a satellite-linked computer network was tested that connected all the ships with McGinn's command vessel, the USS Coronado.

Dubbed the Coalition Wide Area Network, the system allowed the 3rd fleet to stay in constant contact with other RIMPAC vessels via computers and special secure web pages. "RIMPAC validated this concept," McWhorter said.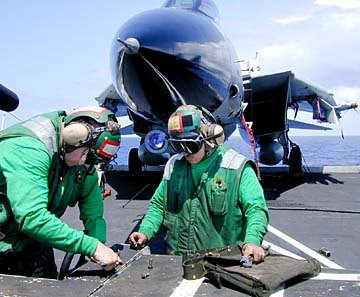 By Ken Sakamoto, Star-Bulletin
At sea aboard the USS Abraham Lincoln,
"green shirts" who hook up planes to catapults
and handle arresting wire, left, perform
maintenance to equipment on the flight deck.
---
On Kauai, the Pacific Rim nations participated in "a very robust" missile firing exercise, in which four decommissioned vessels were sunk in the deep waters off the Pacific Missile Range Facility. More than 100 missiles found their targets as the USS Buchanon, Ramsey, Worden and Gen. Hugh Gaffey performed their last duties and ended up in waters more than 14,000 feet deep.

On the Big Island near Waimea, RIMPAC held its first humanitarian and disaster relief exercise, "Strong Angel." Marines established a refugee camp, the Red Cross provided the "refugees" and the United Nations and other humanitarian assistance organizations played key roles. New computerized language translators, fuel cells, and communication and medical devices and procedures were tested.

"The consensus is that we will continue to hold this kind of exercise in the future," McWhorter said. "Next time we might simulate media who would be involved in any refugee center. It's something we didn't do this time."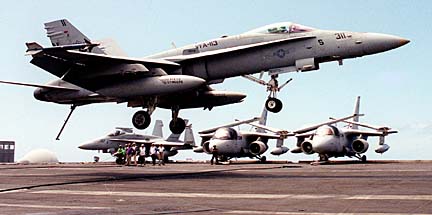 By Ken Sakamoto, Star-Bulletin
An F/A-18 Hornet comes in for a landing on
the aircraft carrier with its tail hook ready
to snag one of the four arresting cables.
---
E-mail to City Desk
---
---
© 2000 Honolulu Star-Bulletin
http://archives.starbulletin.com