Advertisement - Click to support our sponsors.

---

---
Friday, June 30, 2000
KALAELOA - ONE YEAR LATER: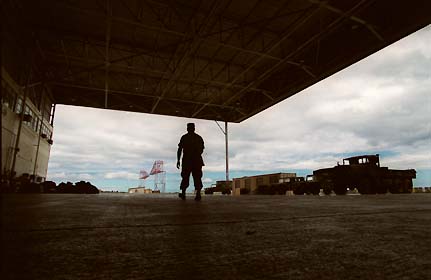 By Dennis Oda, Star-Bulletin
National Guardsman Lawrence Almazan walks through an
old Navy hangar now used for storage by the Guard.
---
'We're in
the middle of a
ghost town'


Barbers Point Naval Air Station's
closure leaves a void in
the community

By Pat Omandam
Star-Bulletin

A little more than a year ago, Barbers Point Elementary School was surrounded by a thriving neighborhood and kids filled its classrooms.

Today, when Principal Claudia Nakachi looks beyond the school grounds, she sees nothing but rows of abandoned military housing. The exodus over the past year has cut the school's enrollment in half, from 570 to 264. Nakachi expects it to drop further before stabilizing.

"We're in the middle of a ghost town," she said.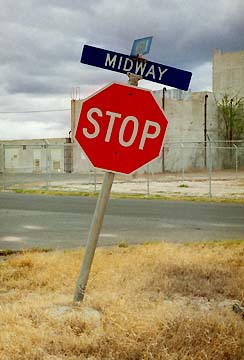 By Dennis Oda, Star-Bulletin
This tilting sign, like other things in Kalaeloa,
is in disrepair a year after Barbers Point
Naval Air Station closed.
---
The Kalaeloa Community Development District turns a year old this weekend, although some area residents and community leaders said the growing pains at the former Barbers Point Naval Air Station have left them with little to celebrate.

They point to neglected playing fields and vacant areas, abandoned housing, increased traffic, the loss of services and programs for active and retired military, as well as the lack of improvements needed to attract business.

Moreover, they said, the snail's pace of the conveyance of about 2,600 acres of land from the Navy to federal, state and city agencies has hampered the transformation of Kalaeloa as it redefines itself on Oahu's Ewa Plain.




The landowners and their plans

The 16 landowners of 3,738 acres at Kalaeloa, and what's being planned:

State Department of Transportation: 750 acres -- Kalaeloa Airport. Planned $4.3 million for runway and taxiway improvements in Jan. 2001.

Honolulu Community College: 6 acres -- a hangar and barracks.

Hawaii National Guard: 150 acres -- two hangars, a mess hall, barracks and four other buildings. Planned $90 million in construction by year 2020 as guard relocates headquarters from Diamond Head Crater.

State Department of Hawaiian Home Lands: 586 acres -- light industrial, commercial and other uses. Study under way to determine best use of site. Land obtained via federal Hawaiian Home Lands Recovery Act of 1995.

State Housing and Community Development Corp.: 13 acres -- planned $2.1 million in renovations to four buildings for homeless shelters.

City and County of Honolulu: 567 acres -- parks, ball fields, open areas. Navy plans to license fields to the city.

State Department of Land and Natural Resources: 135 acres -- preservation.

State Department of Education: 14 acres -- Barbers Point Elementary School and one other building.

Honolulu Board of Water Supply: 66 acres -- planned desalination plant and water system.

City Department of Environmental Services: 45 acres -- wastewater facility.

U.S. Navy: Retains 1,100 acres.

Federal Aviation Administration: 18 acres -- maintenance of equipment.

U.S. Postal Service: 2 acres -- one building for a post office.

Veterans Administration: 6 acres -- three buildings. Planned $833,000 in renovations to begin September.

U.S. Fish & Wildlife Service: 238 acres -- preservation.

U.S. Coast Guard: 42 acres -- air station for rescue planes and aircraft.

Source: Barbers Point Naval Air Station Redevelopment Commission executive committee, as of May 17




"We're really disappointed," said Maeda Timson, chairwoman of the Makakilo/Kapolei/Honokai Hale Neighborhood Board and a member of the commission that oversees Kalaeloa development.

Timson said a few good things have come out of the July 1, 1999, base closure, namely public access to beaches and the vehicular short cut between Ewa and Kapolei. But in general, she said, there is great concern about the short-term use of vacant areas while future landowners, called "end users," wait for their land and the infrastructure that will make them productive.

"We don't know what the future is like for Kalaeloa," Timson said. "It looks pretty bleak for anything in the near future. ... It's scary because the promises of a year ago have vanished."

State Rep. Mark Moses (R, Kapolei), who questioned the base closure and has raised concerns about Kalaeloa's use as a reliever airport, said the transition could have been better planned. For example, he questions how Kalaeloa will attract industrial, commercial and service-oriented businesses when it must compete with next-door neighbor Campbell Industrial Park and the growing business complex of downtown Kapolei.

Kalaeloa does have great potential for recreational use, Moses said, but that won't make it an economic engine for the state. So what will, he asked.

"I have no idea and I have not heard suggestions coming from anybody," Moses answered. "I'm not really sure."

Of the former base's roughly 3,700 acres, the Navy will keep about 1,100 acres. The remaining land will be divided into more than a dozen parcels and transferred to "end-users."

But to fully utilize the properties, roads and water and sewage systems need to be upgraded to city standards. A 20-year plan for infrastructure improvements puts the cost at $118 million, said Bill Bass, executive director of the Barbers Point Naval Air Station Redevelopment Commission.

"I'm really eager for (the end-users) to start those projects because that will make it seem like there's more life to the place than it does right now," Bass said.




Still in the Navy

Here's what the Navy is keeping at Kalaeloa:

Nimitz and White Plains Beaches and beach cottages

Chapel and child-development center

Commissary (All military commissaries are owned and operated by the Defense Commissary Activity, which has no current plans to close the Barbers Point Commissary.)

Navy medical and dental clinics

Defense Reutilization and Marketing Office -- family housing

Fire station

Barbers Point Golf Course

Horse stables

Kona Breeze facility (includes a swimming pool)

Navy Public Works Center facilities

Surfer Restaurant

Land transferring out

Though the Navy is keeping some 1,100 acres, it plans to convey 2,600 acres of surplus land to designated "end-users" (landowners) at Kalaeloa. Here's the status of that title transfer:

Conveyed (810 acres): State Department of Transportation (750 acres); Veterans Administration (6 acres); Federal Aviation Administration (18 acres); U.S. Postal Service (2 acres); State Housing and Community Development Corp. of Hawaii (13 acres); James Campbell Estate (21 acres of adjoining drainage channel).

Conveyed by Sept. 30, the end of current federal fiscal year (524 acres): U.S. Coast Guard (42 acres); Hawaii National Guard (150 acres); BPNAS Redevelopment Commission (176 acres of roads); state (21 acres for education and 135 acres for parks).

Future (1,311 acres): The Navy plans to convey all remaining parcels by Sept. 30, 2002. Four of the five parcels (1,072 acres) are to be transferred during the next fiscal year.




Indeed, a drive through Kalaeloa recently was like visiting a ghost town. There is scant traffic -- vehicular or pedestrian -- throughout the expansive area, and an observer wonders where the people are and what many of the old buildings were used for.

The Navy has turned off water to areas not in use, leaving large open spaces and playing fields parched. The busiest place on an early June day was the bowling alley, where a league was playing. About 810 acres -- 31 percent of the surplus land -- has been conveyed since the base closed, said Lt. Cmdr. Rod Gibbons, spokesman for the Navy Command Region in Hawaii. The Navy is expected to transfer 524 acres by Sept. 30, with the remaining 1,311 acres transferred within the next two years, he said.

The Navy wants to expedite the transfer, but, Gibbons said, it is a complex process that involves environmental engineering, real estate, acquisition and legal review.

Nevertheless, the wait has raised concerns for the state Department of Hawaiian Home Lands (DHHL), scheduled to receive the largest portion of land with economic potential. DHHL land agent Noel Akamu said the department had expected title to 586 acres by last October and was so sure it would, it assigned a caretaker to water and cut the grass on the property.

Hawaiian Homes still waiting

But as the waiting stretched to months, the maintenance stopped. The grass grew tall, dried out and died. Akamu says he can't say with any conviction when Hawaiian Homes will get its lands.

"The status has not changed," he said. "As far as we know, every time we ask them, it's like three or four months away. And every time we get closer to that deadline, it moves again on us."

Hawaiian Homes is to receive the land as part of a settlement in the federal 1995 Hawaiian Home Lands Recovery Act, which compensated DHHL for the military's use of homestead lands at Lualualei. In addition to planned commercial and light-industrial uses, a study is under way to determine other uses.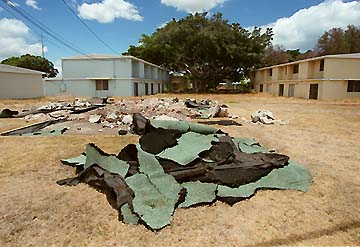 By Dennis Oda, Star-Bulletin
Since the Barbers Point station closed, refuse -- such as
this torn-up playground turf -- is left to accumulate.
---
Meanwhile, 558 of the Navy's 1,091 housing units at Kalaeloa have been permanently closed and are awaiting demolition, Gibbons said. They include 542 units at Coral Rose, one of the Navy's oldest housing areas in Hawaii and located next to the elementary school.

"What we saw was just kind of an opportunity here to save money without going in and spending all the funds to redo the housing area, rebuild it or revitalize it, and have sailors living in some of the newer homes we have out there," Gibbons said. "It was actually something that made a lot of sense."

Principal Nakachi said the school hasn't had any problems as a result of the vacant housing. But she has had to make do with fewer teachers and custodians because staff is based on enrollment. For now, she said, everyone is doing the best with what they have.

Businesses closed

Those outside Kalaeloa also are finding they have to make do since the base closure. Makakilo resident Michael Golojuch, a military retiree, questioned whether it made sense for the Navy to close or consolidate some military support services, including the closure of Navy Exchange Barbers Point, which also operated a furniture store and laundromat.

When Barbers Point closed, all operational units were moved, with many going to Kaneohe Marines Corps Air Base, Gibbons said. That prompted sailors and families to leave Kalaeloa over the past year, resulting in a 45 percent decline in sales at the exchange, he said.

Despite some talk it might, the Navy has no plans to sell the Barbers Point Golf Course, Gibbons said. And to take care of remaining military personnel and lower operating costs, the Navy is consolidating existing facilities and services to suit them, he said.

Still, "For the people on the Leeward side of the island, Barbers Point was very convenient for a lot of retired personnel and their families, and those who are active duty that live in that area," Golojuch said. "Now, they're going to have to travel further and put more cars on the road."

Businesses next to the closed exchange are hurting, as well. Workers at McDonald's said traffic is so slow there's seldom a crowd -- so much so, one worker said, that trash bags often aren't even half full at the end of the day. A Subway Sandwiches shop next to McDonald's relocated into a mini-mart to generate more sales.

Despite all this, Debbie Lyons, a Navy wife and federal civil service employee, says her family's quality of life hasn't suffered. The area around the closed exchange is desolate, she acknowledged, but she doesn't feel abandoned by the Navy. The family moved to Barbers Point in May, 1999.

"I don't really have any concerns there," Lyons said. "We're very comfortable, we've made it home."

And Susan Papuga, an assistant planning officer for the U.S. Coast Guard in Hawaii, said the base closure hasn't affected air station operations at Kalaeloa.

"We're operating," Papuga said. "We haven't been degraded in our readiness."

Still, some worry things may get worse if the Navy decides to get out of Kalaeloa. Timson, Bass and others fear federal legislation that allows the Navy to sell or lease its property in Hawaii to fund development of Ford Island.

Possible lands for sale include the Waikele branch of the Naval Magazine at Pearl Harbor, Navy family housing scattered around Oahu, and property at Pearl Harbor and Ford Island, as well as at Kalaeloa.

But Gibbons said a decision on what property may be sold or leased will depend on a developer's proposal. He stressed the Navy has no plans to sell all its property at Kalaeloa.

At this point, the future of the redevelopment commission -- which operates from an office trailer outside Kalaeloa -- remains uncertain. As it stands, the panel will disband about June 2001, after it transfers jurisdiction and management of Kalaeloa to the city.

Over the past year, the commission has tackled beach maintenance and security issues and budget problems, as well as heated debate over whether existing military street names should be renamed in Hawaiian. Bass said there isn't enough time left for the panel to resolve the issue but the city could do it later.




History of Kalaeloa

Oct. 31, 1796: Henry Barber, a British sea captain, shipwrecked his 100-foot brig Arthur at Kalaeloa (which means long cape or headland).

1930s: Navy leases a 3,000-square-foot parcel at Barbers Point from Campbell Estate for dirigible operations. Lease expired in 1940; Navy then bought 3,500 acres from Campbell for Ewa Marine Corps Station.

Dec. 7, 1941: Various aircraft at the partially-constructed station were destroyed by Japanese attack. World War II speeds up base construction.

April 15, 1942: Naval Air Station Barbers Point commissioned.

1993: Barbers Point identified for closure under federal Base Realignment and Closure Commission.

Dec. 2, 1994. Barbers Point NAS Redevelopment Commission created.

Sept. 26, 1995: Navy identifies 2,600 acres of land as surplus. Redevelopment commission solicits applications for use of property.

July 1, 1999: Barbers Point Naval Air Station closes.

July 2, 1999: Kalaeloa Community Development District opens.

July 1, 2000: 31 percent of surplus lands conveyed since base closure.




---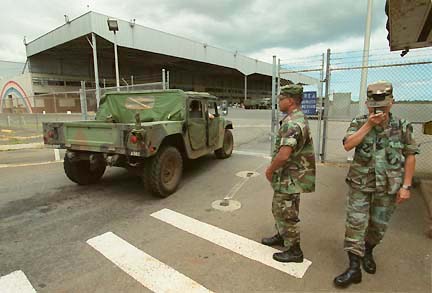 By Dennis Oda, Star-Bulletin
Lawrence Almazan, left, and Leonard Chang watch the entry to a
National Guard storage area, which once was an airplane
hangar for the Navy.
---
Where some see
emptiness, others
find opportunity

By Pat Omandam
Star-Bulletin

For designated landowners at Kalaeloa who have or are about to receive their transfer deeds from the U.S. Navy, the closure of Barbers Point has been a blessing.

The Hawaii National Guard, for example, will relocate its entire operation from Diamond Head to Kalaeloa, with the move to be completed in about five years. The Guard is expected to receive about 150 acres from the Navy, including hangars, barracks, a mess hall and other buildings.

Some units have already moved to Kalaeloa, while others have begun weekend drills there. The National Guard already operates its Youth Challenge program for at-risk youngsters at the site.

In 1979, the state gave the Hawaii National Guard 50 years to vacate Diamond Head Crater. Spokesman Capt. Chuck Anthony said Kalaeloa was the perfect replacement headquarters, especially since surveys showed that 4 out of 5 National Guard soldiers live in the Leeward area, from Pearl City to Makaha.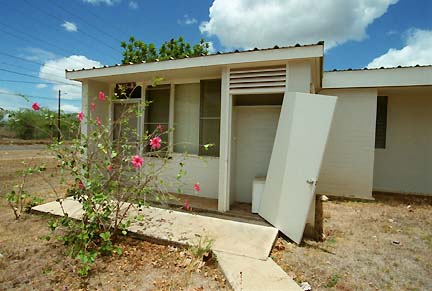 By Dennis Oda, Star-Bulletin
Many of the homes left vacant by the Barbers Point Naval
Air Station closure a year ago are now falling apart; the
Navy says the abandoned units are slated for demolition
later this summer.
---
Maj. Alika Watts, of the Guard's 29th Separate Infantry Brigade, said Kalaeloa's size offers great training opportunities for soldiers. The Guard's support battalion has begun to move in to the large "Rainbow" hangar at the north end of the airport runway and all are generally pleased with the conditions, he said.

Elsewhere, the 13 acres and four buildings the state Housing and Community Development Corp. of Hawaii will receive at Kalaeloa will help Oahu's homeless population next year, said home program administrator Sandi Miyoshi.

The agency plans $1.2 million in building renovations this fall after which two private organizations will run homeless facilities. One group will operate a shelter to serve about 70 single, mentally ill adults and the other will be for families.

Moreover, the property has enough room to include a child-care center, a training center and a library -- something the agency could never have in one place at its other shelters.

"We had all kinds of planning sessions years ago and this is what evolved, where we would have all the services accessible right there ... all going on in close proximity so transportation won't be such a challenge, and attendance will not be spotty," Miyoshi said.

"We'll have a captive audience."
E-mail to City Desk
---
---
© 2000 Honolulu Star-Bulletin
http://archives.starbulletin.com