Advertisement - Click to support our sponsors.

---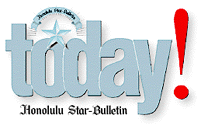 ---
Friday, June 30, 2000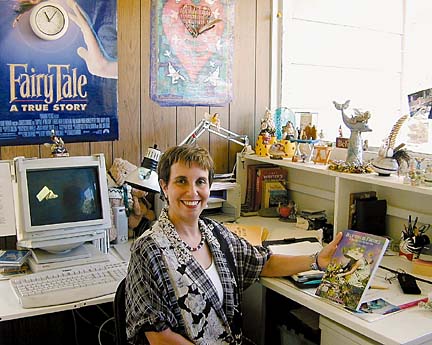 Photos by Ken Sakamoto, Star-Bulletin
Marcia Zina Mager's home office is scattered with her
collection of fairy figurines, one of which is shown below.
---



Author Marcia Mager believes
fairies can help adults recapture
the magic of youth and nature

By Nancy Arcayna
Special to the Star-Bulletin

IT'S OK for children to spend time dreaming up fairies and magical, invisible pals. After all, everyone needs a little magic in their lives. But this is something adults tend to forget.

"When you get caught up in the mundane aspects of life, you forget that there is a lot happening out there, say Marcia Zina Mager, author of "Believing in Faeries: A Manual for Grown Ups."

"The book was a breakthrough that allowed me to express my intuitive side."

Mager's parents, who immigrated from Poland, didn't encourage her to pursue the love of nature she always possessed. Now that she has recaptured the magic in her own life, she is hoping other adults can do the same.

Mager's love life is modeled after her romance novel, "Lured Into Dawn," based on her own relationship. One morning, a voice beckoned her to visit the New York aquarium where she met her husband Dennis Aubrey.

"What are the chances of a New York woman falling in love with a dolphin trainer and moving to paradise?" she asks.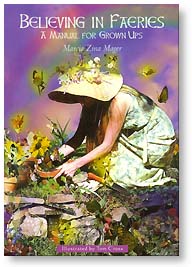 "Believing in Faeries: A Manual for Grown Ups,"
by Marcia Zina Mager (CW Publishing), 40 pages, softcover, $12.95

They fell in love and moved to Hawaii just like the characters from the book. Their meeting came nearly a decade after the novel was printed. Their unique love story was aired on the Lifetime television show, "Beyond Chance" last year.

"Believing in Faeries," a self-help book written in a breezy, breathless style, evolved when Mager stopped in her tracks and took a break from her fast paced life in Manhattan. On her usual trek through Central Park. "Trees, bushes and flowers began to communicate with me."

She began to write of her experiences and before she knew it the book was finished.

"Everyone has had an experience with nature beings whether they are aware of it or not," she says. "Still, I didn't want to tell anyone about the book ... I was embarrassed."

She chose not to publish the book for six years after it was written. "I went through a lot of inner struggles and was finally ready to stand up and say I wrote this book and I am not crazy!

"Every nation and culture in the world has lore or mythology surrounding fairies or nature beings," she explains. For example, the Hawaiians have menehune.

"Americans seem to have a harder time grasping the ideas of fairies. It is easier to believe in things like angels since they are of the bible.

"Things need to be real and rational. Nobody likes gray areas. They want to believe that everything is black or white. But life is gray and messy and there is definitely more than one reality."

Since the book was published, however, Mager realized people want to believe in divine power.

"We are really a nation of closet mystics," she said. "There is a huge cult of fairy believers that seem to have come out of the woodwork.

"It doesn't really matter if people believe in fairies. The fairies can be viewed as a metaphor of the spiritual aspect of nature. We would have a better society if people were willing to accept that there is more to nature than the obvious."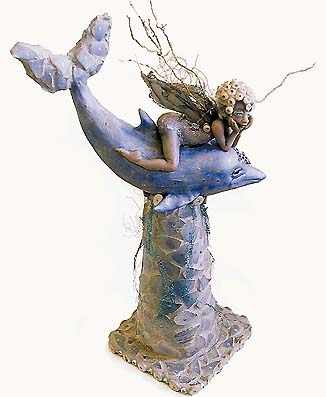 By Ken Sakamoto, Star-Bulletin
It would deepen their relationship to their surroundings and other people and would have a positive effect on the environment, she said.

"I've allowed myself to connect with the power of what I discovered and that enhances my relationships with my husband, son and all of the people around me."

Mager is working on a book that expresses a poignant view of motherhood. "It's a book of essays, which are like blues songs that talk about the struggles of motherhood, and nothing is sugarcoated," she said.

Her goal is to break the conspiracy of silence among woman. "Many women have told me that they are outraged that no one told them the truth about labor and childbirth."

Lamaze and other women instead paint a calm view of the experience, she said.

"And, society promotes an ideal of motherhood that we are supposed to live up to. And of course, we often fail and are left feeling guilty," she says.

Mager became a mother at the age of 43 and has endured her share of trials.

"I have a wonderful 2-year-old son who is incredibly intelligent but doesn't stop for a moment. I'm always exhausted. Nobody tells you how difficult things will be."

Women deserve an honest, straightforward depiction of the trials of motherhood, she said. Maybe then mothers can set realistic expectations and be proud of their accomplishments.

In addition to writing, she conducts "Write From the Heart" seminars.

The classes are meant to promote creativity and are redesigned to meet the needs of a variety of groups. She has presented the seminar at conventions, to corporations, professional associations and even senior citizens and troubled teens.

"The seminar focuses on the struggles that all writers face and allows them to find the inspiration to take creative risks," says Mager.






Click for online
calendars and events.
E-mail to Features Editor
---
---
© 2000 Honolulu Star-Bulletin
http://archives.starbulletin.com