Advertisement - Click to support our sponsors.

---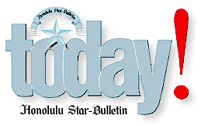 ---
Monday, June 26, 2000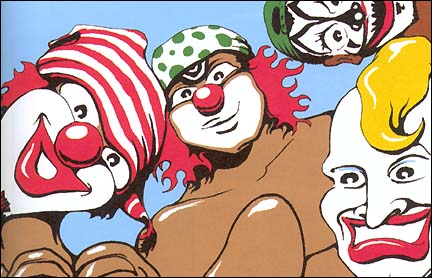 Photo by Craig T. Kojima, Star-Bulletin
The Surf Clowns -- victims of an environmental
accident -- teach concern for nature.
---



A Maui couple makes surfer clowns
the heroes of a graphic tale

By Burl Burlingame
Star-Bulletin

F EW would admit it, but untold numbers of adults and children suffer from fear of clowns, or coulrophobia. Indeed, as Maui artist Charles Lyon was free-lancing for "Teenage Mutant Ninja Turtles" several years ago, he was busy inventing the baddest of bad guys, and the idea of surfing clowns popped out of his pen.

"Real evil, real awful, heh heh heh," said Charles.

But those toe-riding, white-faced maniacs grew on him. Now they're heroes, and star in their own book, "Seven Mental Missions," from Maui's Bad Cat publishers -- which is Charles Lyon and partner Leslie Lyon. The full-color, $29.95 epic is available at Borders, Barnes & Noble, Bestsellers, BookEnds and a number of surf-oriented shops.

The Lyons are doing their own distribution, and flew into Honolulu for a visit.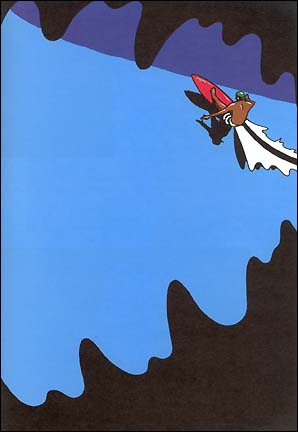 Photo by Craig T. Kojima, Star-Bulletin
Charles Lyon's drawings for "Surf Clowns" are limited to a
palette of 30 colors, which gives them a unique visual quality.
---
Their first book was a traditional photographic meditation on giant waves called "JAWS MAUI." "It was completely different; they even used one of the photographs on the cover of National Geographic," said Leslie.

"So we were looking for something a little more creative, and I was drawing these clowns," said Charles. "They turned into nice guys."

We thought it would make a nice graphic novel, like a Japanese manga. Leslie was a schoolteacher in Lahaina and she really wanted to do something that would promote literacy too, but would also be fun. So we came up with something in between a manga and an illustrated novel."

"There's a summer school on Maui using it for the reading curriculum this year," said Leslie. "But the best thing I heard was from a mother whose kids hated to read but but got so wrapped up in the book they were late for dinner."

The book strikes a balance between the text of Leslie's storytelling and Charles' bouncy, colorful illustrations, which artfully capture the vivid motions of surfing, as well as those important details, like sponsor's logos on the boards.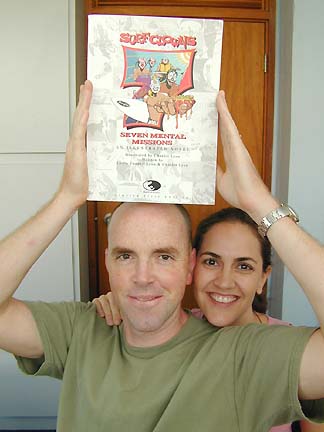 Photo by Craig T. Kojima, Star-Bulletin
Charles and Leslie Lyon.
---
They collaborated simultaneously, with Charles assembling sketches and Leslie writing. "It was pretty revealing that we had the same ideas at the same time," said Charles.

Some of the characters are real people, including legendary surfers Archie Kalepa and Gerry Lopez.

The groundwork done, Charles scanned the sketches -- which have an organic quality to their lines -- into a computer and added bright colors from a palette of only 30 colors, "to keep things consistent."

A subtext among the clowns' adventures -- which are anti-violence and pro-brotherhood, by the way -- is the environment, and how surfing is a way of experiencing it.

"There are a lot of surfers out there who aren't tolerant, and it really feels good when a kid tells us he thought twice about taking a swipe at another surfer because he read the book," said Charles. "It can get nasty out there in the water. Like road rage."

"The clowns themselves are the product of an environmental disaster," said Leslie.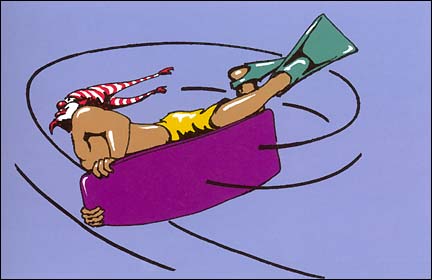 Photo by Craig T. Kojima, Star-Bulletin
Surf Clown "Lippy" pulls an aerial "360."
---
The concern for the environment spilled out beyond the storytelling, too. "JAWS was printed in China, and right at that time we saw an article that listed the world's worst environmental problems, and in the Top 10 were both Asian paper mills and printing in China," said Leslie.

"Man, the proofs we got back for JAWS -- eyeuuhh! Whiffa, brah!" said Charles. "I got woozy examining them."

"It seemed hypocritical to do a book that is about the environment and not do all we could in production," said Leslie. "So we found a printer in Canada that uses recycled paper and inks."

They actually started distributing the book in January, and so far have 72 dealers carrying it. "It's doing real well on the East Coast -- yeah, I know! The EAST COAST? But there are more surf shops there than anywhere else in the country. There's a franchise called Quicksilver Boardriders Club that's everywhere. Nova Scotia! Steamboat Springs, Colorado!

"The real trick was to do something positive. It's easy to make money off the surf industry if you go negative -- violence, naked chicks, bad attitudes. We'd rather deflect aggression."

To keep up with the Lyons' surf clowns, naturally, check out http://www.surfclowns.com.






Click for online
calendars and events.
E-mail to Features Editor
---
---
© 2000 Honolulu Star-Bulletin
http://archives.starbulletin.com