Advertisement - Click to support our sponsors.

---

---
Wednesday, June 21, 2000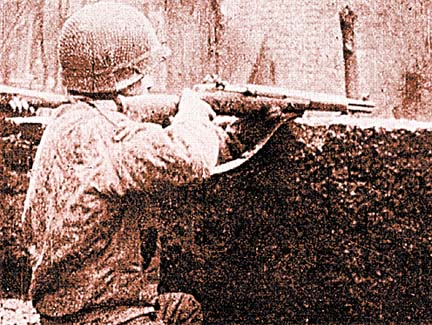 A 442nd soldier fires an M-1 rifle during action in Bruyeres, France.
---
The weapons

Standard arms issued to 100th/442nd troops (guns shown to scale):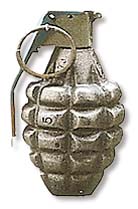 Mark II A1 Fragmentation Grenade

Made of cast iron with a five-second fuse, it had a lethal radius of 20 yards and an injury radius up to 50 yards. Also called "pineapple grenade."

WEIGHT: 1.5 POUNDS

M1 Garand rifle

The American military had the distinction of being the only army equipped with a semi-automatic rifle as its standard weapon. Every other nation still armed its soldiers with older and slower-firing, turn-of-the century bolt action rifles. Accurate, reliable and quick firing, the Garand was considered the world's finest infantry rifle during the war.

LENGTH: 43.6 INCHES -- WEIGHT: 9.5 POUNDS -- AMMO: EIGHT ROUNDS OF .30-06 CALIBER

M1918 A2 Browning automatic rifle

Known as the BAR, this large and extremely heavy weapon was intended for use as an infantry-support machine gun. However, many GIs carried the BAR into battle, valuing its impressive stopping power over its weight.

LENGTH: 47 INCHES -- WEIGHT: 21 POUNDS -- AMMO: 20 ROUNDS OF .30-06 CALIBER

M1 Carbine

Although lacking stopping power, the M1 carbine was favored by many troops because of its light weight and low recoil.

LENGTH: 36 INCHES -- WEIGHT: 5.5 POUNDS -- AMMO: 15 ROUNDS OF .30 CALIBER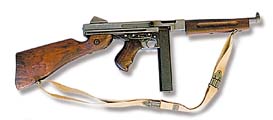 M1A1 Thompson submachine gun

The Thompson was the U.S. Army's standard submachine gun. Reliable but heavy, the weapon's stopping power was legendary and the gun was favored by many American troops, such as Dan Inouye.

LENGTH: 31.5 INCHES -- WEIGHT: 10 POUNDS -- AMMO: 20 TO 30 ROUNDS OF .45 CALIBER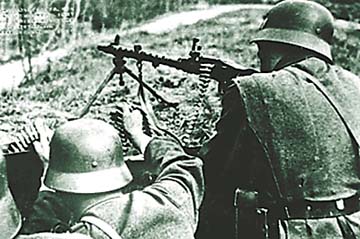 A German MG-34 machine gun in action near Anzio, Italy.
---
Facing 'Hitler's buzz saw'

Hidden throughout the forests and mountains of Italy and France, German machine-gun nests armed with MG-34s and MG-42s took a terrible toll on the 100th/442nd. The MG-42 fired 1,200 rounds per minute, the fastest rate of any World War II machine gun. Its ripping sound made it impossible to distinguish individual shots, prompting GIs to call it "Hitler's buzz saw."

LENGTH: 48 INCHES -- WEIGHT: 26 POUNDS -- AMMO: 500 ROUNDS OF 7.92 MM
E-mail to City Desk
---
---
© 2000 Honolulu Star-Bulletin
http://archives.starbulletin.com