Advertisement - Click to support our sponsors.

---

---
Wednesday, June 21, 2000
Eight campaigns

In less than two years, the 100th Battalion and the 442nd RCT fought in eight campaigns in France and Italy. By the end of the war, the nisei unit suffered 9,486 casualties with 680 soldiers killed in action, earning eight Presidential Unit Citations: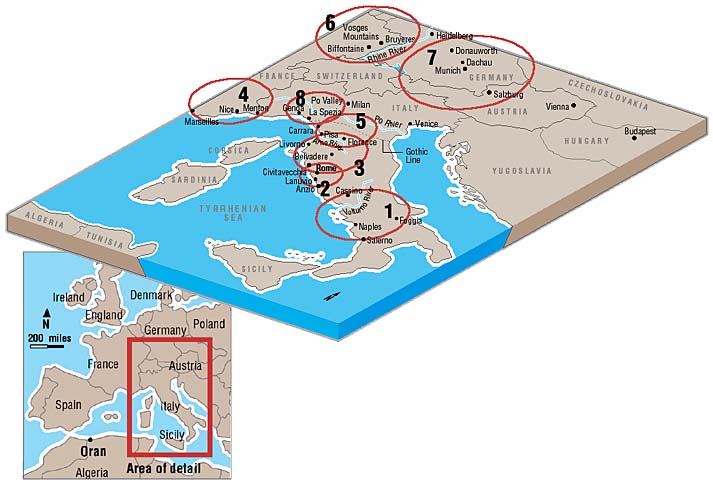 ---
1

Naples-Fogglia: Sept. 9, 1943 - Jan. 21, 1944. After landing at Salnero and fighting inland, the 100th crossed the Volturno River and fought its toughest battle as part of the 34th Division when it attempted to take the high ground of Cassino from the Germans. It eventually took five divisions to take Cassino.

2

Anzio: March 26 - June 2, 1944. After helping VI Corps break out of the coastal city of Anzio, the 100th spearheaded the drive to Lanuvio, opening the road to Rome. The 100th became attached to the 442nd at Civitavecchia, Italy.

3

Rome-Arno River: Jan. 22 - Sept. 4, 1944. Fought major engagements at Beledere and Livorno.

4

Southern France: Aug. 15 - Sept. 14, 1944. The 442nd's Anti-Tank Company was sent from Italy to France in a glider invasion.

5

Northern Apennines: Sept. 10, 1944 - April 4, 1945. The 100th/442nd successfully crossed the Arno River before encountering heavy German resistance at Pisa and Carrara.

6

Rhineland: Sept. 15, 1944 - March 21, 1945. The 100th/442nd engaged in heavy fighting in the Vosges Mountains, taking the towns of Bruyeres and Biffontaine. The 100th/442nd rescued the Texas "Lost Battalion."

7

Central Europe: March 15 - May 11, 1945. 522nd Field Artillery Battalion of the 100th/442nd was re-assigned to the 7th Army and moved into Bavaria, helping liberate Dachau concentration camp.

8

Po Valley: April 5 - May 8, 1945. Spearheaded diversionary assault on western section of the Gothic line, a German stronghold north of the Arno River. The war in Italy ended on May 2, 1945, and the war in Europe ended six days later.
E-mail to City Desk
---
---
© 2000 Honolulu Star-Bulletin
http://archives.starbulletin.com