Advertisement - Click to support our sponsors.

---

---
Wednesday, June 21, 2000
Bravery recalled



Of the 22 Asian-Pacific veterans honored today for heroism during World War II, a dozen are from Hawaii. Twenty served with the 100th Battalion and 442nd Regimental Combat Team. The heroic deeds of Hawaii's veterans are recalled here.

Daniel K. Inouye | Kaoru Moto | Yukio Okutsu
Robert Kuroda | Francis Brown Wai | Yeiki Kobashigawa
Barney Hajiro | Masato Nakae | Shinyei Nakamine
Allan Ohata | Mikio Hasemoto | Shizuya Hayashi

---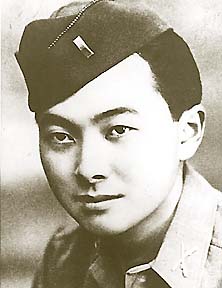 Daniel K. Inouye
Honolulu
Second lieutenant, E Company, 2nd Battalion, 442nd RCT on April 21, 1945 at San Terenzo, Italy ...

In attacking a fortified ridge guarding an important road juncture in the Po Valley, Inouye directed his platoon through a hail of gunfire, captured an artillery and mortar observation post, and brought his men to within 40 yards of the main enemy force.

The Germans, entrenched in bunkers and rock formations, resisted, halting the advance with fire from two machine guns over terrain without cover.

Inouye crawled up a treacherous slope to within five yards of the nearest machine gun and hurled two grenades, destroying it. He stood up and took out a second machine-gun nest with a burst from his submachine gun.

Although wounded in the stomach by a sniper's bullet, he continued to rake other positions until his right arm was shattered by an exploding German rifle grenade. He pried a grenade he was about to throw from his right hand, and tossed it with his left hand.

He refused evacuation and continued to direct his platoon until resistance was broken. In the attack, 25 Germans were killed and eight others captured.

---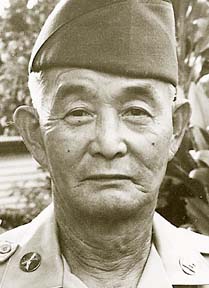 Kaoru Moto
Makawao, Maui
Private First Class, C Company, 100th Battalion on July 7, 1944 at Castellina, Italy ...

Attacked a machine-gun nest, took a prisoner, then captured a house used as an observation post. Wounded, he continued to defend the position from being retaken by the Germans. Later, he spotted another machine-gun nest and opened fire, wounding two Germans and capturing several others. Died in 1992.

---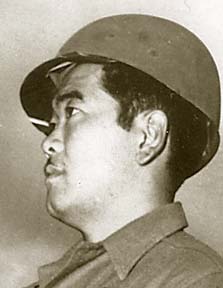 Yukio Okutsu
Hilo, Hawaii
Technical sergeant, F Company, 2nd Battalion, 42nd RCT on April 7, 1945, at Mt. Belvedere, Italy ...

While his platoon was bogged down by fire from three machine guns, Okutsu crawled to within 30 yards of the nearest nest through heavy fire.

He stood up, hurled two grenades at the nest, killing three machine-gunners.

Crawling and dashing from cover to cover, he again stood up and threw a grenade, silencing a second machine gun, wounding two Germans and forcing two others to surrender.

Seeing a third nest, he again moved forward through small arms fire and was stunned momentarily by a shot that glanced off his helmet. Recovering, he charged several German riflemen with his submachine gun, forcing them to withdraw.

Then, rushing the machine-gun nest from the flank, he captured the weapon and its crew of four, allowing his platoon to resume its assault.

---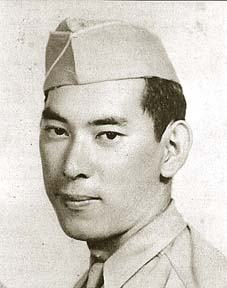 Robert Kuroda
Aiea
Staff sergeant, H Company, 2nd Battalion, 442nd RCT on Oct. 20, 1944 at Bruyeres, France ...

Attacked a machine-gun nest, killing three Germans with a grenade, and killed or wounded three others with his rifle. Killed by a sniper while advancing on a second machine-gun nest. Posthumous.

---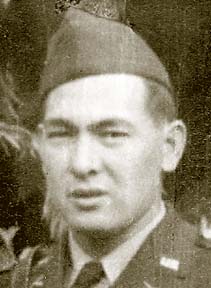 Francis Brown Wai
Honolulu
Captain, 34th Division on Oct. 20, 1944 at Leyte, Philippines ...

Finding the first four waves of a beach assault pinned down, Wai rallied the soldiers and moved them inland. Killed while leading an assault on a Japanese pillbox. Posthumous.

---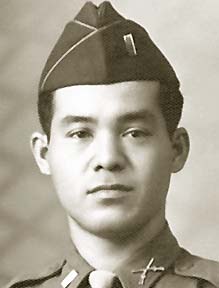 Yeiki Kobashigawa
Waianae
Technical sergeant, B Company, 100th Battalion on June 2, 1944 at Lanuvio, Italy ...

During an attack, his platoon came across a series of German machine-gun nests.

Spotting one 50 yards away, he crawled forward with one of his men, threw a grenade and then charged with his submachine gun while his companion provided covering fire. He killed one German and captured two.

Kobashigawa and his comrade were fired on by another machine gun 50 yards to their front. Directing a squad to advance to his first position, he again moved forward with his companion to subdue the second machine-gun nest. After throwing grenades into the position, Kobashigawa provided close supporting fire while his fellow soldier charged. Four prisoners were captured.

On the alert for other nests, he discovered four more machine guns and skillfully lead a squad in neutralizing two of them.

---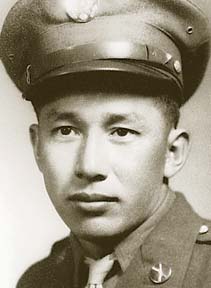 Barney Hajiro
Waipahu
Private First Class, I Company, 3rd Battalion, 442nd RCT, on Oct. 29, 1944 at Bruyeres and Biffontaine, France ...

Hajiro, acting as a security guard on top of an embankment, observed a friendly unit under attack in a house 200 yards away.

He directed fire at the enemy stronghold, and, disregarding personal danger, fired three bursts at two snipers, killing or wounding them.

He volunteered for outpost security when I Company held a forward attack position on a ridge east of Belmont.

Together with his squad leader, they captured two light machine guns, two automatic rifles, four pistols, 10 rifles and a number of grenades.

By his intrepid conduct, he was a defensive factor in the capture of "Suicide Hill."

---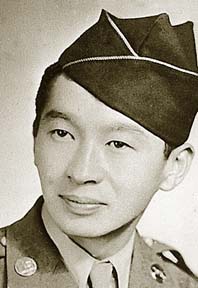 Masato Nakae
Honolulu
Private First Class, A Company, 100th Battalion on Aug. 19, 1944 at Pisa, Italy ...

Defending an outpost position, Nakae held back a probe by German forces. Wounded during a mortar barrage, he refused to leave and continued to fire, forcing the Germans to withdraw. Died in 1998.

---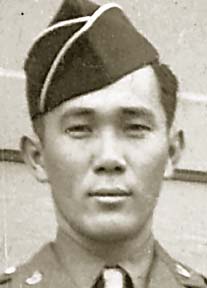 Shinyei Nakamine
Waianae
Private, B Company, 100th Battalion on June 2, 1944 at La Torreto, Italy ...

Killed three Germans and captured two in taking out a machine-gun nest. Later in the day, he led another attack that took out another machine-gun nest. Spotting a third machine-gun emplacement, he led another charge and was killed. Posthumous.

---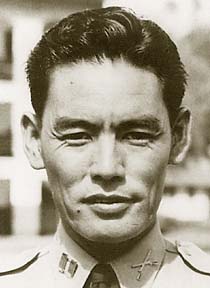 Allan Ohata
Honolulu
Staff sergeant, B Company, 100th Battalion on Nov. 25, 1943 at Cerasuolo, Italy ...

In a fight with German soldiers, Ohata and Mikio Hasemoto (see story below) killed 27 soldiers, wounded one and took another prisoner. Later, the enemy attacked again; four soldiers were killed and three were wounded. Died in 1997.

---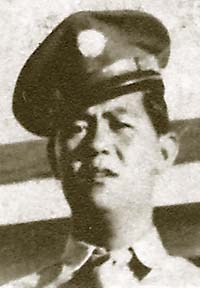 Mikio Hasemoto
Honolulu
Private, B Company, 100th Battalion on Nov. 23, 1943 at Cerasuolo, Italy ...

Killed fighting with Ohata. Responsible for killing 27 Germans in one battle and wounding three. Posthumous.

---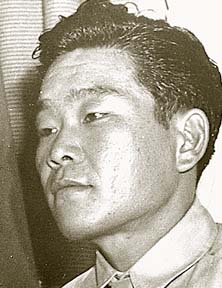 Shizuya Hayashi
Pearl City
Private, A Company, 100th Battalion on Nov. 29, 1943 at Cerasuolo, Italy ...

During an assault on high ground held by the Germans, Hayashi rose alone in the face of grenade, rifle and machine- gun fire, fired his automatic weapon from the hip with the aid of a shoulder sling, and charged the machine-gun nest.

He took the position, killing seven men and two more as they fled.

After a platoon advance of 200 yards from his point, an enemy anti-aircraft position opened fire on the platoon.

Hayashi returned fire, killing nine, taking four prisoners and forcing the remainder of the force to flee from the hill.
E-mail to City Desk
---
---
© 2000 Honolulu Star-Bulletin
http://archives.starbulletin.com