Advertisement - Click to support our sponsors.

---

---
Tuesday, June 20, 2000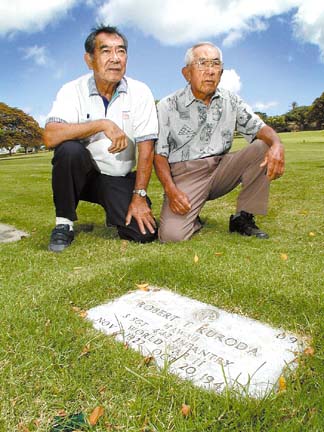 By Craig T. Kojima, Star-Bulletin
Joe Kuroda and Ronald Kuroda at their brother Robert T. Kuroda's
headstone at the National Memorial Cemetery of the Pacific.
Staff Sgt. Kuroda killed several enemy soldiers before
a sniper's bullet claimed him in World War II.
---



Tomorrow, seven Asian Americans
from Hawaii will receive the
Medal of Honor -- posthumously

By Gregg K. Kakesako
Star-Bulletin

One need look no further for an example of patriotism and commitment from Japanese Americans in World War II than the Kuroda family.

Four sons of Toyoichi and Sekino Kuroda -- Ronald, Robert, Wallace and Joseph -- volunteered and served in the war.

Tomorrow Ronald and Joe will accept a posthumous Medal of Honor for their brother, Staff Sgt. Robert Kuroda, killed in 1944 by a sniper in France while trying to take out a German machine-gun nest.

A total of 22 Asian Americans will be awarded the Medal of Honor tomorrow at a White House ceremony presided over by President Clinton. Among the World War II heroes are 12 from Hawaii -- five of whom still are living.




On Television

Sen. Inouye's office indicated that CBS and ABC are airing segments on the Medal of Honor presentations on their national newscasts tonight; NBC airs its segment tomorrow night.




"I was hoping he would get the medal," Joe Kuroda, former state senator and retired Army Reserve colonel said of his older brother, "but I didn't expect it."

Twenty of the honorees are members of the famed 100th Battalion and 442nd Regimental Combat Team. Both were composed mainly of nisei -- second generation Japanese Americans. During less than two years of fighting, the unit earned 52 Distinguished Service Crosses, but until now only one Medal of Honor.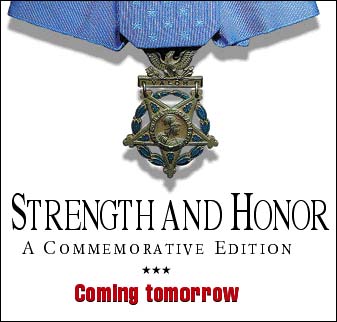 U.S. Sen. Dan Akaka and others had been concerned that anti-Japanese sentiment prevented the nisei soldiers from getting fair recognition.

Before Akaka's review there were 22 Medal of Honor recipients buried at the National Memorial Cemetery of the Pacific -- one from the Spanish-American War, 15 from World War II, three each from the Korean and Vietnam wars. Not all of them were Hawaii residents. Each of their headstones bears a replica of the Medal of Honor.

Punchbowl officials say the headstones of the seven newest Medal of Honor awardees from Hawaii will be refinished in the same manner. The honorees are: Pvt. Kaoru Moto, Pvt. Masato Nakae, Staff Sgt. Allan Ohata, Pvt. Mikio Hasemoto, Staff Sgt. Robert Kuroda, Pvt. Shinyei Nakamine and Capt. Francis Wai.

Brian Moto said his father, Kaoru Moto, another of the Hawaiian Medal of Honor posthumous recipients, never discussed his wartime experiences.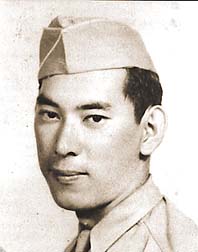 'I was hoping he would get
the medal, but I didn't expect it.' Joe Kuroda
BROTHER OF STAFF SGT. ROBERT KURODA,
PICTURED, ON WHOSE BEHALF HE WILL ACCEPT THE
MEDAL OF HONOR TOMORROW



"He was raised in Camp 2 in Spreckelsville," Brian Moto said. "Every once in a while I remember his buddies talking about my father and saying he should have gotten the Medal of Honor, but with us kids he never talked about the war or his past."

The war wasn't even discussed with another son, Buster, a Vietnam veteran, said Brian Moto, now a Maui County deputy corporation counsel.

Marilyn Nishiki, another of Moto's five children, said her father donated all of his medals to the Fort DeRussy Army Museum before he died on Maui in 1992. His receipt of the nation's highest battlefield tribute commemorates the actions of "a lot of men who fought with my father and are just as deserving, but who weren't recognized."

Moto and five other colleagues survived World War II, but didn't live long enough to receive the recognition due them.

Among the Hawaii residents to receive the Medal of Honor tomorrow, only Francis Brown Wai didn't serve in Europe with the 100 Battalion/442nd Regimental Combat Team. Wai was killed during a beachhead invasion in the Philippines with the Army's 34th Division.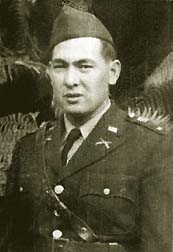 'He was a good man ...
a good leader. When this happens,
it brings back a lot of memories.' Lambert Wai
BROTHER OF CAPT. FRANCIS WAI, LEFT,
WHO WAS KILLED IN ACTION IN THE PHILIPPINES.
FRANCIS WAI WILL RECEIVE A POSTHUMOUS
MEDAL OF HONOR TOMORROW.



Lambert Wai described his brother Francis as a stellar football player at Punahou and UCLA before he joined the Army. "He was a good man ... a good leader. When this happens, it brings back a lot of memories."

Donald Ohata said his brother Allan Ohata, who died in 1997, never spoke of his wartime exploits. The family found out that Allan Ohata had received the Distinguished Service Cross "when we saw the newsreels and Gen. Mark Clark was pinning the medal on him."

"He was a very tight-mouth guy," Donald Ohata said. "The only thing he told was that it (war) was a terrible thing.

"I know he held a hill by himself and a lot of people died except him. He said the enemy came from both sides, and (at) one point he came from one side and the enemy soldier came from the other end. The only reason he lived was because he saw the guy first."

Joe Kuroda recalled that his parents reluctantly gave their permission for his brother Robert to join the 442nd, even though brother Ronald was already in uniform.

A parade grounds at Fort DeRussy is named after Robert Kuroda recognizing his wartime heroics. Kuroda and two buddies from Company B captured 17 German soldiers, killed five others and wiped out five machine guns.

But "my generation Japanese is no show off," Joe Kuroda said. "They don't talk about it."

---

New Medal of Honor
winners thank Akaka

By Gregg K. Kakesako
Star-Bulletin

WASHINGTON -- U.S. Sen. Daniel Akaka says that anyone who knows the combat histories of Asian Americans who fought in Europe and the Pacific knows that they were never given their full due.

Meeting with the nation's newest Medal of Honor recipients and their families today, Akaka said that's why he initiated congressional legislation four years ago, requiring the Army to review records of Asian and Pacific Americans who received the second highest medal for valor -- the Distinguished Service Cross.

To express gratitude for Akaka's role, Pearl City resident Shizuya Hayashi presented the senator with a koa plaque listing the names of the 12 Medal of Honor recipients from the Hawaiian Islands. All but one -- Capt. Francis Wai -- served with the segregated Japanese American combat unit -- the 100th Battalion and the 442nd Regimental Combat Team. Five of the seven living medal recipients are from Hawaii.

"I will treasure this," Akaka said, as he talked with the veterans on the steps of the Capitol. "This is a great day for all of us. It has only occurred because we live in such a great country."

He told the veterans and their families that "it was out of compassion" that his legislation pursued the names of 104 Asian and Pacific Americans who earned the Distinguished Service Cross.

The Army, after a nearly year-long review, recommended 21 of the DSCs be upgraded to the Medal of Honor.

The 22nd Medal of Honor to be presented by President Clinton tomorrow at the White House will be for 442nd medic James Okubo, who was upgraded from the Silver Star.

U.S. Sen. Daniel Inouye, who will be among the 22 100th/442nd veterans to receive the Medal of Honor, admitted earlier today that "all this attention can be overwhelming."

Inouye was preparing for an interview with NBC news anchor Tom Brokaw, whose bestseller The Greatest Generation featured Inouye as one of World War II's heroes.

Also attending ceremonies this week is former state lawmaker Sakae Takahashi -- one of the few Japanese American officers in the 100th Battalion.

"I am especially gratified since four of the guys (who will get the Medal of Honor) were people I singled out ... in my unit," said Takahashi, who commanded the 100th Battalion's company B in Europe 56 years ago.

Glenn Hajiro, whose father Barney will get the medal tomorrow, said his family "has been looking forward to this for a long time."

Elaine Okutsu, whose husband, Yukio Okutsu, also will get the medal, said the entire thing hasn't really sunk in.

"Maybe my husband will get excited tomorrow."
E-mail to City Desk
---
---
© 2000 Honolulu Star-Bulletin
http://archives.starbulletin.com