Advertisement - Click to support our sponsors.

---

---
Thursday, June 15, 2000

By Ken Ige, Star-Bulletin
Marine Pvt. Josh Sweet stands on guard at the
operations center near the camp.

This year's RIMPAC participants
use real-world experience to
set up a 'refugee camp'
on the Big Isle

By Gregg K. Kakesako
Star-Bulletin

WAIMEA, Hawaii -- When Vice Adm. Dennis McGinn commanded the aircraft carrier USS Ranger and was dispatched to Somalia in 1992 to support the military's humanitarian assistance program, a monsoon prevented major flight operations.

So McGinn improvised and ordered one of his Aegis cruisers close to the African shores to serve as an air traffic control center.

Navy electricians then were dispatched to the African country to wire tents used by civilian relief organizations and refugees. Carpenters from the Ranger built much-needed furniture from material scrounged off the carrier. The carrier's medical department also was used to treat civilians injured in automobile accidents.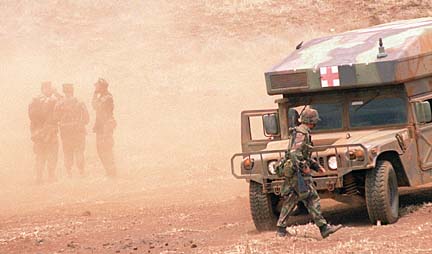 By Ken Ige, Star-Bulletin
At the 'Camp Shangri-La' training site in Waimea,
a soldier looks back at his comrades caught in
a medic wagon's dust.
---
All of these lessons learned from that real-world relief mission and others are now being employed during this year's RIMPAC naval war games, as the military conducts its first major humanitarian and relief exercise called Strong Angel, which ends today on the Big Isle.


This is one of the few times that a large number of civilians has been included in a military exercise, which involved constructing a refugee camp on the dusty plains of Parker Ranch.

Besides the usual missile firings, maritime interceptions and amphibious landings, RIMPAC this year included development of a civil-military operations center to run the humanitarian exercise. Invited to what is normally a purely military exercise was a host of nonmilitary organizations, such as the United Nations, the World Food Organization and several civilian medical research teams.

With the help of the Marine Corps, the United Nations on June 6 established a mock Third World refugee center at the edge of the Puu Paa cinder cone near the Big Island's Highway 19. The Red Cross was tasked with recruiting 125 volunteers from the Big Island to take on the role of refugees.

Lt. Cmdr. Eric Rasmussen, 3rd Fleet surgeon, said in today's world amphibious assaults only partially reflect what the Navy now has to do. "We need to get better at humanitarian actions."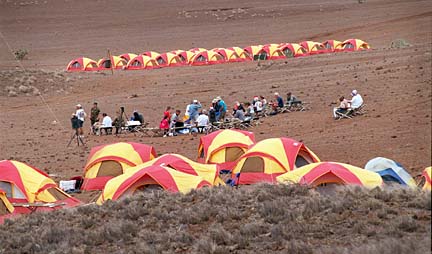 By Ken Ige, Star-Bulletin
The refugee tents at Waimea's 'Camp Shangri-La'
training site.
---
At a staff briefing, McGinn, now 3rd Fleet commander and head of RIMPAC 2000, instructed the military and civilian role players not to be afraid to make mistakes.

"This is a time to find out what works and what doesn't," said McGinn, whose San Diego-based command is responsible for naval operations in the eastern Pacific. "It's OK to fail here."

An integral part of Strong Angel was testing new biomedical technologies and communications systems designed to meet needs created by past disasters.

During the Big Island exercise Dr. Dave Warner, a medical neuroscientist, established several communications links using ham radio bands and the Internet. He also established a commercial satellite video and voice link that tied the northwest corner of the Big Island to East Carolina University in Greenville, N.C

The satellite link was used for telemedicine consultations with doctors and other experts through a communication hub or bridge at the university.

Warner said the satellite let six countries hold videoconferences with the "refugee camp."

"What is important is that in a real world situation or disaster, organizations operating under the Red Cross flag cannot use the military communications network," Warner said.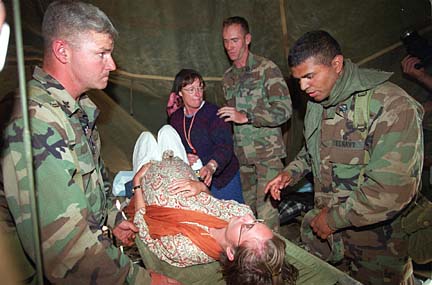 By Ken Ige, Star-Bulletin
During the refugee exercise, medics, doctors and
translators tend to a woman-in-labor situation
at "Camp Shangri-La."
---
Also tested was a space-age bionic glove that used special biosensors which allowed a corpsman or a medic in the field to lay his hand on a patient and instantaneously gather vital statistics, such as blood pressure, pulse, oxygen level in the blood, temperature and electrocardiogram. That information was recorded on a computer, then transmitted via the Internet using a Web browser like Netscape.

Markus Schmit, MindTel director of research, said "the beauty of the system is that there is no software to learn since everything is posted on Netscape."

Another medical innovation -- which was evaluated -- allowed a doctor through a videoconference call to conduct a medical examination on a patient at a remote site. The medic would wear a special headset that contained a video camera, allowing the doctor and the medic to see the same thing simultaneously.

This fall, officials will take many of the lessons learned from Project Strong Angel and use them when the MERCY naval hospital ship will be deployed to the west coast of Central America to ports devastated by Hurricane Mitch.

---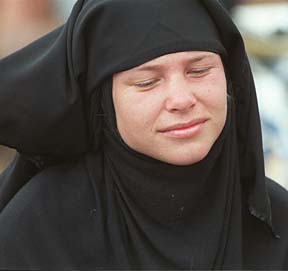 By Ken Ige, Star-Bulletin
Birgitte Kristiansen plays a refugee from Yemen --
not a stretch, since she actually is from Yemen.
---
'Refugee' experience
a two-way street

By Gregg K. Kakesako
Star-Bulletin

WAIMEA, Hawaii -- The "refugees" called it Camp Shangri-La. Yet it was anything but paradise, with 50-knot winds that whipped gritty, powder-fine volcanic dust into everything. The days were torrid, the nights at times frigid.

"All but two of the 40 tents the Marines erected in the refugee camp had to be abandoned at times," said Peter Young, Red Cross volunteer chairman for West Hawaii's disaster services.

That's "because of the sand and the wind," he said.

The purpose of Strong Angel -- the first mock disaster-relief effort put on by the military and incorporated into this year's RIMPAC naval war games -- was to test the military and nongovernmental agencies' ability to build a refugee center in a remote environment that lacked electricity and water.

It was Young's job to recruit 125 volunteers to play the role of refugees.

He started that task in March, and except for a period five weeks ago there were no major problems.

"I had a mild panic attack about five weeks ago when we reached a plateau of 40 or 50 volunteers," said Young, who normally is a Big Island real-estate appraiser. "Then everything grew at a faster pace, until about a week before the exercise began we had the 125 people we needed."

But "refugee" Paul Abott, a guest lecturer at Kona's University of Nations, said "it's hard to be really realistic."

"What can be overwhelming in a real situation are the numbers of refugees," said Abott, who has worked in overseas humanitarian relief missions. "There are generally thousands of refugees whose needs are never met. This is more like a Boy Scout camp. But I am not criticizing anyone. It's just that you can't simulate a refugee camp."

Abbot said "the exercise helps the volunteers see what it is like to be on the other side. It's very rare that relief workers are put in the role of refugees. It gives them a different perspective."

Another "refugee," Pam Prickett, one of eight staff members and students from the Kona university, said the experience was helpful.

"We might be in a refugee situation when we do our missionary work," she said.

Young said the biggest benefit for the Red Cross is that it now has 80 new volunteers who spent their free time undergoing Red Cross training.

"We also learned how to interact with the military, the United Nations and other nongovernmental agencies during the exercise. It's been good to learn from them what happens in a large-scale operation."
E-mail to City Desk
---
---
© 2000 Honolulu Star-Bulletin
http://archives.starbulletin.com