Advertisement - Click to support our sponsors.

---

---
Thursday, June 15, 2000
Broker amends
Star-Bulletin
sale terms


The lack of initial financial
details prompts the change

Star-Bulletin staff

Prospective buyers of the Honolulu Star-Bulletin are no longer required to say by Monday how much they are willing to pay for it.

That requirement and a series of other conditions to be met by the Monday deadline to submit formal expressions of interest were declared optional today by the broker retained by the Star-Bulletin's owner Liberty Newspapers LP.

Interested parties such as Windward Oahu auto dealer Mike McKenna had complained that they were not given information on the newspaper's finances and therefore could not suggest a price. McKenna said today that he has dropped out of an investor group interested in the Star-Bulletin, citing personal reasons and new plans to acquire two car dealerships in Southern California. He said the group is still intact and referred further questions to former Hawaii Congressman and broadcast company owner Cec Heftel.

Heftel could not be reached for comment.

Dirks, Van Essen & Murray, the Santa Fe, N.M.-based newspaper broker, today acknowledged that potential buyers have been given only limited information. The broker now says that interested parties now must only sign a confidentiality agreement.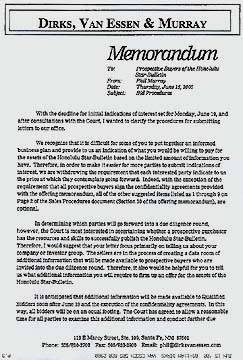 Click for full-size image.


Todayi's fax from Dirks, Van Essen & Murray.
---


Additional information will be made available soon after the deadline to qualified bidders who have agreed to keep it confidential, today's memorandum said. "In this way all bidders will be on an equal footing," it said.

Phil Murray, representing the broker, said the change in the approach to prospective buyers was made with the approval of federal court. U.S. Magistrate Barry M. Kurren held a closed-door meeting yesterday with the parties to the antitrust case about Liberty's plan to close the Star-Bulletin and end the joint operating agreement with the owners of the Honolulu Advertiser.

The memorandum that followed said that while financial details of a possible bid will no longer be required by the Monday deadline, possible investors would be wise to include as much information about themselves as possible. The memorandum said that "the court is most interested in ascertaining whether a prospective purchaser has the resources and skills to successfully publish the Honolulu Star-Bulletin."

Data are being gathered to pass to qualified bidders and those who are interested should tell the broker what additional information they need, the memorandum said.

To date, two entities have publicly expressed interest in buying the newspaper. They are the investor group that included McKenna and a group of Star-Bulletin employees and editors.

Josh Wolf-Powers, an agent at New York firm Keilin & Co. representing the employees' group, said today he was happy that the sellers now say they anticipate sending out more information to possible bidders. "I am pleased to hear that the sellers intend to provide us with information and we look forward to the opportunity to conduct due diligence," he said.

The memorandum said the court "has agreed to allow a reasonable time for all parties to examine this additional information and conduct further due diligence prior to submitting final offers" for the Star-Bulletin.

The original terms for the court-approved sale process had required interested parties to submit nonbinding bids by Monday, along with their financing plans.

Both McKenna and Wolf-Powers last week said that was impossible due to the lack of information on the newspaper's finances.

Liberty Newspapers announced in mid-September that it would close the Star-Bulletin at the end of last October and end the joint operating agreement with the Advertiser's parent, Gannett Pacific Corp. The state government, charging that such action would result in a monopoly, filed an antitrust action in federal court. In April, the lawsuit was put on hold when Liberty agreed to try to sell the newspaper .

---




---



E-mail to Business Editor
---
---
© 2000 Honolulu Star-Bulletin
http://archives.starbulletin.com