Advertisement - Click to support our sponsors.

---

---
Friday, May 19, 2000


By Dennis Oda, Star-Bulletin
Aileen Riggin Soule, in 1998 photo,
shows her Olympic trophy
from the 1920 Games.

Diving champion and Honolulu resident
Aileen Riggin Soule, the oldest living
gold medalist, prepares to be honored
in Sydney 80 years after her
victory in Belgium

By Pat Bigold
Star-Bulletin

World War I debris was still strewn across the muddy Flanders fields when she quietly earned her Olympic legacy.

No TV, few cameras and little fanfare accompanied the 1920 Olympics in dismal, postwar Antwerp, Belgium.

Eighty years later, that legacy will finally be illuminated to the world. Aileen Riggin Soule, a Honolulu resident for the past half century, will receive a personal invitation to the Sydney 2000 Olympic Games from International Olympic Committee president Juan Antonio Samaranch.

Samaranch's secretary said the president signed the invitation on Tuesday.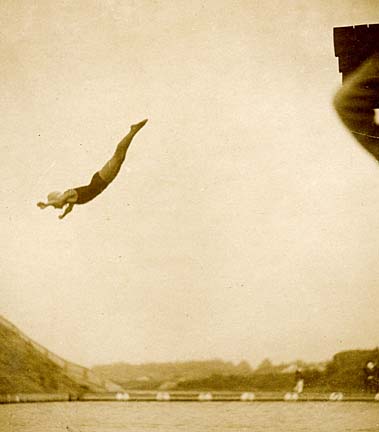 Courtesy of Aileen Riggin Soule
Aileen Riggin Soule diving at the 1920 Olympic Games.
---
The implications of the invitation are that the 94-year-old Soule will be spotlighted as the world's oldest living individual gold medalist.

Details of her role in Sydney will develop over the next few months as organizers finalize plans

"Inviting the oldest gold medalist is a tradition that began with Barcelona," said a spokesman for Samaranch last night. He added that the IOC will be picking up all of Soule's expenses and lodging her.

"It's very exciting," said Soule, who became the first women's Olympic springboard diving champion in Antwerp.

Though the war was long over, she said the vestiges of battle were everywhere and the Belgian economy was ill prepared to host an Olympics. She recalls watching teary-eyed from the railing of the transport ship that carried the U.S. team to Europe as Doughboy coffins were loaded into the hull.

Soule's fans and supporters regretted that she was not invited to play a role in ceremonies at Atlanta in 1996. Instead, the Slovenian gymnastics gold medalist, Leon Stukelj, took the spotlight as the world's oldest living Olympic champion.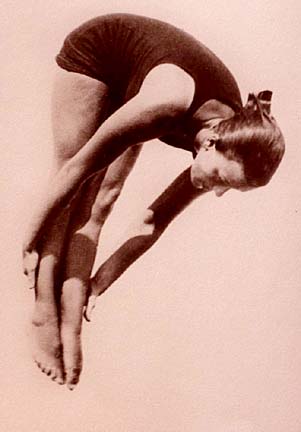 Courtesy of Aileen Riggin Soule
Olympian Soule, about age 20, shows her diving form.
In the 1920 Olympic Games in Belgium, Soule, then
14, won the gold medal in spring board, then
called fancy diving.
---
Stukelj died at 100 on Nov. 8, 1999, and Soule has inherited that role.

"I think the fact that she is so articulate and so energetic makes her a great representative of her era," said Bill Toomey, the 1968 decathlon gold medalist who is vice president of the World Olympians Association.

"She is a heroine. Who knew in 1920 that the world come and honor her this way."

Toomey was instrumental in securing Soule's invitation. He urged Samaranch last month during a meeting at IOC headquarters in Lausanne, Switzerland, to invite Soule.

"When I presented the idea to him, he seemed really intrigued," said Toomey, who's now an executive with the California firm that makes Coromega fish oil supplement.

"He immediately said, 'She had to be 13 when she won her gold medal.'"

Soule was actually 14 in 1920, making her the youngest Olympic champion ever at the time. At 4-foot-10 and 65 pounds, she was also the smallest.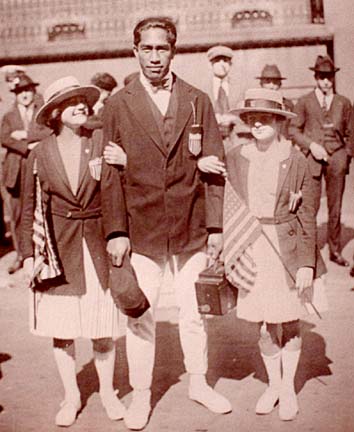 Courtesy of Aileen Riggin Soule
Soule, right, poses with Duke Kahanamoku and her teammate,
Helen Wainwright, who took the silver medal.
---
Soule, a swimming Hall of Famer, won her gold in the harshest of conditions. Instead of a pool, the swimming and diving competition was held in a cold, murky Belgian moat.

"The sport was undeveloped," said Soule, who then was a member of the Women's Swimming Association of New York. "We didn't have the opportunity to be good. We didn't have good diving boards, we didn't have a hot shower between dives, the bathing suits were made of wool, we suffered from the cold, and the girls didn't have a coach for diving."

Out of her team's misery came an IOC decision that future Olympic competition must be held in pools.

Anita DeFrantz, a member of the IOC executive committee representing the U.S., will make arrangements for Soule to get to Sydney.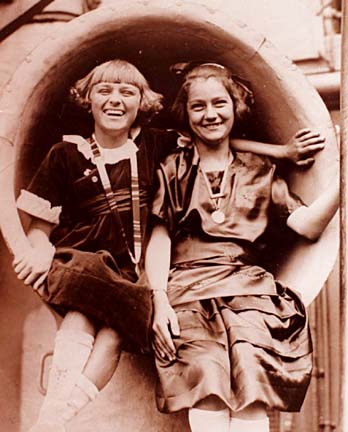 Courtesy of Aileen Riggin Soule
In this photo, teammates Soule and Wainwright, medals
around their necks, pose in an exhaust port of their ship.
---
"I am so pleased that she is willing to be there," said DeFrantz, who is also a member of the coordination commission for Sydney. "She is the dean of Olympians. She is an asset to the world."

DeFrantz, who videotaped an oral history with Soule for the Amateur Athletic History Foundation of Los Angeles, said that she wants to make sure that "whatever is done with her, is done with dignity and is fun for her."

Majell Hind, the locally based Australian consul, said she thinks Soule will be a hit in Sydney.

"The Australian crowds will love her," said Hind who has had Soule as guest of honor at the consulate's last three Countdown-to-the-Games receptions.

"She's a living treasure. They will embrace her because her approach to life is so uplifting and outgoing. Australians love people who succeed and do it in a refined and humble way."




A LIFETIME OF FIRSTS
AND WORLD RECORDS

A look at Aileen Riggin Soule's life:

World's oldest living individual gold medalist

Turned 94 on May 2

Won first women's Olympic springboard diving gold medal in Antwerp 1920

Won silver in springboard diving and bronze in the 100-meter backstroke in Paris 1924

Only American ever to compete as both diver and swimmer at Olympics

Helped organize and coach Billy Rose's first Aquacade

Had minor roles in numerous Hollywood films during the 1930s.

Inducted into International Swimming Hall of Fame in 1967.

Currently holds eight world records in the 85-89 and 90-94 age groups for freestyle and backstroke.



E-mail to City Desk
---
---
© 2000 Honolulu Star-Bulletin
http://archives.starbulletin.com