Advertisement - Click to support our sponsors.

---

---
Island Images



Friday, May 12, 2000

Happy Birthday, Buddha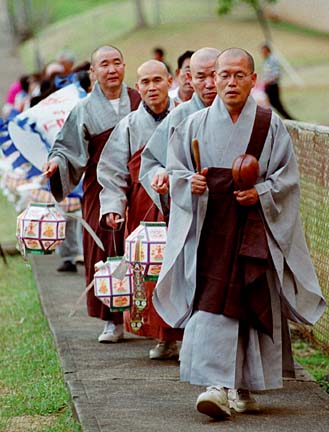 By Dennis Oda, Star-Bulletin
Carrying lanterns to symbolize their wish for happiness
and peace throughout the world, priests, Buddhists and
others walk up 10th Avenue toward the Mu-Ryang-Sa
Temple in Palolo. The procession yesterday was part
of the "Feast of the Lanterns," celebrating the birth of
the Buddha more than 2,500 years ago. For this, Korean
Buddhism's most sacred holiday, the former Dae Won Sa
Temple, renamed earlier this year, illuminates the gardens
with more than 5,000 paper lanterns. Once the procession
reaches the temple, the people circle the pagoda and pray
under the lighted lanterns.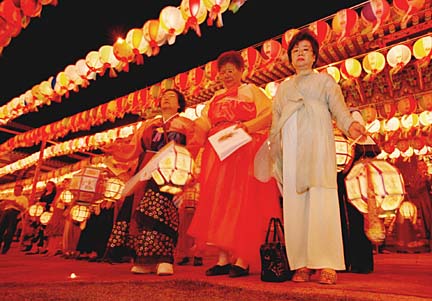 ---
E-mail to City Desk
---
---
© 2000 Honolulu Star-Bulletin
http://archives.starbulletin.com