Advertisement - Click to support our sponsors.

---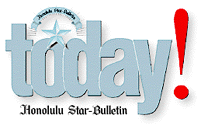 ---
Thursday, May 11, 2000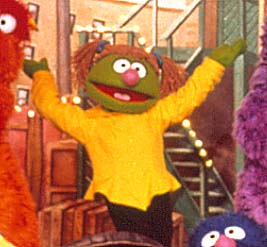 Jim Henson Co.
Yram Rivera plays Jodie on Sesame Street Live.
---
'Sesame Street's' Jodie
suits dancer just fine

By Nancy Arcayna
Special to the Star-Bulletin

MUPPETS are like you and me. We can relate to their personality traits whether it is Big Bird's curiosity and imagination; the grouchy mood swings of Oscar the Grouch; the carefree, childlike demeanor of Grover; or the theatrical abilities of Prairie Dawn.

Of course, some of us relate to the Muppets more than others.

Yram Rivera, for one, was mesmerized by costumed characters all of his life.

"My dad worked in Disney World for 23 years. The children's shows and parades influenced me and it was something I've always wanted to do," he says.




ON STAGE

Who Sesame Street Live "Big Bird's Sunny Day Camp Out"
Where: Blaisdell Arena
When: May 11, 19: 7 p.m.; May 12, 18: 10:30 a.m. and 7 p.m; May 13, 20: 10:30 a.m. and 2 p.m; May 14, 21: 1 and 4:30 p.m.
Cost: $12, $14 and $17. Charge by phone at 526-4400
Call: Blaisdell box office at 591-0150 or visit http://www.sesamestreetlive.com




Eventually, he found his way to "Sesame Street," or rather, the stage incarnation of the educational TV show, "Sesame Street Live."

The show has been entertaining audiences for 20 years by bringing the TV characters to life in a Broadway-type production. The show, this year entitled "Big Bird's Sunny Day Camp Out," starts its Honolulu run today.

There will be 14 performances of the family-friendly musical extravaganza featuring the furry Muppets as they scout for the perfect place to camp.

The problem is, one can always find something negative if one looks for it. For instance, Oscar's trash can has ants, the Count has bats in his belfry, and Big Bird's nest is just too small.

This is the 20th anniversary of the stage show, which has entertained more than 40 million children and their parents since its 1980 debut.

Often, this is a child's first experience with live theater.

"Some are intrigued with us, but others are scared," says Rivera.

His job is to interact with the children and adults through songs and dances that teach life's important lessons. "My tips for enjoying the performances are to go with an open mind, a positive attitude, interact with the characters and just have fun."

Life as a Muppet has certainly brought "sunny days" for Rivera. He loves his job and feels privileged to have the opportunity to play the roles of all his favorite childhood heroes from "Sesame Street."

"I grew up with these characters so it is ironic to be playing the roles. The characters come to life through me during the performances."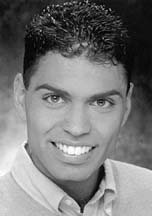 Yram Rivera
PLAYS JODIE
"Some (children) are intrigued with us,
but others are scared."
---
Rivera will play the character of Jodie in this year's presentation of "Sesame Street Live." Jodie, a lime-colored girl with pigtails, is a special character used only in the live performances.

"She looks like a little cheerleader and the girls in the audience just love her.

"Jodie is my favorite role to play. Even though she is a girl and I'm a boy, our personalities definitely complement each other well. My friends tell me that I'm very outgoing, flamboyant and a people person just like Jodie."

Rivera is also an understudy and needs to be ready to fill the shoes of five to six other characters on demand. He has played the roles of Bert, Grover, Rosita, Baby Bear and Snuffleupagus.

Rivera enjoys portraying a wide variety of characters. "Keeping it fresh and new is the most difficult thing to do. I have to make sure I perform like it is my first time. The laughing and singing keeps me going, and changing of characters makes it different for everyone."

Muppets often are abused by overeager young fans.

"Sometimes a little 4-year-old will slap you on the head but it doesn't really hurt, so its OK." The kisses and affection he receives outweigh the occasional kick or slap, he says.

The 24-year-old performer has been with "Sesame Street Live" since 1999. "Counselors told me this wasn't a good career move and that I'd never make it."

Instead, Rivera's love for dance has presented him with many experiences. "I've had the opportunity to travel all over the United States, Canada and Mexico."

He was a featured dancer in "The Festival of the Lion King"; a stilt walker in Universal Studios Florida Mardi Gras Party; and has been seen in many other dance performances and parades.

He plans to continue dance training. Meanwhile, he is more than happy to remain on "Sesame Street."

For now, the warmth and educational experience he brings to children is enough to keep him on his toes.






Click for online
calendars and events.
E-mail to Features Editor
---
---
© 2000 Honolulu Star-Bulletin
http://archives.starbulletin.com