Advertisement - Click to support our sponsors.

---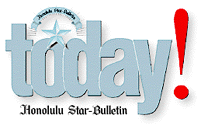 ---
Thursday, May 11, 2000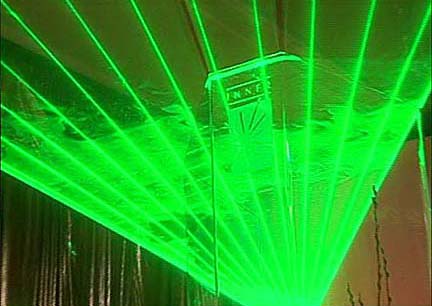 Honolulu Symphony
Laser lights are part of the "Expect the Unexpected"
symphony benefit Saturday.
---
Symphony Ball
aims for MTV edge

By Tim Ryan
Star-Bulletin

LASER-light shows, music videos, fog machines, black velvet walls and a ceiling covered with roses are hardly things you connect to a symphony.

But these are all part of Saturday's Symphony Ball 2000, "Expect the Unexpected," taking place 6 p.m. to 12:30 a.m. at the Sheraton Waikiki.

Entertainers lined up for the evening include the group Shakapella; singers Quinn Kelsey, Melissa Short and Larry Paxton; 11-year-old pianist Michael Woo; and dancer Peter Rockford Espiritu and Tau Dance Theatre.

Tom Postilo, a pop and swing singer, is coming from New York and singer-dancer Marko of Puerto Rico also will entertain.




AURAL FEAST

What Symphony Ball 2000 "Expect the Unexpected"
When: 6 p.m. to 12:30 a.m. Saturday
Where: Sheraton Waikiki
Cost: Individual tickets $200; tables of 10, $2,000 to $10,000
Call: 524-0815
Notes: 6 p.m. reception and cocktails; 6 to 9 p.m. silent auction; 8 p.m. dinner; 9:30 p.m. program: "Candlelight to Laserlight"; 10:30 p.m. dancing




And yes, there will be the required tuxedos and gowns for the symphony benefit, and the orchestra will present a salute to a century of American music throughout the evening, but, "This is not your typical symphony ball," said David Macarthur, president of Gold Herringbone Productions, Ltd., which is producing the event.

"We are creating an event environment from the foyer to the ballroom," said Macarthur, who produced last year's Symphony Ball when there was a "Viennese Waltz."

" 'Expect the Unexpected' will be a bit of a shock for most people who except the ball to be sedate; this is not particularly symphonic in nature."

This year, symphony officials hope to raise $300,000 through the event, according to executive director Michael Tiknis

Macarthur, a Honolulu Symphony board member, is donating his services and spending $80,000 of his own money to stage the event at a discount to the organization. The symphony is paying for the lavish dinner -- including lobster, foie gras and veal -- and rental of the ballroom.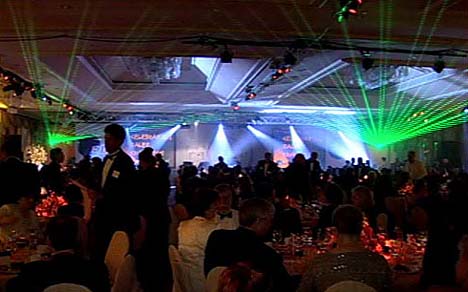 Honolulu Symphony
Lasertainment of Minneapolis, Minn., is providing the
laser lighting effects, which will include a "tunnel" from
which the symphony director will emerge.
---
Macarthur said, "every surface" of the foyer and ballroom will be covered in black velvet -- requiring about 20,000 yards of fabric to try to make "the walls disappear." Platinum, gray and bronze fabric will be used as accents.

Some 30,000 bronze-colored roses imported from Ecuador will be suspended from the ceiling; the flowers also will adorn the dining tables. Tables will also have three 40-inch tall, black candle holders holding beeswax candles made by the same company that provides candles for the White House.

The 90 tables, seating 900 people, are priced depending on their proximity to the 80-by-16-foot stage. The closest seating at the Maestro tables are $10,000; Beethoven table, $7,500; Bach, $5,000; and Brahms, $3,500. Seats are $200 per person at standard tables.

Gold Herringbone Productions has offices in Honolulu, New York and St. Louis, producing special events, video productions, theme parties and corporate theater shows.

Lasertainment of Minneapolis, Minn., is doing the elaborate light show for "Expect the Unexpected," including creating a laser "tunnel" from which the symphony's music director Sam Wong will emerge.

Several videos will be shown on the two giant screens flanking the stage, beginning with MTV-like sequences starring the symphony, Hawaii scenics, speeches by symphony executives, and musical tributes to the important films of each decade.






Click for online
calendars and events.
E-mail to Features Editor
---
---
© 2000 Honolulu Star-Bulletin
http://archives.starbulletin.com