[News]
[Business]
[Features]
[Sports]
[Editorial]
[Do It!]
[Info]
[Home]
[Nation/World]


OBITUARIES and
WEATHER in the
news section daily.




Calendars & Events







Most recent columns



To March 18, 1996
PAST WEEK:
| M | T | W | T | F | S |






Aloha Worldwide

Join SETI team

1998 Election

Legislature

SAT Scores

Pet Quarantine



Phone numbers, e-mail addresses, subscription info


E-mail notifier



Tour de Kakaako: Sunday Series bike racing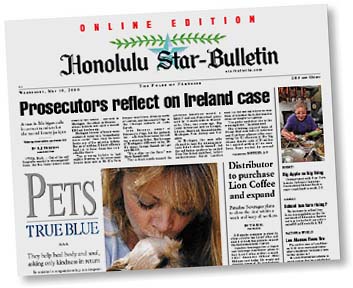 Sign up for our headlines by e-mail list

Advertisement - Click to support Starbulletin.com sponsor
---
Starbulletin.com publishes online editions Monday through Saturday.
New editions normally posted online between 2:00 and 4:00 p.m.
Starbulletin.com publishes articles written by our staff and
selected articles of particular interest to our readers.
Entire contents of this Web site © copyright 2000 by
Honolulu Star-Bulletin. All rights reserved.

---
Featured on:




Prosecutors reflect on Ireland; Paradise buying Lion Coffee; Missing toddler safe at home; Pets true blue; OHA seeking office space; Cumulina was different; Role model graduating; Airmen salute Falls victim; School bus fares scrutinized; Feral chicken bounty; Immigrant health care program; Judge fines chiropractor; Gang rape sentencing; Newswatch; Kokua Line by June Watanabe; Corky's Hawaii; Weather; Obituaries; Whatever Happened To...




Late stories available after our print or online deadlines and breaking news items




N.Y. foodies love Helena's; Black-ties, chandeliers at culinary 'Oscars'; Hawaii's Kitchen; Stuffs; Hawaii by Dave Donnelly; Honolulu Lite by Charles Memminger; By Request by Betty Shimabukuro; Health Options by Joannie Dobbs & Alan Titchenal; Community Calendar; Morsels; Health; Scholarships




Kamehameha's Kaanoi armed and ready; Tennis: Kauai sure shot; St. Francis steals SHA slipper; Athletes of the Week; Keeping Score by Cindy Luis; Bodytalk by Stephenie Karony; Hawaii Sumotori; Prep Notebook; Hawaii Beat; Scoreboard; Sports Broadcasts; Bullboard




Hawaii courting biotech convention; Chevron: State taking liberties; Credit counselor sanctioned; Hearst vows Chronicle ethics; Business Briefs; Mortgage Rates; Hawaii Stocks; Live Stock Quotes; Closing Market Report; Dilbert!; Meetings




Isle Republicans see brighter prospects; Ex-presidents back normal status for China; Capitol View By Richard Borreca; Letters to the Editor; Corky Editorial Cartoon




National and International News