Advertisement - Click to support our sponsors.

---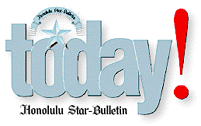 ---
Thursday, May 4, 2000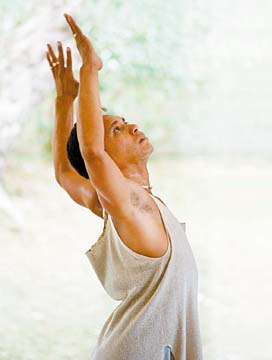 By Dennis Oda, Star-Bulletin
Peter Rockford Espiritu, director and choreographer for
the Tau Dance Theater, performs a solo dance routine
at the Queen Liliuokalani Children's Center.
---
Free-form dance


UH Outreach College teases
its audience with free dance
performances outdoors

By Cynthia Oi
Star-Bulletin

ASK about the char siu at a Chinatown stall and the vendor will chop a piece for you to taste for free. At department stores, well-groomed young women offer a spritz of a new scent for free. On television, sleek actresses urge you to sign up with a long-distance phone service and get 500 minutes for free.

"For free" is very big with retailers and businesses because no-cost samples often lead to new customers.

So it is with the Tau Dance Theater and the Arts Partners Program. They are giving away free samples, too -- mini performances around the island. Judging from audience reactions, they will likely attract new customers for dance theater.




ON STAGE

What: Tau Dance Theater, Rachel Berman and Hula Joe & the Hut Jumpers
When: 7:30 p.m. tomorrow and Saturday
Where: Blaisdell Concert Hall
Cost: $15 and $10, available at Blaisdell box office, Ticket Plus outlets, by phone at 526-4400
Call: 956-5666
Online: www.outreach.hawaii.edu




At Ala Moana Center last week, Marissa Galicia and her family were enthralled by the show. She and husband Jun work at Liberty House and on Friday nights usually meet their daughter Krisjoy, 10, baby Emmanuel and Jun's mother Mitz near Centerstage.

"We were so amazed by the grace and the strong body you have to have to dance like that," Galicia said. "Very impressive."

Her family seldom attends dance concerts, she said.

"We never really think about it," but after seeing Tau's Peter Rockford Espiritu perform to Olomana's "E Kuu Home O Kahaluu," she "definitely" plans on going, "especially since they gave discount coupons."

That's exactly what Tim Slaughter wants to hear.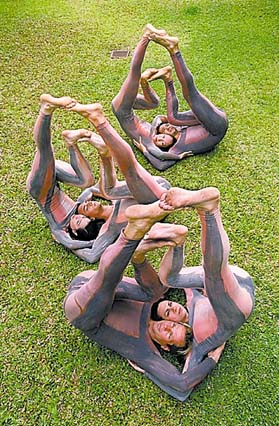 By Dennis Oda, Star-Bulletin
Tau Dance Theatre, (front to back) Ann Smith and Ron
Curcio, Esther Izuo and Quinn Allen and Holly Chung
and Squire F. Coldwell.
---
Slaughter, a program specialist with the University of Hawaii Outreach College, worked for four years to win the $98,443 grant from the Association of Performing Arts Presenters to fund the project. Outreach is working with the University of Hawaii Theatre and Dance Department, the state Public Library System, Moanalua Senior Citizen's Club and Tau Dance Theater to encourage people to take in arts and culture programs.

To do this, Slaughter has arranged for Tau to dance in places where people congregate, bringing the show to the people. If they like the free sample, he said, they may pay to see a full programs, which Tau will present this weekend.

Another purpose of the project is to keep ticket prices down, which also encourages people to attend, Slaughter said. Discount coupons were distributed at Ala Moana Center and at the main library downtown, as well as other places where Tau demonstrated its work.

The program also aims to draw young people to the arts. There was no problem doing that with Kealohi Wong, age 2. Despite the distractions at Ala Moana Center, the little girl was fascinated as Tau dancers moved across the stage.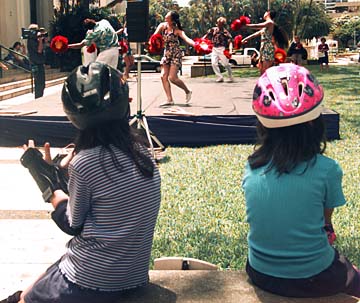 By Ken Sakamoto, Star-Bulletin
Emme Cabrejos, 8, left, and sister Lana, 6, take in the
free dance show at the Hawaii State Library.
---
Tasha Wong said she and Kealohi came specifically to see the show because her daughter "loves all forms of dance."

"When I was here yesterday, I saw the poster (advertising the show) and I thought 'OK, free,' so we came down.

At the library, Ethan Koyanagi, 7, seemed more interested in the ambulance whizzing by on Punchbowl Street than the dancers on the stage set up on the lawn. Richard Koyanagi said he and his son were headed for the library when they spotted the dancers.

"We saw this so we stopped. We don't often go to things like this," he said.

He had never seen Tau performances before and found the interpretations and cultural expression interesting, but he was there mainly for Ethan's sake.

"I actually stayed so he could see this," he said, nudging Ethan with his hip. "I thought he should."

Ethan, clearly not captivated, squirmed and squinted under the sunny sky.

Meanwhile, the balmy weather and outdoor venue inspired Espiritu, Tau's founder and director.

"I love it -- it's under the trees and the elements," he smiled. "Dancing in an everyday place like this makes it approachable."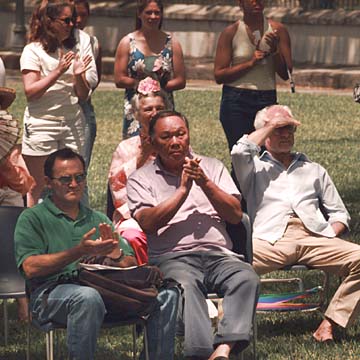 By Ken Sakamoto, Star-Bulletin
People stopped to enjoy Tau Dance Theaters's free
performance on the Hawaii State Library lawn.
---
He thinks that people often are intimidated by theater.

"They see it as an elitist thing and that's partially bred by elitists. This opens the door, starts to make theater for everyone, not for just the upper class."

The audience of about 50 also helps him gauge the performance.

"I love to see how people react. They find something they can bond to, they can see themselves in the art," he said.

Jill Nattenberg, who has been dancing with Tau for only two months, also likes the intimacy of a small audience.

"We get to talk with people afterward; it's important to me to know what people think."

At 25, she acknowledges that many people her age may not be enthusiastic about modern dance.

"Me, I'm a TV junkie and I have thousands of CDs. But you can't beat a live performance for the excitement," she said. "You can't beat it."

Cara Mizue, 17, a Punahou School junior, said movies and parties are what interest her. She was at Ala Moana with her friends to shop, not to see dancers.

"We just stopped to rest and decided to watch the show," she said. "Shopping is tiring."

Although she's seen stage productions like "Miss Saigon," she said, "The younger generation doesn't have the patience to watch this dancing."

However, after a few more minutes of the show, she said, "Normally, I wouldn't pay to see something like this, but maybe now I would."

As with Mizue, Ethan Koyanagi appeared to have a change of heart.

Toward the end of the show at the library, he was perched on his father's shoulders to get a better view of the stage. And when the performance ended, he was clapping and smiling.

It was clear that Bob Sallee of Waikiki liked the concert. He leaped to his feet at show's end, applauding heartily despite nursing a cold.

A friend had told him and his wife Betty Ann about the event.

"We had to make an effort to get down here, but, boy, was it worth it!" Sallee said.

"And I usually don't like to watch guys in tights."

Neither does Kawelu Chun-Hoon, 22, who recently moved to Honolulu from Kona.

"I wouldn't be caught dead doing that," he said, all the while staring intently at the dancers on the Ala Moana stage. "I don't want to be wearing those tight things."

Still, he and friend Kalei Kam, 19, watched almost the whole program with great interest.

Later, he admits, "We like seeing the girls in the tights."






Click for online
calendars and events.
E-mail to Features Editor
---
---
© 2000 Honolulu Star-Bulletin
http://archives.starbulletin.com