Advertisement - Click to support our sponsors.

---

---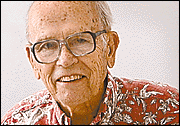 Hawaii's World

By A.A. Smyser
Tuesday, April 18, 2000
---



How 'Broken Trust'
was conceived

THE name "Broken Trust" has become known to just about everyone interested in the Kamehameha Schools. It is the name tagged onto the essay published in the Star-Bulletin on Aug. 9, 1997, after Brand X, with a Sunday circulation well over twice our weekday print run, dragged its feet on publication for reasons best known to Brand X.

The 6,400-word essay, published in full, sent a thrill of excitement through the entire community because of its detailed -- and never debunked -- revelations of monkeyshines by the trustees (now all removed) who were running Kamehameha Schools and its billions in assets, plus far-reaching abuse of the system to choose them.

But "Broken Trust" wasn't the name given the article by its five authors. They just called it "The Essay." So where did "Broken Trust" originate?

The sequence was rapid. It wasn't until Friday morning, Aug. 8, the day before publication, that Managing Editor Dave Shapiro and Diane Chang, editor of the editorial pages, agreed to publish the piece offered them just the day before. It meant dropping earlier plans for the four-page Saturday Insight section and giving 2-1/2 pages to the essay.

Publisher-Editor John Flanagan was out of state. Shapiro and Chang gave the text to their assistants, Michael Rovner and Mary Poole, respectively. Make room for The Essay, they were told.

What kind of an art display? Poole recalls that it centered on Rovner's quick concept of using a Kamehameha medallion labelled "Bishop Estate Trustees" and showing the image of Kamehameha being pried away.

What headline? Bishop Estate was a trust and "trust" in the headline permitted some meaningful plays on words. But what else?

Poole wrote about six options including : "Lost Trust," "Shattered Trust" and "Broken Trust." She and Rovner went quickly to "Broken Trust" because it worked on so many levels to dramatize the breaches of faith the essay reported. Poole summarized these in a sub-headline: "The community has lost faith in Bishop Estate trustees, in how they are chosen, how much they are paid, how they govern."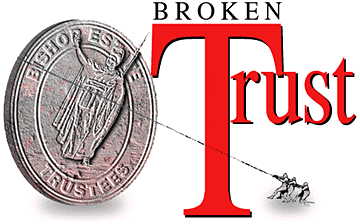 Within two hours the layout by Rovner and Poole and the artwork by David Swann were cleared with Shapiro and Chang, and shown to Randall W. Roth, who was bird-dogging developments intensely. He and his four Hawaiian-blooded co-authors -- federal Senior Judge Samuel P. King, educator Gladys Brandt, Monsignor Charles Kekumano and former state Judge Walter Heen -- desperately wanted unabridged publication to shake the community awake to the misdeeds they documented.

Roth had an initial qualm there could be an inference the essay's authors were doing the breaking, but quickly agreed this would not be so, given the overall presentation.

DESPITE the Star-Bulletin's smaller circulation, the impact of that Saturday paper, introduced by a strong front-page news story, was explosive. Gov. Ben Cayetano ordered his attorney general to investigate. Others chimed in. Change began. Innumerable court proceedings unfolded.

The Bishop Estate today has five interim trustees at much more moderate pay. It has a more traditional management structure -- no more of the old "five CEOs" business. The schools are freer. Outreach programs are being restored. The estate's name has been changed to the Kamehameha Schools. A strategic plan, developed with public input, is near completion.

The prospect of the trust helping both Hawaiian children and the larger community with its great wealth is vastly enhanced.

---




---


A.A. Smyser is the contributing editor
and former editor of the the Star-Bulletin
His column runs Tuesday and Thursday.
---
---
© 2000 Honolulu Star-Bulletin
http://archives.starbulletin.com