Advertisement - Click to support our sponsors.

---

---
Thursday, April 13, 2000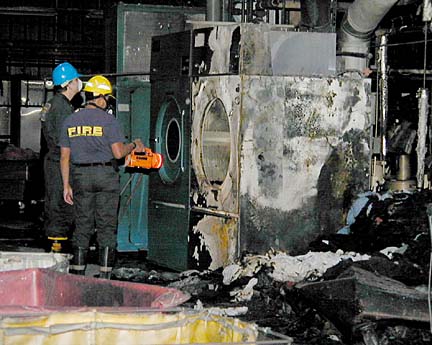 By Ken Ige, Star-Bulletin
Fire and police investigators look at a dryer, one of
two possible areas of origin in today's early-morning
blaze at Al Phillips Uniform Rental, 515 Lagoon Drive.
---
Fire in
Mapunapuna
suspicious


This morning, the third fire
in three years at Al Phillips
Uniform Rental caused about
$1 million in damage

By Jaymes K. Song
Star-Bulletin

Police arson investigators and federal agents are examining a suspicious early-morning fire at a Mapunapuna business that caused an estimated $1 million damage.

Nine fire companies responded to the 1:22 a.m. blaze at Al Phillips Uniform Rental at 515 Lagoon Drive, and had it under control seven minutes later, according to Capt. Richard Soo. But it was not extinguished until 4:35 a.m., he said.

Roy Miyamoto, spokesman for Al Phillips, said that the retail business at the uniform plant will remain closed for today, but that the company's six other retail outlets will remain open.

Most of the damaged garments were uniforms, Miyamoto said, adding that about 99 percent of the personal garments suffered only smoke damage.

They will be recleaned and should be fine, he said.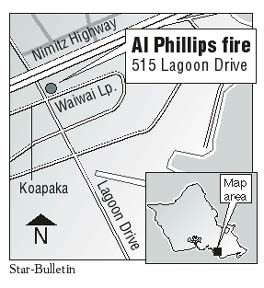 >
Damage to the structure was estimated at $700,000, with damage to the contents put at $300,000.

A hazardous-materials team was called in because of the chemicals and solvents, but it determined there were no hazardous conditions.

Ron Ambrocio, a Chevron station attendant, said he saw thick, black smoke billowing from the top of the building at about 1:30 a.m. as flames ripped through the roof.

Most of the work at the building involves cleaning for service industries, including uniforms.

The blaze apparently started in two separate areas of the large structure: the dry-cleaning machine and a nearby wall. Most of the damage was reported to the uniform division, and there was smoke and water damage to the retail section.

A Bureau of Alcohol, Tobacco and Firearms agent said she was called to the fire to assist with the investigation, noting that the ATF sometimes responds to fires involving businesses.

It is the second fire reported to the building in three years. In February 1997 a suspicious fire resulted in $2 million damage. The cause of that fire, in which three firefighters suffered minor injuries, was never determined.

When the business relocated temporarily to Waiwai Loop, there was also a fire at that location, said Soo. That fire, a smaller one that started in a large trash bin, damaged towels, carpets and uniforms.

Miyamoto declined to comment on the two previous fires.
E-mail to City Desk
---
---
© 2000 Honolulu Star-Bulletin
http://archives.starbulletin.com