Advertisement - Click to support our sponsors.

---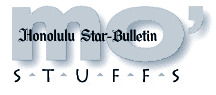 ---
Tuesday, April 4, 2000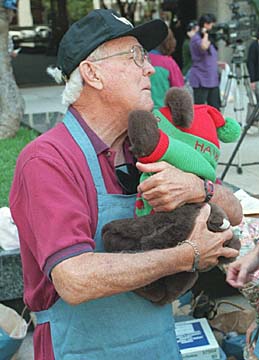 File photo
A teddy bear donated last year received a
warm welcome from Bob Meyer.
---
Teddy Bears on parade
The goal of Prevent Child Abuse Hawaii is to collect 2,234 teddy bears Saturday at the third annual Teddy Bear Roundup. The number represents the confirmed reports of child abuse in Hawaii.

The roundup will take place 10 a.m. to 2 p.m. on Ala Moana's Centerstage to kick off Child Abuse Prevention Month in April.

Everyone who donates a bear will receive a bookmark and information about parenting and child safety.

Well-known bear Winnie the Pooh will be on hand to help with the collection, and there will be entertainment throughout the event. Among the performers will be Brother to Brother at 10:30 a.m., Willie K and Amy Hanaiali 'i Gilliom at noon and the Honolulu Boy Choir at 1:30 p.m.

The bears will be distributed to family shelters, childrens' hospitals and other organizations that help families in crisis, according to PCAH executive director Chuck Braden.

For more information, call PCAH at 951-0200.
---
Preview
Coming to the big screen

Scheduled to open tomorrow
BLACK AND WHITE
Rated R
Robert Downey Jr., Brooke Shields, Mike Tyson and Elijah Woods. A story about the hip-hop music scene in which a fake band interacts with groupies of various skin colors and sexual persuasions.
---
Scheduled to open Friday:
NOT ONE LESS
Rated R
In this Chinese film a small town hires 13-year-old Wei Minzhi to substitute teach in place of Teacher Gao who must leave for one month to take care of his ailing parent.
READY TO RUMBLE
Rated PG-13
David Arquette and Scott Caan play wrestling fans who plan their own smackdown to save the champ, played by Oliver Platt.
RETURN TO ME
Rated PG
David Duchovny and Minnie Driver star in this romantic comedy. Duchovny plays Bob Rueland, an architect who loves his work and adores his beautiful wife, Elizabeth (Joely Richardson). After he loses his wife in an auto accident, Bob finds himself drawn to the young woman (Driver) who receives his wife's transplanted heart.
RULES OF ENGAGEMENT
Rated R
Tommy Lee Jones and Samuel L. Jackson. A military courtroom drama that cuts between the battlefield past when Jackson saved Jones' life and the courtroom present when only lawyer Jones can defend Jackson after a rescue mission goes awry.
---
Scheduled for Saturday preview
KEEPING THE FAITH
Rated PG-13
Edward Norton, Ben Stiller, Jenna Elfman in a romantic comedy in which two best friends since childhood, a Catholic priest (Norton) and an Orthodox rabbi (Stiller) fall in love with the same woman (Elfman), a girl they both knew as kids.
---
Scoops
Scholarships and more


"AMC's Behind the Screen Test": Oceanic Cable And American Movie Classics are conducting a talent search. Three high school students who exhibit the potential to become part of the next generation of film stars will receive $500 scholarships. Interested students should send a 3-5 minute VHS video presentation which was recorded at a school or community play, drama class, dance performance, monologue or scene study. Entries must be labeled with the student's name, address, telephone number, high school and local cable operator and mailed to: AMC's Behind the Screen Test, Bin No. 718 (Central District); Bin No. 719 (Honolulu District); Bin No. 720 (Leeward/Windward Districts), 4920 Santa Anita Ave., El Monte, Calif. 91731. Visit http://www.amctv.com/behindthescreen for official rules and more information. Deadline for receipt of entries is midnight, April 14.
---
Scoops, which runs Tuesdays in Today, provides information on scholarships and opportunities for students and young adults. Send listings to: The Scoops, P.O. Box 3080, Honolulu 96802


Click for online
calendars and events.
---
Send WatDat? questions, stories
or any other story ideas or comments to:
Features, Honolulu Star-Bulletin, P.O. Box 3080,
Honolulu, HI 96802 or send a fax to 523-8509
or E-mail to features@starbulletin.com.
Please include your phone number.
E-mail to Features Editor
---
---
© 2000 Honolulu Star-Bulletin
http://archives.starbulletin.com