Please support our very first Starbulletin.com advertiser!
---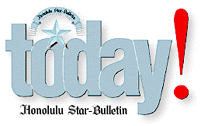 ---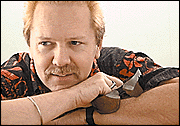 Island Mele



Friday, March 31, 2000
By John Berger
---
Hoomanawanui shows
he's an original

Jonathan Hoomanawanui: By Jonathan Hoomanawanui (Bluewater CDBW-2075)

JONATHAN Hoomanawanui's debut album should already be getting play on Hawaii's island music radio stations. There are no remakes on it, but Hoomanawanui and producers Alwyn Erub and Randy Sugata keep his originals well within familiar island music parameters.

Several songs use basic local-style reggae rhythms. "Kekoa's Song" rocks to an early '60s Top 40 pop riff. "Special Made" is arranged in a softer Hawaiian pop style and incorporates Hawaiian phrases.

One or two songs assay out as expository tracts but Hoomanawanui's sincerity is evident throughout. "Wainiha" addresses problems caused by development and economic exploitation. Other songs express his awareness of his Hawaiian heritage.

These Words: By Angela Aki (No label)

IOLANI graduate Angela Aki shows obvious national potential with her debut album. The songs are originals and show her range and versatility as a writer as well as a contemporary rock vocalist. The arrangements are nicely varied in style and texture. The lyrics are delightfully enigmatic.

Several songs share Aki's personal faith in Christ but none lapse into earnest testament or heavy-handed proselytizing. Aki's songs all stand on their musical merit.

Aki's secular songs are just as interesting (serious listeners will find the lyrics included in the liner notes). An unlisted 11th song hidden several minutes after the end of "Magic" is worth waiting for.

http://www.angelaaki.com

"Originals And Slack Key": By Leabert Lindsey & His Hapalaka Band (No label -- HLP004)

THIS is the better of two recently rereleased "live" hotel souvenir albums from Lindsey and company. The quartet offers a pleasant mix of back-porch harmonizing, falsetto, yodeling and slack-key, done in a Hawaiian country-rock style.

"Hi'ilawe" is the standout number but obviously is not an original. Most of the other songs sound like earnest homegrown efforts but without composer's credits remain unattributed.





---




John Berger, who has covered the local
entertainment scene since 1972, writes reviews of recordings
produced by Hawaii artists. See the Star-Bulletin's Today
section on Fridays for the latest reviews.
E-mail to Features Editor
---
---
© 2000 Honolulu Star-Bulletin
http://archives.starbulletin.com