Advertisement - Click to support our sponsors.

---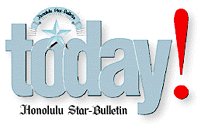 ---
Friday, March 24, 2000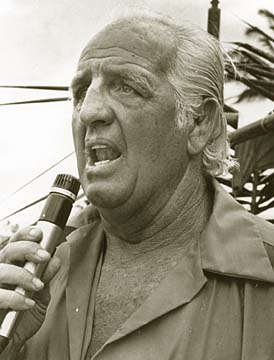 James Blears:
Also known as "Lord Tally Ho"
---
'50th State Wrestling'
remembered


Hawaii's wrestling
superstars take a bow

'KGMB 9 Remembers:
Wrestling In Hawaii':
9 p.m. Friday on KGMB/CBS

By John Berger
Special to the Star-Bulletin

THIS is going to be a big weekend for James "Lord Tally Ho" Blears. It's strictly coincidence, but "KGMB 9 Remembers: Wrestling in Hawaii" is airing on the anniversary weekend of his escape from a war crime at sea during World War II.

It was 56 years ago this Sunday that Blears, a young radio officer on an Allied merchant ship, was one of nearly 100 people taken aboard a Japanese submarine after the sub sank his ship. The Japanese began killing the survivors, but Blears was one of five who escaped. His first meal when he was rescued three days later was a can of peaches. He has eaten a can of peaches on that anniversary ever since.

Blears' wartime service is part of the history of local wrestling, and its superstars are covered in glorious detail by KGMB producer/director Lawrence Pacheco in the documentary. Blears is profiled in depth along with four other legendary locals: Curtis "Da Bull" Iaukea, "Prince" Neff Maiava, Sam "Steamboat" Mokuahi and Don "The Magnificent" Muraco.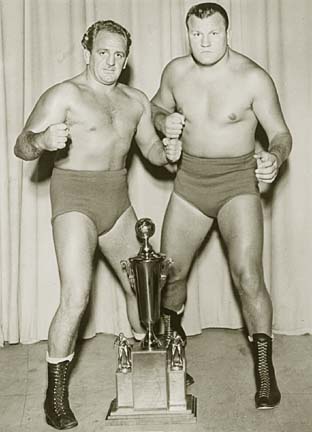 Pacific Wrestling Federation
James "Lord Tally Ho" Blears, left, and Gene Kiniski
of Canada were the World Tag Team champions
from 1952 to 1956.
---
Tom Moffatt hosts the show in segments shot on location outside Conroy Bowl, Bloch Arena, Blaisdell Arena and the site of the Civic Auditorium. Vintage photos and rare footage of classic matches recall the days when Lord Blears and Gentleman Ed Francis made "50th State Wrestling" the hottest program on local TV and a top draw across Hawaii.

"People in Hawaii like to get to know the wrestlers, talk to them, and when we were promoting wrestling here they could," Blears says of the days when wrestling greats like Iaukea, High Chief Peter Maiava, "Handsome Johnny" Berand (aka "The Psycho"), the Missing Link, "King" Ripper Collins and Chief Billy White Wolf were not only celebrities, but visible and accessible on the beach and in the community.

"You don't get that contact from television or when guys today fly in for a match at the Blaisdell and fly out the next day."

Blears says he saw a decline in fan support after the destruction of the Civic Auditorium in 1974. "50th State Wrestling" moved to the Blaisdell Arena but the atmosphere wasn't the same.

Blears was already a national wrestling star when he came to Hawaii to wrestle in the mid-'50s. He expected to stay for a few weeks, but ended up extending for seven months, then moved here for good.

Francis and Blears became Hawaii's resident wrestling promoters several years later and presented a cavalcade of colorful local and national wrestlers. Iaukea and Berand were among the first to realize the theatrical possibilities of locker-room interviews.

Pacheco and Moffatt make it clear in the documentary that "50th State Wrestling" pioneered many ideas later adopted by the World Wrestling Federation and its counterparts.

Today's superstars earn more money, but much of what they do was pioneered here.

"Nobody else was doing the things we did," Blears says. "Other promoters would come here to see what we were doing. They couldn't believe it!"






Click for online
calendars and events.
E-mail to Features Editor
---
---
© 2000 Honolulu Star-Bulletin
http://archives.starbulletin.com