Advertisement - Click to support our sponsors.

---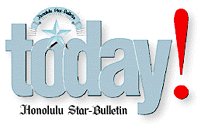 ---
Friday, March 24, 2000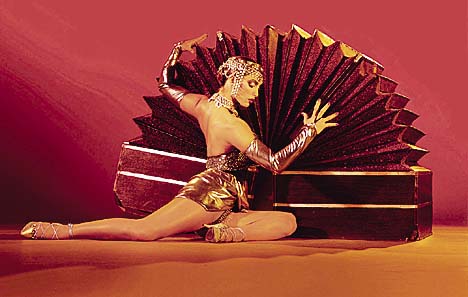 "Forever Tango"
Miriam Larici stars in "Forever Tango,"
opening Tuesday at Hawaii Theatre.
---



Deep emotion and sexuality
heat up the tango

By Tim Ryan
Star-Bulletin

IT'S the art of simmering passion, sensual movement and close embrace. It involves about as much teasing, caressing and sexuality that two people can convey with their clothes on.

This is tango, the dance of love.

"To truly enjoy tango, you must let it breathe into your heart and touch your soul," says Luis Bravo, creator and director of "Forever Tango." "Embrace it and lose yourself in it."

Bravo, in a telephone interview from Portugal, speaks of the dance as if it were a demanding lover. "The tango has the power to pull two strangers together into one, to dance out their desires ... to be great lovers and heroes, if only for a moment," he whispers.

(Some say the word "tango" comes from the Latin word tangere, to touch.)

"The tango is the world of subtle metaphors that captures the melancholy heart," Bravo says.




FOREVER TANGO

On stage: Tuesday through April 2
Showtimes: 7:30 p.m. Tuesday, Wednesday, Thursday, Sunday; 8 p.m. Fridays, Saturday; 2 p.m. weekend matinees
Place: Hawaii Theatre
Tickets: $40-$55 at Hawaii Theatre and Ticket Plus outlets
Call: 526-4400 or 528-0506
Online: http://www.tix-plus.com or http://www.hawaiitix.com




The tango -- with its images of women in sleek, glittering gowns and men in tuxes and tails -- has come to epitomize the glamour of high society. The dance originated in the brothels of turn-of-the-century Argentina, where immigrants from Europe, Africa and ports unknown streamed during the 1880s.

Here they could drown their troubles in drink and companionship. And it is from this cultural stew that the tango emerged.

The dance developed as an "acting out" of the relationship between prostitute and pimp. The titles of the first tangos referred to characters in the world of prostitution. The songs and dances had no lyrics, were often highly improvised, and were generally regarded as obscene.

A move called "The Gaucho" -- Spanish for hook -- has the woman hooking her leg around or under the man's thigh. It was banned at one time.

"The wail of tango speaks of more than frustrated love but of fatality, of destinies engulfed in pain. It is the dance of sorrow," Bravo said.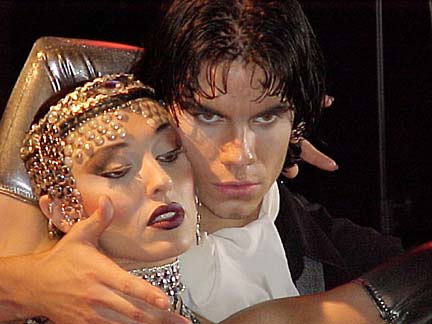 "Forever Tango"
Miriam Larici and Cesar Coelho personify the tango's passion.
---
"The emotion and passion that's so common to every single human being is expressed in this dance. It's unique because it is so internal, so sophisticated, so nostalgic and so melancholic."

"Forever Tango" features 16 dancers, an 11-piece orchestra and a singer, in a review of tango through music and lyrics. There are about 30 dance numbers in the two-hour, 10-minute show.

Early tangos not only represented a kind of sexual choreography, but duels, man-to-man combat between challengers for the favors of a woman, usually ending in the symbolic death of an opponent.

When Americans started to tango, some female dancers wore "bumpers" to protect themselves from rubbing too closely against their partners.

The original version of "Forever Tango" -- first performed in 1990 in eight West Coast cities -- is a far cry from today's show. The company returned to the United States in 1994, performing in Beverly Hills, then moving to San Francisco, where it played for 92 weeks at Theatre on the Square. This dance spectacle arrived at Broadway's Walter Kerr Theatre in 1997 and became the longest-running tango production in Broadway history.

The show coming to Hawaii is the same show Bravo created in 1997 for Broadway, with the same performers, musicians and director. To date, more than 4 million people have seen "Forever Tango."

Bravo changes dance routines about every three months, in part to keep dancers' interests high. He also moves couples to different routines, switching partners into different roles and repertories.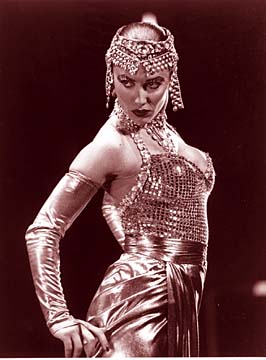 "Forever Tango"
Miriam Larici strikes a classic tango pose.
---
Bravo makes no attempt to hide his pride in his all-Argentine cast. "Everything in art is form, and the form goes to the culture," he said. "The way you speak, the way you move, the way you dress.

"You can formally learn the technique and the steps, but there's something that's impossible to learn for someone who hasn't grown up with the culture. We call that 'The blood that flows in your veins.' "

Bravo also has produced the show's CD and is producing a documentary film on tango and Argentine culture.

Bravo was born in Aatuya, Santiago del Estero, and moved to Buenos Aires at age 8. He began taking guitar lessons at age 4, later turning to the cello.

While pursuing his musical studies, Bravo attended both the Municipal Conservatory of Music Manuel de Fallas and the University of Buenos Aires. He soon became a member of the Argentine National Symphony, a position he had until moving to the United States to study with celebrated teacher Ronald Leonard.

Bravo explains that tango is so popular in Argentina that a cable television station broadcasts the dance 24 hours day. At clubs called milongas, only the tango is danced.

"Dance is attitude and technique," Bravo said. "We really don't look at each other in the dance; that's a Hollywood concept. The dance is internal and if you look up into your partner's face you break that trance."

And while the vigorous dance causes the expected injuries in the company -- sprained knees, backs and ankles -- there's another malady of sorts attached to the dance of love.

"We've had about 50 couples in the show get married," Bravo said, chuckling. "And there have been many children born within the company.

"It is very difficult not to cross the line after dancing the tango; so much chemistry is there."






Click for online
calendars and events.
E-mail to Features Editor
---
---
© 2000 Honolulu Star-Bulletin
http://archives.starbulletin.com