Advertisement - Click to support our sponsors.

---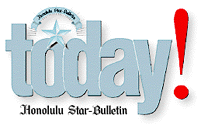 ---
Tuesday, March 21, 2000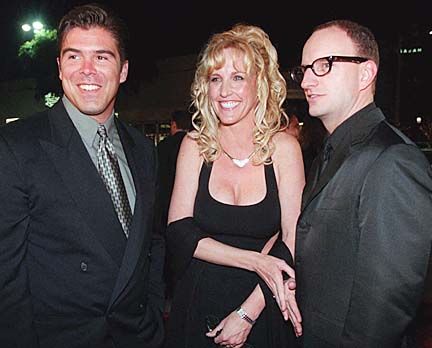 Associate Press photo
Erin Brockovich poses with husband Eric Ellis, left, and
film director Steven Soderbergh at the Los Angeles
premiere last week.
---



Crusader Erin Brockovich is
assisting in a lawsuit over allegations
of tainted water in Central Oahu,
which coincides with the release
of the namesake film starring
Julia Roberts

By Stephanie Kendrick
Assistant features editor
Star-Bulletin

THE feisty attitude critics are raving about in reviews of Julia Roberts' latest film, "Erin Brockovich," is being unleashed right here in Hawaii.

The real Erin Brockovich is directing research on a local lawsuit over water quality in Central Oahu.

Brockovich and her boss, Edward Masry of Masry & Vititoe, are working in partnership with Hawaii law firm Tam & Stanford and two other mainland firms on a case charging disease and defects were caused by pesticide contamination in Central Oahu. The first amended complaint was filed in Circuit Court March 7 and awaits the response of the defendants.

Several hundred plaintiffs from areas including Village Park, Royal Kunia, Camp Kunia, Mililani, Wahiawa and Waipahu are involved in the suit, and their ranks are growing, said Brockovich.

The defendants include local and national companies responsible for making or applying pesticides to crops grown in Central Oahu, among them Del Monte Corp. and Dole Foods Corp.

"It exists out there, we're not speculating," said Brockovich. "Even the EPA has concluded they had poor housekeeping practices."

Associate Press photo
Actress Julia Roberts who plays Erin Brockovich arrives
with beau Benjamin Bratt at the film's Los Angeles premiere.
---
Glenn Stanford of Tam & Stanford suggests Hawaii's story might be bigger than the Hinckly, Calif., situation depicted in the movie.

"I think our case here in Hawaii is more dramatic," he said. Citing the more protracted history of pollution being investigated, 50 to 70 years of pesticide use, he said, "Our injuries appear to be every bit as severe if not more serious."

Brockovich intends to return to Hawaii to work on the case as soon as the movie hype dies down in Hollywood. "It will be one of my priority cases," she said.

One film reviewer described Brockovich's character as "terminally underestimated," an assessment she thought was particularly apt.

"I have been underestimated, for a lot of reasons," said Brockovich, who has battled dyslexia and did not excel in school.

But she hasn't let others' expectations slow her down. "I'm not meek and shy and I don't like to be intimidated," she said.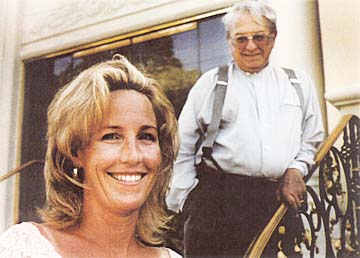 Daily News
Erin Brockovich and boss Edward Masry of Masry & Vititoe
are working with Hawaii law firm Tam & Stanford on a case
charging disease and defects were caused by pesticide
contamination in Central Oahu.
---
She wasn't intimidated by Roberts, describing her as sweet and down to earth. Nor was she intimidated by the fact that she was being portrayed by the "Pretty Woman" star. Brockovich, a no-nonsense type, said she had never given any thought to the idea of who she'd want to play her in her life story.

Overall, she thought Julia Roberts did a superb job of capturing her persona. People who know Brockovich agree, she said, although not everyone was optimistic before the film's debut.

Masry thought Roberts was too pure to play Brockovich, but he's since admitted he was wrong.

"She did a great job. She pulled it off," said Brockovich, adding the way Roberts and Albert Finney interact is a perfect replica of the relationship between her and Masry.

Her quick retorts and wardrobe are also realistic, said Brockovich. "I think most people would tell you I'm the same person I've ever been," she said. "I still come to work late in my cha cha heels and my plunging neckline."

But her life has changed since the making of the movie, in a completely unrelated way.

Brockovich and Eric Ellis (no, he's not boyfriend George from the movie) celebrated their first anniversary yesterday. They were married in Hawaii and hoped to be back for the one-year mark, but the demands of fame got in the way.

"I've always been in love with Hawaii," said Brockovich, who has visited often. She brought Ellis over for his first visit about two years ago. "Eric and I feel like we're at home in Hawaii, when we're not there we miss it."

Brockovich hopes the film will help her crusade. "I see myself as a vehicle for a greater message about corporate deceit and what it does to us as a people," she said. "Corporate deceit and ground water contamination did not begin, nor does it end, in Hinckly, California."






Click for online
calendars and events.
E-mail to Features Editor
---
---
© 2000 Honolulu Star-Bulletin
http://archives.starbulletin.com