Advertisement - Click to support our sponsors.

---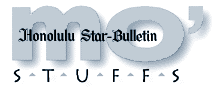 ---
Tuesday, March 7, 2000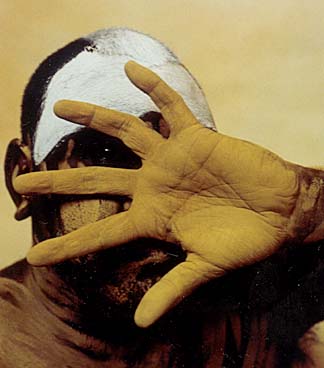 The Bangarra Dance Theatre presents "Dance Clan."
---
Dances take myths
in new direction
The Bangarra Dance Theatre, one of the most innovative dance companies in Australia today, will be giving two performances this month at Leeward Community College Theatre.

The performances will take place 8 p.m. March 25 and 7 p.m. March 26.

Bangarra developed its electrifying and distinctive style to tell contemporary stories of urban Aboriginal and Pacific Island peoples. Their dancing fuses myth with contemporary fluidity to create a new language of dance, music and song.

The Munyarryun clan has provided the inspiration for choreographer Stephen Page and composer David Page. Djakapurra Munyarryun represents the family in the troupe. He performs six months of the year and spends the other six months in the Australian desert, fulfilling his community duties as Song-man.

Tickets for the performances are $20 for adults and $17.50 for students, seniors and military. Call the box office at 455-0385.
---
Make plans for spring break
Spring break is just around the corner and parents need to make plans for their children or risk losing them to the likes of Nintendo and Nickelodeon while school's out.

For those who don't have the luxury of taking time off from work, how about enrolling them in a mind-enhancing kid camp?

Kapiolani Community College offers Kids Spring Break Camp March 27 through 31.

This is the first time the school is offering an extensive variety of classes during the break. In the past, only cooking classes had been offered to children.

Classes are for children 7 to 17 years old and cost anywhere from $13 for a cooking class to $85 for computer classes.

Parents get to customize a schedule that fits their child's needs, and the earlier they register, the better the chances are they'll get their picks.

Curriculum categories include "Brain Skills" like speedreading, memory enhancement, and fiction writing, which are offered twice during the week for two hours each meeting. Power note-taking is a four-hour class offered Friday. Children 7 to 17 will be in the same class, but separated into smaller groups by age and ability.

Also offered are computer courses, arts and crafts, music and drama, chefs of the future and American sign language.

Children are grouped by grade levels 4 to 6, 7 to 9 and 10 to 12 for computer classes; ages 10 to 14 for arts and crafts/music and drama; ages 7 to 12 and 12 to 17 for cooking and ages 7 to 9 and 10 to 13 for ASL.

Author Karin Ireland will teach "Fiction Writing for Kids," from 3 to 5 p.m. March 29 and 30. The workshop for ages 7 to 17 will cover plot and character development, tone and dialog. The cost is $32.

Lunch and snacks will be available for purchase.

The deadline to register is March 20. For details call 734-9211.
Gymnastics camp
The Kokokahi Gym Team is offering a Spring Gymnastics Camp for keiki in kindergarten through 6th grade. Students will be grouped according to age and ability.

The program runs 9 a.m. to 3 p.m. March 27 through 31, with early drop-off and late pick-up available at no extra charge. The cost is $125 for the five-day program or $30 per day.

Call 235-6866 to register.
---
Scoops
Scholarships and more

Chinese Women's Club Scholarships: The Chinese Women's Club of Honolulu will award several college tuition scholarships for the school year 2000-2001 to needy college students. Interested students may obtain an application by mailing a self-addressed stamped envelope to: Miriam W. Chun, 5374 Keikilani Circle, Honolulu, HI 96821. Deadline for submissions: April 28.
Heroines In History Essay for Youth Contest: Victory Press is seeking 100-500 word handwritten essays from youth ages 7-15 for its second annual writing contest. Essays will be judged on content, writing style, and grammar and punctuation. Essays should be sent along with name, date of birth, address, phone number, school name and a photo to: Victory Press, Heroines in History Essay Contest, 543 Lighthouse Avenue, Monterey, Calif., 93940. Submission deadline March 31. For suggested topics and guidelines, visit www. HeroinesinHistory.com.
---
Scoops, which runs Tuesday in Today, provides information on scholarships and opportunities for students and young adults. Send listings to: The Scoops, P.O. Box 3080, Honolulu 96802
---
Preview
Coming to the big screen

Among the films scheduled to open on Oahu Friday are:
MANSFIELD PARK
Rated PG-13
Romantic drama starring Frances O'Connor, Jonny Lee Miller and Embeth Davidtz is adapted from Jane Austen's satirical commentary on class and her times with the story of Fanny Price, a child of poverty, sent to work as a servant in the household of her wealthy aunt.
MISSION TO MARS
Rated PG
Gary Sinise and Tim Robbins. When an initial expedition to Mars encounters disaster, a second team is sent there, hoping to find and rescue survivors. The team encounters terror and peril as they discover the secrets about life on Mars.
THE NINTH GATE
Rated R
Johnny Depp, Frank Langella and Lena Olin. Dean Corso (Depp) is a rare book tracker hired by European book collector and professor of demonology Boris Balkan (Langella) to find the remaining copies of a 17th-century series entitled "The Nine Gates of the Shadow Kingdom." As his quest takes him from New York to Paris to Madrid, Corso begins to suspect the motives behind his assignment when he learns the books are said to be capable of summoning Satan.
There will a sneak preview of one movie:
ERIN BROCKOVICH
Rated R
A sexy, lower-class woman (Julia Roberts) relies on her good looks until she discovers a cause she cares about, which changes her as much as it helps other people.


Click for online
calendars and events.
---
Send WatDat? questions, stories
or any other story ideas or comments to:
Features, Honolulu Star-Bulletin, P.O. Box 3080,
Honolulu, HI 96802 or send a fax to 523-8509
or E-mail to features@starbulletin.com.
Please include your phone number.
E-mail to Features Editor
---
---
© 2000 Honolulu Star-Bulletin
http://archives.starbulletin.com