Advertisement - Click to support our sponsors.

---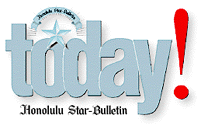 ---
Tuesday, March 7, 2000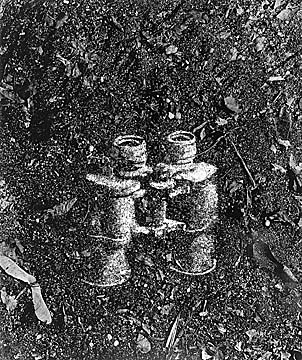 "Binoculars," a gelatin silverprint, is from the "Pictures of Soil" series.
---
Reality is in the eye
of the beholder

By Tim Ryan
Star-Bulletin

Sometimes seeing isn't believing.

That's especially true when it comes to Brazilian artist Vik Muniz. who takes great pleasure in using photographs -- and a variety of materials -- to play with people's perceptions. Whether a portrait, landscape, still life or iconic image from history, Muniz's works are never what they seem.

"Seeing is Believing: Photographs by Vik Muniz" runs through March 26 at The Contemporary Museum.

But Muniz really isn't a photographer in the traditional sense. Sure, he takes pictures -- but he uses the camera like a brush and an original photo as the canvas, until the photo of a photo of a photo looks like anything but what is actually depicted.




ON VIEW

What: "Seeing is Believing: Photographs by Vik Muniz"
When: Through March 26
Where: The Contemporary Museum, 2411 Makiki Heights Drive
Admission: $5, $3 students and seniors
Call: 526-1322




From a distance, one photo looks like a line drawing of a chair. On closer inspection, the viewer discovers that it's really a picture of wire shaped into a chair.

Or there's what looks like a high contrast photo of artist Jackson Pollock at work, but the "paint" used by Muniz turns out to be chocolate syrup and Muniz has photographed it all and printed it on a huge 60- by 48-inch canvas.

Muniz, 39, who lives in New York, "teases the medium mercilessly and with an infectious glee," said James Jensen, associate director/chief curator of The Contemporary Museum.

Muniz grew up in Sao Paulo, Brazil, where he studied advertising. His job made him aware of the dichotomy between object and image. After moving to New York in 1983, Muniz made sculptures which he documented in photographs. He later began incorporating photographs in his sculptural installations.

But what interested him most was the representation of objects rather than the objects themselves, and "the dislocation between expectation and fact, representation and reality," said Jensen. "His images humorously, as well as critically, challenge our ability to discern fact from fiction, reality from appearance."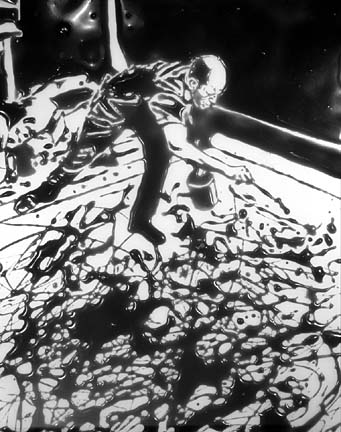 "Action Photo I," an enormous canvas, is printed with the
image of an artist painting, but the "paint "
used is chocolate syrup.
---
In addition to chocolate syrup, Muniz uses a variety of unorthodox materials in his work: granulated sugar, tomato sauce, cotton and soil. He first creates an image, sculpturally manipulates it, then photographs it.

Viewers will not likely be satisfied looking at the images without understanding what Muniz did and why.

The exhibit contains depictions of a series of well-known photos taken from Life Magazine. Muniz loved "The Best of Life" book because it made him feel connected to the United States and gave him a sense of belonging. But after he lost the book, he decided to make drawings of several of the photos from memory so some of the photos in this exhibit are not exactly as the originals.

Photographs of his original drawings -- the famous Kent State picture of a female kneeling and crying over a dead student, Neil Armstrong walking on the moon -- were snapped slightly out of focus, then printed with a dot screen to make them look like published photos.

"Most people recognize these photos from their own memories and assume these are how they looked originally," Jensen said. "Muniz is interested in playing with how we rely on photos to show us truth."

Other series in the exhibit include:

"In Pictures of Thread," in which Muniz uses string wound in spirals and bunches to create landscapes.

"In Displacement" uses crumpled paper to interpret paintings or photos.

"Equivalence" features cotton wads formed into various objects such as a teapot and a kitten.

It's up to the viewer to question any semblance of reality.






Click for online
calendars and events.
E-mail to Features Editor
---
---
© 2000 Honolulu Star-Bulletin
http://archives.starbulletin.com