Advertisement - Click to support our sponsors.

---

---
Wednesday, March 1, 2000



P R E P _ S P O R T S
---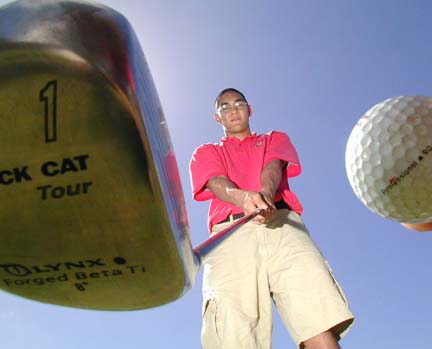 By Craig T. Kojima, Star-Bulletin

Whether he is on the golf course or on the
wrestling mat, Kahuku High School junior
Andrew Ching has a driving desire to be
the best that he can be

By Tim Crouse
Special to the Star-Bulletin
THE team captain for Kahuku High School's golf team has spent the past two weekends on a wrestling mat.

Besides playing golf, junior Andrew Ching also wrestled for the Red Raiders this season.

He finished in third place in the Oahu Interscholastic Association tournament two weeks ago in the 145-pound weight division for the OIA champion Red Raiders, and participated this past weekend in the state tournament.

Now that the wrestling season is over, he can concentrate fully on his driving and putting.

"My wrestling coach always told me wrestling is a true man's sport. And I've always thought of golf as a gentleman's sport," said Ching. "As a hobby, I like wrestling, but golf is where my future is."

Ching, who has been golfing for six years, has a handicap of just under 4.

He has led Kahuku to a 5-1 mark so far this season. The Red Raiders' only loss came last weekend to McKinley when Ching was wrestling in the state tournament.

"He's real good," Kahuku golf coach Dino Vendiola said. "He's one of the top players in the OIA. He's good at hitting the ball, putting, everything."

Ching, 16, has been Kahuku's team captain since the start of his sophomore year.

Vendiola said it was natural to name Ching the captain because he had played so much golf.

"He is the most experienced golfer on the team," Vendiola said. "He's a leader."

Ching said he likes the high expectations the position brings.

"Being captain puts a little more pressure on me, but when the pressure is on, that's when I turn it on," said Ching.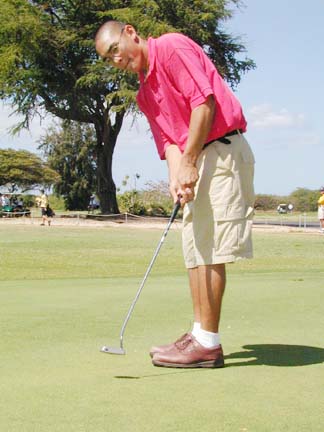 By Craig T. Kojima, Star-Bulletin
With the wrestling season finally over, junior Andrew Ching
can now devote all of his time to working on all aspects
of his golf game, including putting.
---
Ching, who credited his dad, an uncle, and pro Lance Suzuki for helping him get where he is, said he doesn't have the longest drive off the tee, but he keeps his ball straight.

"My short game is good and I'm a good iron player," he said.

Vendiola said part of the reason for his success on the golf course is his competitiveness.

"He likes to win," Vendiola said. "He gets mad at himself when he doesn't.

"The first time I saw him lose, he was out the next day practicing all day. I've never seen anything like it. We didn't even have to say anything to him."

Ching's desire to compete led him to the wrestling mat this past season.

"We had a good team and I thought I could help them out. In the beginning, my parents wanted me to just concentrate on golf," Ching said. "But (wrestling) was really something I wanted to do."

"He was determined to wrestle," Vendiolla said.

Ching wrestled in seventh and eighth grade, but said he didn't wrestle his freshman and sophomore years because of the high risk that he could get injured and not be able to golf.

Another problem arose when he found out he would have to drop weight to wrestle his junior year. He weighed 155 pounds, but the available spot on the team was in the 145-pound weight division. So he lost the weight so he could fill the slot.

"The first couple weeks were tough," he said. "But once I got down to 145, everything was fine."

Life was very full for Ching when wrestling and golf season were both in session.

Depending on whether the golf team had a meet that week, Ching said he would practice three days in one sport, and two or three days in the other. He said on Wednesdays he would often go straight to wrestling practice after school, and then shoot over to the Turtle Bay Course to play golf immediately afterward.

Ching practices golf for 15 to 20 hours a week during the school year, and said he plays up to 30 hours a week during the summertime.

The athletic arena is not the only place Ching has found success. He sports a 3.6 grade-point average.

He also works part time for the family business, Ching's Punaluu Store in Hauula.

The multisport athlete said he would probably stay in Hawaii if he got a golf scholarship from the University of Hawaii, but that he also is interested in some colleges on the West Coast, or maybe even someplace farther east.

"I've always thought about going to Virginia," said Ching.

He said he has an aunt who lives nearby, and that he just recently got some information back from UV in response to a resume he sent.

The only thing about going that far east is that it's hard to play golf year round because of winter. To stay in shape, though, he could always jump onto the wrestling mat.
E-mail to Sports Editor
---
---
© 2000 Honolulu Star-Bulletin
http://archives.starbulletin.com