Advertisement - Click to support our sponsors.

---

---
Wednesday, March 1, 2000



Ground breaking
African-American
UH chemist
finally recognized


Research done in 1914-15 by
Alice Augusta Ball led to a partially
effective treatment for leprosy

By Susan Kreifels
Star-Bulletin

A young African-American chemist finally has received recognition for her groundbreaking research here 85 years ago that led to a treatment for leprosy.

About 150 people gathered yesterday at the University of Hawaii-Manoa campus to honor Alice Augusta Ball, the only woman to earn a master's degree at the College of Hawaii, now UH-Manoa.

Gov. Ben Cayetano proclaimed yesterday as Alice Augusta Ball Day. Lt. Gov. Mazie Hirono, who spoke at the ceremony, praised her as "an extraordinary woman."

And a student leader called upon the administration to rename a campus hall after Ball.

"Hawaii has never heard her song sung," said Pi'ilani Smith, president of the Associated Students of UH.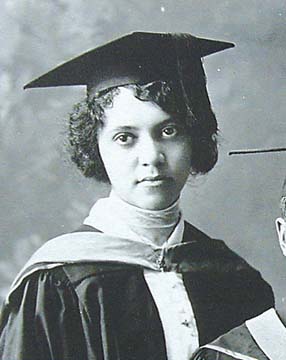 Alice Ball
MASTER'S RECIPIENT
Identified the chemicals in the oil
from a tree still standing at UH.
---
"If you (administration) are truly committed to this event, of a great woman who belonged to an oppressed people, there's much more to be done."

The ceremony dedicated a plaque to Ball, whose 1914-15 research identified the chemicals in the oil from a chaulmoogra tree still standing behind Bachman Hall, where the plaque was placed.

But Ball fell ill and died the next year at age 24 in her home city of Seattle. Although her name became obscure, her research did not. Arthur L. Dean, a college chemist who became a UH president, picked up on it to develop a partially effective leprosy treatment that became known worldwide as the "Dean Method," used until more effective sulfones became available in the 1940s.

Researchers say Dean, namesake of Dean Hall, never credited Ball for her research. Stan Ali, a federal retiree from Baltimore whose research on Ball led to yesterday's ceremony, said racism and sexism of the times were the main reasons the young woman was never recognized.

Smith said it was "no coincidence that the underrepresented" such as students of color and native Hawaiians are rarely represented or recognized.

Ali, while supporting the idea for a renaming, also said it was probably an unrealistic idea since Hall was a university president. "I'm not denying him that," Ali said. "The only thing he was guilty of was plagiarism."

Ali supports moves to name a lab after Ball. He has also arranged for a portrait of the young chemist to be placed on campus. And he plans to donate $1,000 to start a scholarship in her hame.

Ali has been committed to gaining recognition for Ball for the last three years since he stumbled across a brief mention of research done by a "young Negro chemist" in a 1932 book, "The Samaritans of Molokai," by Charles Dutton. Ali, who spends time here every year, was researching African Americans in Hawaii.

---



E-mail to City Desk
---
---
© 2000 Honolulu Star-Bulletin
http://archives.starbulletin.com