Advertisement - Click to support our sponsors.

---

---
Wednesday, March 1, 2000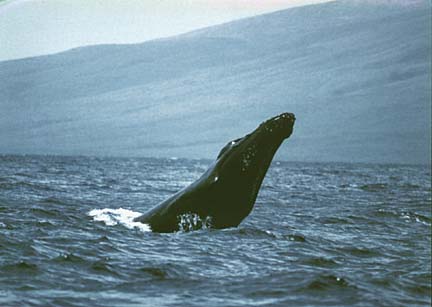 File photo
A humpback whale breeches off the coast. Charles Sutherland
has worked on behalf of humpback whales for years.
---
A whale of a time

Maui resident Charles Sutherland
has devoted 30 years to preserving
Hawaii's humpbacks
By Gary T. Kubota
Star-Bulletin
LAHAINA -- Ask Lahaina businessman Charles Sutherland what makes him such an advocate of the humpback whale, and he fires back a question.

"Have you ever seen a whale come up near you?" he asks. "This is an animal equal to us in intelligence. It's just an experience you can never forget."

Those who share Sutherland's feelings for the endangered species are glad he never forgot the sight -- and they haven't forgotten him, either. As the whale-watching season reaches its peak, Sutherland, 65, is being recognized for his work on behalf of the humpback for the past 30 years, a time that saw the marine mammal's population make a healthy rebound.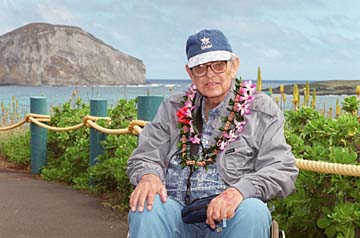 By Kathryn Bender, Star-Bulletin
Charles Sutherland was honored at Sea Life Park on
Sunday for his work on behalf of humpback whales.
---
Despite being weakened by lung cancer and given only a few weeks to live, the Maui man flew to Honolulu to receive a certificate on Sunday from the state House of Representatives. The certificate credited him for his leadership and help "in protecting humpback whales and in promoting responsible whale watching as an important commercial and recreational activity in Hawaii."

It was presented at Sea Life Park before some of the hundreds of volunteers who participated the day before in the whale count on Oahu organized by the Hawaiian Islands Humpback Whale National Marine Sanctuary. The sanctuary's establishment in 1996 was assisted by the "wide-spread public support" that Sutherland was instrumental in generating, according to the certificate.

"Part of the reason we can enjoy the humpback's recovery is because of the efforts that were made 30 years ago," said Naomi McIntosh, the sanctuary's Oahu liaison.

The efforts have made a whale of a difference. Sutherland is the owner of the appropriately named Whaler Ltd., a Lahaina tourist curio shop. In the mid-1970s, concerned about the lack of research on the humpback, he founded and became the first president of the Maui chapter of the American Cetacean Society. He still speaks passionately about the subject, lifting his head with conviction.

Early support

"We loved the whales," he recalled at his modest Lahaina home, whose decor includes a wood carving of a humpback over the entrance to his living room and, hanging in the bedroom, a painting of a humpback he did himself. "We felt there should be some research about them. Why can't we take care of them, and take care of them with care?"

To do that, Sutherland organized about 15 to 20 people who shared his concerns. The chapter spoke out about the need to protect whales in Maui waters, and was an early proponent of a preserve.

There were other issues, too: For instance, Sutherland criticized a high-speed interisland hydrofoil, saying it could hit whales and disturb their mating patterns. He worked with researchers to count whales, and published materials about the humpback to educate the public.

Sanctuary for researchers

Whaler Ltd. itself became a sanctuary of sorts, a center of information and a place where researchers could gather and feel respected and appreciated.

"If you had a bad day, you could go into their business and know people would make you feel good," said Charles "Flip" Nicklin, a photographer who works regularly for National Geographic.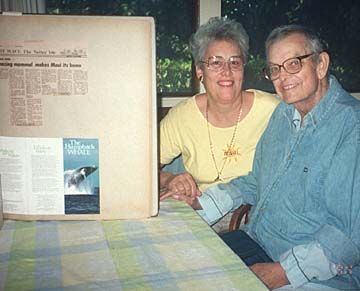 By Gary T. Kubota, Star-Bulletin
Connie and Charles Sutherland of Lahaina. He is founder
of the Maui Chapter of the American Cetacean
Society and Maui Whalewatchers.
---
Sutherland and his wife, Connie, supported the researchers in other ways. Deborah Glockner-Ferrari, now director of research for the Louisiana-based Center for Whale Studies, recalled that she and her husband, Mark, were living with 17 other people shortly after getting married, in a house where the rooms were divided by sheets.

"Chuck and Connie felt sorry for us and invited us to stay with them," she said. "And we did, for several weeks."

The situation for whales in Hawaii and elsewhere has changed dramatically since Sutherland began his campaign three decades ago. Whale hunting has been limited, and whale watching has turned into an industry that pumps millions of dollars into the state's economy each year. Now a new generation is set to monitor and care for the humpback -- which, through Sutherland's efforts, was proclaimed Hawaii's official marine mammal.

"He's a wonderful person, absolutely beautiful," said Glockner-Ferrari. "He really has done a lot for whales."
E-mail to City Desk
---
---
© 2000 Honolulu Star-Bulletin
http://archives.starbulletin.com