Advertisement - Click to support our sponsors.

---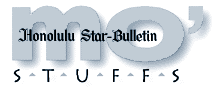 ---
Wednesday, February 23, 2000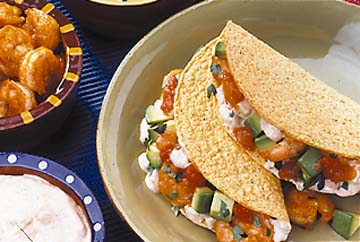 Pillsbury
Kristine Snyder's shrimp tacos were inspired
by a good shrimp cocktail.
---
Maui woman reaches
Pillsbury Bake-Off finals
When it comes to cooking contests, it don't get much bigger than this.

Kristine Snyder of Kihei has made the finals in the 50th anniversary Pillsbury BAKE-OFF contest. She'll be preparing her original recipe in a cook-off against 99 other finalists (she'll be at Range No. 97) in the national competition that begins Saturday in San Francisco.

The winners will be announced Tuesday after a marathon of cooking and judging. Grand prize is a whopping $1 million.

Snyder is a harpist who performs for weddings and parties on Maui. Her shrimp taco dish is entered in the category of Easy Weeknight Meals. "It's too warm on Maui to spend much time over a hot stove."

Her recipe follows.

Recipes had to include at least one Pillsbury product. Snyder uses taco seasonings, shells and salsa from Pillsbury's Old El Paso line.
FIESTA SHRIMP TACOS
WITH CUCUMBER SALSA
1-1/2 cups nonfat sour cream
1/2 cup peeled, seeded and chopped cucumber
1 1.25-ounce package taco seasoning mix
2 avocados, peeled, pitted and chopped
1 tablespoon lime juice
1 pound shelled, deveined medium shrimp
12 warmed taco shells
1 tablespoon olive oil
1 cup chunky salsa
1/2 cup chopped fresh cilantro
Combine sour cream, cucumber and 2 tablespoons of the seasoning mix. In a separate bowl toss avocados and lime juice. Set aside.
Combine shrimp and remaining taco seasoning.
Heat oil over medium-high heat. Add shrimp and cook 3-5 minutes or until pink. Spoon into shells and top with sour cream, avocados, salsa and cilantro. Serves 12.
Approximate nutritional information, per taco: 180 calories, 9 g fat, 1 g saturated fat, 55 mg cholesterol, 590 mg sodium, 16 g carbohydrates.*
---
Leong joins KHNL
Jodi Leong has switched stations, from KITV to KHNL.

Today is her first day at KHNL, where she will be joining former KITV alumnus Howard Dashefsky as co-anchor of the weekday 6 and 10 p.m. newscasts.






Click for online
calendars and events.
---
Send WatDat? questions, stories
or any other story ideas or comments to:
Features, Honolulu Star-Bulletin, P.O. Box 3080,
Honolulu, HI 96802 or send a fax to 523-8509
or E-mail to features@starbulletin.com.
Please include your phone number.
E-mail to Features Editor
---
---
© 2000 Honolulu Star-Bulletin
http://archives.starbulletin.com