Advertisement - Click to support our sponsors.

---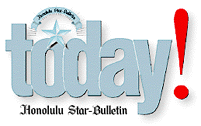 ---
Wednesday, February 23, 2000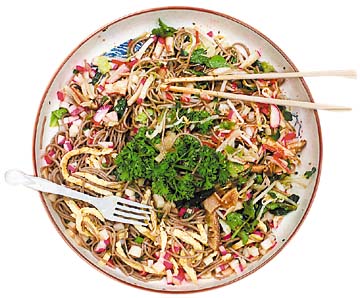 By Dennis Oda, Star-Bulletin Sheree Young's Soba Salad -- a mix of shiitake mushrooms, watercress,
daikon and kamaboko -- was a highlight of the last U.S. District Court
Recipe Club eating session. Dishes tend to reflect the largely Japanese
heritage of the clerk staff.
---



The clerks at U.S. District Court
have elevated the office pot luck,
turning it into a valuable time of
fellowship and recipe-swapping

By Betty Shimabukuro
Star-Bulletin

CAFE CLERK is the most exclusive of establishments. Lunch is served just once every other month. Attendance is by invitation only. The menu is ever-changing, at the discretion of the chefs -- with the exception of the house specialty, David's Spam Musubi, delicately flavored with sauce teriyaki and pastillage of nori.

Cafe Clerk is at the same time the most casual of establishments. Diners serve themselves off a buffet line, on paper plates with disposable utensils. To secure an invitation, a person need only walk by and look hungry. And there's never a check.

Every two months or so, in a lunchroom at U.S. District Court, the clerks' office takes the concept of the office potluck and pumps it up a notch. Members of the Recipe Club bring in homemade dishes, along with a couple dozen copies of their recipes. Everyone eats, and if you like the food, you can take a recipe home.

No egos, no secret formulas, no foie gras.

Well, there is one secret: Walter Chinn's takuan. Chinn is clerk of court -- boss of the clerks --so he doesn't have to share the recipe if he doesn't want to.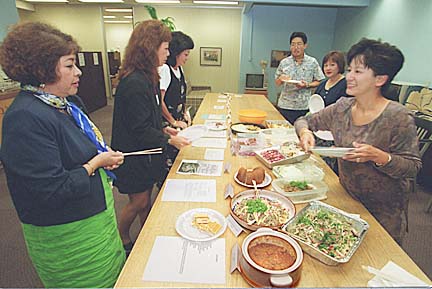 By Dennis Oda, Star-Bulletin Members of the Recipe Club sample the dishes lined up for their March
session. Copies of recipes lie next to each dish, free for the taking.
---
But as a whole it's reality cooking -- simple dishes, many of them local favorites, using ingredients and techniques that suit Everykitchen.

The club is about food, for sure, but it's also largely about friendship in an office of 30-plus employees spread over three floors of a bustling courthouse. It can get so busy, members say, that sometimes their only chance to catch up as a group is here.

This recipe for fellowship would work in just about any workplace, neighborhood -- or anywhere people like to eat.

"We get good food and good recipes and we get together," says club founder Toni Fujinaga, courtroom deputy to Judge Susan Mollway. The other members call her the "spark plug" who keeps the group on track.

The idea was to have a non-threatening way to sample new things as eaters and cooks.

"If you have a new recipe that you don't want to try out at a party ... you can try it here," Fujinaga says. "And even if it's junk -- we just say it's good."

They still wax nostalgic for a few stand-out dishes from past sessions: aburage stuffed with somen salad, for one, brownies made with chocolate pudding and chocolate chips, and, of course, the Spam musubi.

By Dennis Oda, Star-Bulletin Desserts are the favorite contribution.
---
Master musubi chef David Hisashima, courtroom deputy to Judge Helen Gillmor, designed his Spam creation for club gatherings and it's the only thing he ever makes. His musubi is made special by a soak in teriyaki sauce and by the nori paste spread between Spam and rice.

"I was so surprised the first time I brought it. Everybody raved about it."

Hisashima says he showed up with the musubi because club offerings at first were almost exclusively desserts. "I'm one who likes to have something salty after I eat something sweet."

The club is about a year old, with a fluctuating membership. Judging from the spread at the March gathering, current enrollment hovers at about 20. Active members (the ones who cook, not just eat) are deputies, clerks and secretaries. Judges and magistrates ("the ones in the black muumuus," is one member's description) are invited to partake. At the last session, Chief Judge David Ezra stopped by -- and left with a musubi.

Desserts filled more than half the table, covering the range of local faves: mochi (two kinds), bread pudding, lemon squares, almond cookies ...

Entrees and side dishes heavily reflect the largely Japanese heritage of the clerks' staff. Two soba salads were on the last menu, along with gobo kinpira and the secret-recipe takuan. The exception to the rule is Bernie Biacan, who provides the occasional lesson in Filipino cuisine. But not balut, she says. Not yet.

"I'm not that deep of a Filipino."

---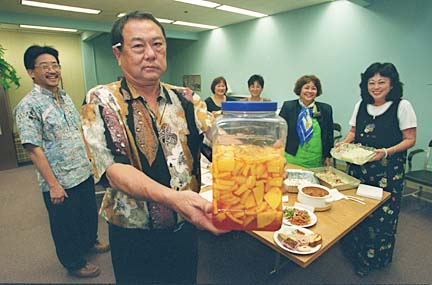 By Dennis Oda, Star-Bulletin
Clerk of Court Walter Chinn shows off his homemade takuan,
the one secret recipe of the Recipe Club. No one has been able
to pry it out of him. Everyone is warned when he opens the lid,
though, because of the "stink."
---
Cook like the clerks

The best thing about Recipe Club dishes is they represent reality cooking. Nothing fancy, just tasty food with local flavor that's easy to reproduce at home.

Beginning with David's famous Spam Musubi, here is a sampling -- perhaps a starting point for your own Recipe Club.

DAVID'S SPAM MUSUBI

David Hisashima

2 cans Spam, in 20 slices
Teriyaki sauce to half-cover Spam
7-1/2 cups rice
10 sheets nori
1-1/2 1.5-ounce bottles furikake
1 3.3-ounce bottle nori paste (tsukudani)

Microwave Spam in sauce 2 minutes. Set aside. Mix rice with furikake.

Lay a piece of nori centered under a Spam musubi mold. Fill with rice. Spread paste over rice and top with Spam. Press mixture into mold, then remove. Fold nori over Spam and seal. Cool; cut musubi in half. Makes 40.

Note: Nori paste is available at Asian markets. Hisashima finds his, and all his other ingredients, at Daiei.

Nutritional information unavailable.*

SOBA VEGETABLE SALAD

Sheree Young

8 ounces dried soba noodles
7-8 dried shiitake mushrooms
1 tablespoon vegetable oil
1 tablespoon soy sauce
1 tablespoon sugar
1 bunch watercress, leaves only
1 head romaine lettuce, in 1-inch pieces
1 small daikon, thinly sliced
1/2 Maui onion, thinly sliced
1 block kamaboko (fish cake), julienned
4 ounces raddish sprouts
1 10-ounce package bean sprouts
1/2 pound imitation crab meat
1/2 pound prepared Ocean Salad

Dressing:

3/4 cup salad oil
3/4 cup soy sauce
4 tablespoons sugar
6 tablespoons lemon juice
1 tablespoon sesame oil
1 tablespoon grated daikon

Cook soba, following package directions, and drain.

To prepare mushrooms: Soak in water until soft, then squeeze out and slice into slivers. Heat oil in skillet. Add mushrooms and stir-fry. Add soy sauce and sugar; simmer until liquid is absobed. Cool.

Toss soba with mushrooms and remaining ingredients.

To make dressing: Mix all ingredients in a bottle and shake well. Pour over soba mixture.

Garnish with pickled red ginger. Serves 14.

Approximate nutritional information, per serving: 270 calories, 15 g total fat, 1.5 g saturated fat, 5 mg cholesterol, greater than 1,300 mg sodium.*

KINPIRA GOBO

Kathryn Ohira

2 pounds gobo, cleaned and julienned
1/4 cup vegetable oil
1/4 cup dried shrimp
2-3 chile peppers
1-1/2 tablespoons sugar
1/4 cup soy sauce

Soak gobo in water; let stand. Keep changing water until it clears. Drain.

In a hot pan, add oil, shrimp and peppers. Add gobo and cook about 5 minutes. Sprinkle sugar and soy sauce over gobo. Cover and cook, stirring occasionally, 3-4 minutes longer, or until gobo is desired texture.

Approximate nutritional information, per 1/4-cup serving 45 calories, 2 g total fat, no saturated fat, less than 2 mg cholesterol, 140 mg sodium.*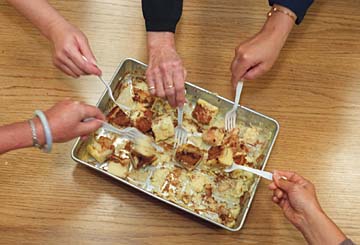 By Dennis Oda, Star-Bulletin Some dishes go quickly at the food tastings.
---
APPLE BREAD PUDDING

Richlyn Young

2 cups milk
1 cup sugar
1/2 cup butter
1 loaf sweet bread, sliced
5 eggs, beaten
1 21-ounce can apple pie filling
1 cup raisins
Cinnamon

Heat milk, sugar and butter until butter melts. Remove from heat and set aside.

Line a 9-by-13-inch pan with bread slices. Sprinkle raisins over bread. Top with pie filling.

Add eggs to milk mixture and pour over ingredients in pan. Sprinkle with cinnamon. Bake at 350 degrees for 35 minutes.

Nutritional information unavailable.*

LEMON SQUARES

Barbara Yamada

1 cup butter
1/2 cup powdered sugar
2 cups plus 5 tablespoons flour, divided use
4 eggs, well beaten
2 cups sugar
Juice of 2 large lemons

Combine butter, powdered sugar and 2 cups of flour. Pat into a 9-by-13-inch pan. Bake at 350 degrees for 20 minutes.

Mix eggs, sugar and remaining flour and lemon juice. Pour over the baked crust. Bake 25 more minutes. Remove from oven, sift powdered sugar over and cut into squares.

Nutritional information unavailable.*

---

Star-Bulletin






Click for online
calendars and events.
E-mail to Features Editor
---
---
© 2000 Honolulu Star-Bulletin
http://archives.starbulletin.com