Advertisement - Click to support our sponsors.

---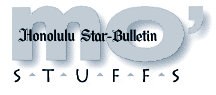 ---
Wednesday, February 9, 2000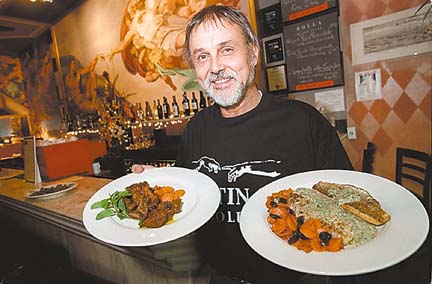 File photo
Sergio Mitrotti of Cafe Sistina and other chefs will be on hand
for cooking demonstrations at the Home Building and Remodeling
show tomorrow through Sunday at the Blaisell Exhibition Hall.
---
Cooking tips from the
pros at home show
The Building Industry Association's Home Building and Remodeling Show has plenty to offer the amateur chef, as well as the amateur builder.

Besides lots of advice on how to remodel a kitchen, the days are packed with cooking demonstrations featuring island chefs. Learn to make anything from a green tea pound cake to lamb orzo.

The show runs tomorrow through Sunday at the Blaisdell Exhibition Hall. Hours are 5 to 9:30 p.m. tomorrow and Friday; 10 a.m. to 9:30 p.m. Saturday and 10 a.m. to 4 p.m. Sunday. Tickets are $3 or $5 for all four days. Half-off coupons are available at branches of sponsor First Hawaiian Bank.

Cooking demos will take place in the Pikake Room:

Tomorrow: Fred DeAngelo, Palomino Euro Bistro, 6:30 p.m.; William Bruhl, Ryan's Grill, 8:30 p.m.

Friday: Dave Reardon, Diamond Head Grill, 6:30 p.m.; Elmer Guzman, Sam Choy's Diamond Head, 8:30 p.m.

Saturday: Robert Miller, Parc Cafe, 12:30 p.m.; Chris Wakatake, Ciao Mein, 2:30 p.m.; Troy Teruya, Catch of the Day, 4:30 p.m.; Sean Preister and Elena Bayless, Cafe Laniakea, 6:30 p.m.; Aurelio Garcia, Brew Moon, 8:30 p.m.

Sunday: JJ Luangkhot, JJ French Pastry, 10:30 a.m.; Chai Chaowasaree, Chai's Island Bistro, 12:30 p.m.; Charlene Rouspil, Viking Appliances, 2:30 p.m.
At the CabineTree booth:

Friday: Sergio Mitrotti, Cafe Sistina, 7:30 p.m.

Saturday: Philippe Padovani, Padovani's Bistro and Wine Bar, 3:30 p.m.

Sunday: Flo Stanley (herb workshop), 11:30 a.m.
Call 847-4666, Ext. 206.
---
Star-Bulletin
---
'Moonglow' shines gold
The locally produced feature film "Moonglow" struck box office gold in its debut weekend in Hawaii at second place in ticket sales based on a per-theater average, according to Consolidated Amusement officials.

The teen thriller "Scream 3" was number one locally and nationally.

Figures for "Moonglow" were higher than expected, and measured on a national scale would rank among the top five films in the country, said Phil Shimmin, Consolidated's president.

"Moonglow" stars Hawaii news anchorman Joe Moore, veteran character actor Milo O'Shea, Golden Globe-winner Joanna Cassidy, Oscar-nominee Eileen Brennan and lone Skye. The film continues its local run at four Consolidated Theatres: the Kahala 8, Pearlridge West 16, Ko'olau Stadium 10 and the new Mililani Stadium 14.
---
Groceries a good deal
As of today, you have earned enough money to buy all the food your family will need for the year 2000. That is if you have an average income and haven't frittered it away on something else since New Year's Day.

Today is Food Check-Out Day, so declared by the Hawaii Farm Bureau Federation, based on the U.S. Department of Agriculture's estimate that the average American family spends 10.9 percent of its disposable personal income on food. In plain English, this means it takes 40 days to earn enough money to buy a year's worth of food. Not if you eat foie gras every week, of course.

Douglas Duarte, Farm Bureau president, says it is noteworthy that Food Check-Out Day comes three months before Tax Freedom Day -- the day the average person earns enough to pay federal, state and local taxes (that would be May 11).

The point, from the standpoint of farmers, is to look at Food Check-Out Day as a measure of the affordability of food, which is in turn a measure of the efficiency of the American food production and distribution system.

"Rather than being an economic burden, food remains quite a bargain for shoppers," Duarte said. "That is the way it should be."
---
TO YOUR HEALTH

'Final Exit' author to speak
Derek Humphrey, founder of the Hemlock Society and author of "Final Exit," will discuss suicide at 2 p.m. Sunday at the Ala Wai Golf Course Clubhouse.

The Hemlock Society advocates self-termination for the terminally ill. His free talk is sponsored by Hemlock Hawaii.

Information: 261-3452
Smiles lengthen life
Researchers at the Mayo Clinic, reporting on a study that spanned three decades, said yesterday they have found that optimistic people live about 19 percent longer than pessimists.

"It confirmed our common-sense belief," said Toshihiko Maruta, a psychiatrist who was the lead researcher in the project. "It tells us that mind and body are linked and that attitude has an impact on the final outcome, death."

The finding came from a look at 839 people living in the Minnesota county where Mayo is headquartered. They were among a group given a personality survey between 1962 and 1965 which detected how people habitually explain the causes of life's event and then classified them as optimists, pessimists or a bit of both.

In looking at the test subjects 30 years later and comparing them against their expected survival rates, the researchers found those classified as optimists had a significantly better survival rate while there was a 19 percent increase in the risk of death for the pessimists.

The report, published in the February issue of the Mayo Clinic Proceedings, did not try to explain why positive attitude was equated with longevity.
Snoring causes strife
Traditionally, Valentine's Day is a special day for couples. But for the 45 percent of adults who snore, Valentine's Night may not be so romantic. A recent survey commissioned by gazoontite.com, an e-tailer offering snoring-related products, revealed breathing problems in the bedroom can lead to frustration and separation.

When queried how they react to a snoring partner, 31 percent of the 1,000 adults interviewed by phone confessed they would hit their significant other with a pillow until the snoring stopped. Another 28 percent would opt to sleep in a different room. Only 1 percent said they would break off the relationship.

Snoring occurs when a sleeper's airway becomes obstructed, a common reaction to airborne allergens. The bedroom is prime breeding ground for one of the most common allergens -- the dust mite. Air purifiers and anti-allergen bedding are among the products that can help improve indoor air quality.

The survey was conducted by Bruskin Goldring OmniTel Jan. 21 through 23.
---
Staff and wire reports


Click for online
calendars and events.
---
Send WatDat? questions, stories
or any other story ideas or comments to:
Features, Honolulu Star-Bulletin, P.O. Box 3080,
Honolulu, HI 96802 or send a fax to 523-8509
or E-mail to features@starbulletin.com.
Please include your phone number.
E-mail to Features Editor
---
---
© 2000 Honolulu Star-Bulletin
http://archives.starbulletin.com