Advertisement - Click to support our sponsors.

---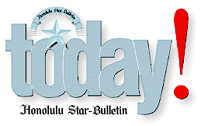 ---
Wednesday, February 9, 2000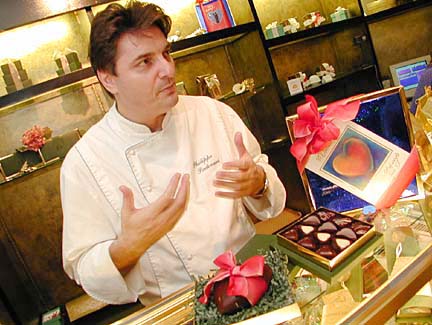 By Craig T. Kojima, Star-Bulletin
Phillipe Padovani's goal is to take his chocolates international.
---
Melt hearts
with chocolate


'All have a different personality'

By Betty Shimabukuro
Star-Bulletin

TODAY'S tip for romantics: If you're planning on chocolates as a gift for your valentine, don't just pick out a few fabulous candies -- "create excitement."

Pick fabulous packaging, too, and maybe slip in a little something extra.

This advice comes from chef Philippe Padovani, now selling his handmade chocolates through a boutique in the Royal Hawaiian Shopping Center.

One of his specialty items is a $95 box of chocolates that folds open like a jewelry box. "I leave one space open, in case you want to put something special -- like a little diamond."

Make a splash, Padovani says. "You can do things very simple, but you don't create excitement. Make a momento. It's not Valentine's every day."

Yes, Valentine's Day approaches (it's Monday, for those lovers who forgot). The Chocolate Manufacturers Association says 36 million boxes of chocolate will be sold to mark the holiday.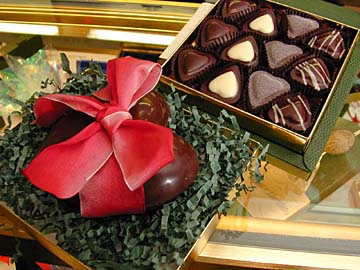 By Craig T. Kojima, Star-Bulletin
Phillipe Padovani's chocolates.
---
Chocolate is simply associated with romance, the association says, pointing out that Montezuma used to drink 50 cups of chocolate daily in order to better serve his harem. Casanova believed in it, too.

That said, we recognize that it is prime time for chocolate shops and offer this tour of what's new and different for Valentine's giving.

Padovani's Chocolate Boutique, inside the McInerny Galleria on the Diamond Head end of the Royal Hawaiian Shopping Center, has been open just a month and is the newest of Hawaii's

high-end chocolate shops. It gives the chef a storefront outlet for the chocolates he had been selling only through his restaurant, Padovani's Bistro and Wine Bar.

The candies come in flavors such as apple banana, kau orange, kiawe honey, ginger, lilikoi and Kona peaberry as well as other classics, using mostly Hawaiian Vintage Chocolate. They come packaged for giving in fancy boxes, some tied with bows, some with full-sized cards. A heart-shaped box made of chocolate and filled with truffles is the house bargain at $9.

Padovani hopes to open as many as 20 chocolate boutiques internationally, and a small factory in Hawaii to keep the stores stocked. The current shop is a work in progress; he's still adding displays. Here's how he envisions the boutiques: "You go in there and it's a temple of candies."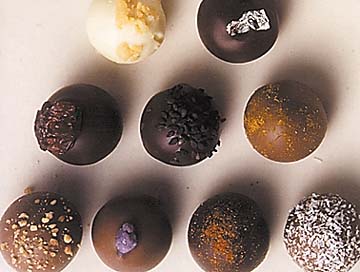 Neiman Marcus
Neiman Marcus' Epicure department offers several tony
brands of chocolates, including a sampling of four
truffles in a Chinese takeout box for $7.
---
Neiman Marcus' Epicure department carries the tony brands Joseph Schmidt (San Francisco), Laderach (Swiss), La Maison (France) and Neuhaus (Belgium), as well as Godiva and Padovani, in fancy boxes of all types.

The chocolates "all have a different personality," says Epicure manager Collier Maxwell. Customers tend to be familiar with Godiva, Maxwell says, but "when we start, Godiva is at the beginning and we go up from there."

The newest candies at the counter are Vosges Haut-Chocolat, with an international collection of flavors such as ginger/ wasabi, coconut/curry, and Hungarian paprika. They come in boxes ranging from $16 to $50. A sampling of four truffles in a Chinese takeout box is $7.

Also new, a sugar-free line, Yamate, which uses a carbohydrate, corn-based sweetener called Maltitol to produce a creamy candy nothing like dietetic chocolates. Eight-ounce boxes of nut clusters, toffees or assorted chocolates cost $11.

Also at Neiman Marcus, a pink '59 Cadillac toy car filled with chocolate and sugar conversation hearts for $63.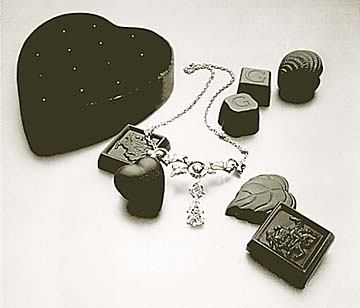 Godiva
Nothing like chocolates and diamonds: Godiva
Chocolatier at Kahala Mall is offering a chance to
win a diamond necklace in a box of chocolates.
---
Honolulu Chocolate Co., Ward Centre, is taking orders for its popular chocolate-dipped strawberries, at $24 a pound. The store has the most impressive display of special Valentine's containers in baskets, ceramics and velvet, as well as stuffed bears. Buy the containers pre-filled, or make your own selections from among the store's large egg-shaped truffles. Molded chocolate hearts can be broken open to reveal milk chocolate hearts inside, $12.50. Candies are made from Belgian chocolate.

Hawaiian Vintage Chocolate has introduced Love Truffles, enhanced with natural "aphrodisiacs" such as extra seratonin. "These ingredients cause the brain to release endorphins and account for the 'high' that many people feel when they eat chocolate, a feeling often compared to 'falling in love'," the company says. They sell for $19.95 for nine and are available at European Village (Royal Hawaiian Shopping Center), The Coffee Co. (Aloha Tower Marketplace), Compleat Kitchen (Kahala Mall, Ala Moana) or call (808)-735-8494 on the Big Island.

Alan Wong's pastry chef, Mark Okumura, offers a small collection of Valentine's specialties at the Hawaii Regional Cuisine Marketplace in Liberty House, Ala Moana. The Love Shack, a gingerbread house containing three truffles is $25. A heart-shaped chocolate box decorated with a cherub and filled with caramelized macadamia nuts is $12.50.

Godiva Chocolatier, Kahala Mall, offers the opportunity to win a diamond necklace in a box of chocolates. The odds for winning an 8.8-karat necklace, worth $125,000, is 1 in 2,000. Also hidden away are $1,000 diamond solitaires. The possibly lucky chocolates sell for $20 to $66.






Click for online
calendars and events.
E-mail to Features Editor
---
---
© 2000 Honolulu Star-Bulletin
http://archives.starbulletin.com