Advertisement - Click to support our sponsors.

---

---
Tuesday, February 8, 2000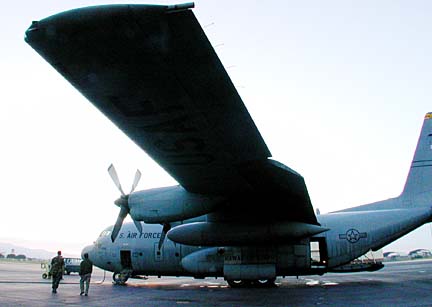 By Craig T. Kojima, Star-Bulletin


Hawaii leads
joint war games


U.S.-Philippine exercises
led by isle reserve colonel

Halted four years ago, the war games
resume with 2,500 U.S. troops, including
isle soldiers and an air crew

By Gregg K. Kakesako
Star-Bulletin

The first combined military exercise between the United States and the Philippines since 1995 is under way in Southeast Asia under the command of an Army Reservist from Hawaii.

More than 4,500 airmen, Marines, sailors and soldiers from the two countries are involved in an exercise designed to improve their ability to deal with contingencies ranging from humanitarian and disaster assistance to peacekeeping operations and combat conditions.

Heading the 2,500-strong U.S. military force is Col. John Miller, a Vietnam War veteran and retired island bank executive, who sees "Balikatan 2000" as "a routine but vital military exercise" needed to maintain U.S. treaty agreements. Balikatan, which means "shouldering the load together" in Tagalog, began in 1981, but was halted in 1995 because of a dispute over who has jurisdiction over U.S. personnel in criminal matters.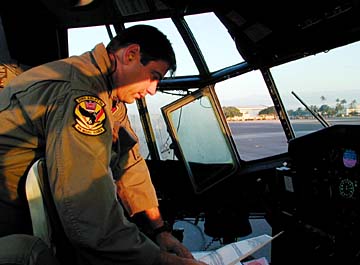 By Craig T. Kojima, Star-Bulletin
Pilot Gregory Fournier readies a C-130 cargo plane yesterday
at Hickam Air Force Base for its flight to the Philippines.
---
About 100 soldiers from Hawaii, many with signal and civil affairs skills, are participating in the exercise, while the Hawaii Air National Guard is sending a C-130 cargo plane and a crew of nine from Hickam Air Force Base.

Balikatan 2000 exercises began Jan. 31 and will run through March 3. The activity also marks a renewal of turbulence and controversy.

Left-wing groups have vowed to hound the war games with protest rallies. Communist guerrillas have threatened to target visiting troops. Filipino military officials have initiated security measures based on reports that the Communist movement plans to disrupt the exercises with mass demonstrations aimed at denouncing the U.S. presence.

'To come to each other's aid'

The joint military exercise is one of several the U.S. military holds every year with different countries. It is based on a mutual defense treaty with the Philippines that was consummated in 1951, said Miller, who has been in the Army for nearly three decades.

"Under the terms of that treaty, we are to come to each other's aid in the event of external aggression," he said.

Similar relationships are held with a half-dozen other countries in the Asia-Pacific region. In addition to Balikatan, the U.S. military participates annually in "Cobra Gold" in Thailand, "Yama Sakura" in Japan and "Tiger Balm" in Singapore.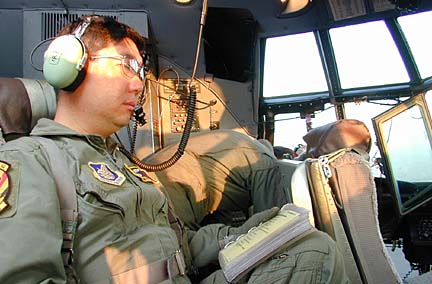 By Craig T. Kojima, Star-Bulletin
Flight engineer Lester Hirano readies the C-130's systems for takeoff.
---
"The underlining theme for this exercise is to share each other's tactics, techniques and procedures," Miller said. "The stress here is interoperability, which simply means we can communicate with each other. We understand each other's doctrine. We understand how each other's plans and operations work in a combined operation."

Maj. Gen. James Donald, deputy commanding general of the U.S. Army Pacific, said that the exercise "represents a unique and progressive opportunity for the armed forces of the Philippines and U.S. military forces to train together and to learn from one another, not only as professional military service members, but also as peoples of our two democracies."

Donald pointed out that the Philippines, more than 4,000 miles southwest of Hawaii, is "a long-time, strategic security partner, recognized as an important player on the world stage upon which all our militaries play."

He noted that Philippine leaders play a key role in the current East Timor peacekeeping operations.

U.S. lost two bases, maybe more

The Philippines was a commonwealth of the United States until it won its independence in 1946. However, under the 1951 mutual defense treaty, the U.S. was allowed to maintain military bases throughout the country.

But in 1991, the Philippine Senate refused to renew the Military Bases Agreement, forcing the U.S. Navy to pull out of Subic Bay.

That same year, the volcanic eruption of Mount Pinatubo destroyed much of Clark Air Base.

Despite the loss of those two U.S. bases, the two countries continued to hold military exercises, and Navy warships still made port calls.

That changed four years ago. The Philippines ended Balikatan because of a dispute over the Visiting Forces Agreement. That agreement gives the United States jurisdiction over crimes committed by military personnel while on duty.

It was reinstated last May despite protests from the Catholic Church and other anti-U.S. elements in the Philippines.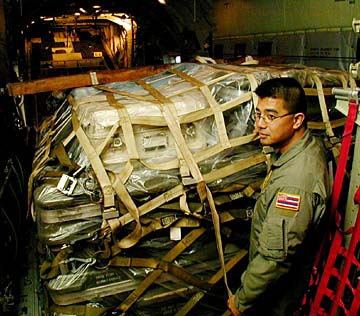 By Craig T. Kojima, Star-Bulletin
At Hickam Air Force Base, Lloyd Llanza Hiang prepares
a C-130's cargo yesterday for departure to Balikatan 2000.
---
Despite the complexity of Balikatan, Miller said he has "a good handle" on overseeing the exercise, having previously participated in nearly a half-dozen.

Miller, 52, who works full-time at Fort Shafter as a military planner, has been to the Philippines for other exercises as an Army Reserve officer and member of the 9th Regional Support Command.

This year's exercise began with a training seminar at Clark Field involving high-level staff officers from the Philippine and U.S. militaries. On Feb. 21, it will shift into humanitarian and civic assistance projects on the islands of Luzon and Palawan.

Soldiers also will train together on specific infantry and special operations skills.

The climax of the exercise will be an amphibious landing Feb. 28, involving the destroyer USS Decatur and the dock landing ship USS Fort McHenry, as well as 600 U.S. Marines from Okinawa at Ternate, a beach southwest of Manila.

Balikatan 2000 also will involve U.S. personnel operating medical, dental and veterinary clinics in the provinces of Pampanga, Tarlac and Cavite, Miller said.

On the island of Palawan, military engineers will build three schools, toilets, artesian wells and outdoor stages.

"In Balikatan," Donald said, "we will leave behind tangible results of our commitment to our mutual security partnership, both in some infrastructure improvements, some mutually provided health care, and in the goodwill that results from our mutual friendship and training."

---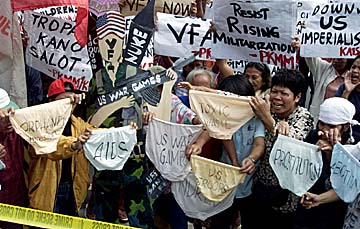 Associated Press
At a recent rally outside the U.S. Embassy in Manila, protesters display
panties on which they've written problems U.S. forces allegedly bring
into the country. Protests have mounted against this year's joint U.S.-
Philippines military exercises, the first in five years.
---
Hawaii Air Guard members
don't flinch at threats

By Gregg K. Kakesako
Star-Bulletin

Local Hawaii Air National Guard fliers participating in the "Balikatan 2000" military exercise say they are aware of the anti-American feeling by rebel Filipino groups.

But Capt. Gordon Ah Nee, a pilot and commander of a C-130 cargo plane that left yesterday to spend two weeks in the Philippines as part of the exercise, believes his crew of nine has been adequately briefed on security precautions.

"We know what the threat is," said Ah Nee, a 1983 St. Louis School graduate and Aloha Airlines pilot, "but we are there to do a mission."

Maj. Terry Ganiko, a navigator, added, "We will be too busy with the mission supporting the active Air Force" to worry about what may happen.

There have been threats by the communist movement to disrupt Balikatan with mass demonstrations denouncing the U.S. presence in the Philippines and discrediting the exercise.

Ganiko, who in civilian life works for the Navy as an air space scheduler on Ford Island, said his crew from the Hawaii Air Guard's 204th Airlift Squadron will help fly passengers and cargo to the Philippines from Okinawa for the next two weeks.

In addition, the Hawaii Air Guard fliers are involved in a humanitarian mission to provide school supplies to a school in the Philippines.

The project was initiated several weeks ago when an active duty Air Force unit in Guam asked if there was room on a Hickam Air Force Base unit's C-130 aircraft for school supplies for a school in Manila, said Maj. Kevin Garcia, commander of the local unit.

Ganiko, whose wife is from the Philippines, liked the idea.

He made a few calls to his wife's relatives in the Philippines to see what the Good Hope School needed, Garcia said. The unit came up with about $500 worth of school supplies.

Five C-130s are in the 6-year-old Hawaii Air National Guard unit, which has deployments scheduled for Malaysia and Germany in the fall. In addition, the unit flies to Kwajalein Atoll twice a month and Johnston Atoll once a week.

Ah Nee said his unit also supports various air drops missions for the 25th Infantry Division, Navy SEALS at Pearl Harbor and shuttles Marines from Kaneohe to the Pohakuloa Training Area on the Big Island.
E-mail to City Desk
---
---
© 2000 Honolulu Star-Bulletin
http://archives.starbulletin.com